Last Updated on January 5, 2021

If you are a serial lip balm user AND you love essential oils, making your own natural lip balms is a no-brainer. Essential oils can bring amazing benefits and therapeutic properties to smooth, moisturize and plump the lips. As well as anti-inflammatory properties to boost the mood or mind. Moreover, you can rest easy knowing what you are putting on your lips is not filled with chemicals and is totally natural. And not to mention, essential oils make your new homemade lip products smell amazing.

Choose your preferred oil that is best suited to you and get totally tailored results! Making your own lip balm is also super cost-effective compared to buying lip balms at the store. To make your lip balm, you will likely need one, or several, carrier oils along with substances such as Beeswax, Coconut Oil and Cocoa Butter or Shea Butter. You will then mix in your essential oil following any of the amazing recipes out there.

So you are ready to make your lip balm. But with so many essential oils on the market, which one should you choose? We have created a list of the top 10 essential oils for lip balms to help you out! Check them out below!
Best Essential Oils for Lip Balm (2023 Updated)
1. Peppermint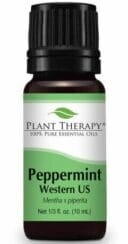 The fresh, cooling sensation is one of the main reasons people rate peppermint essential oil so highly for a lip balm. This quality makes peppermint perfect for chapped, wind or sun damaged lips as the light, calming scent helps bring relief to your lips. It is a perfect addition to the moisturizing and hydrating properties of the chosen carrier oil or butter you are using.
Peppermint essential oil has been used to treat many health issues for centuries. It has antibacterial properties such as reducing inflammation of the mouth, soothing headaches, clearing sinuses and even helping treat IBS and indigestion. A great added benefit to a soothing lip balm.
We love the high-quality and super-affordable Peppermint Essential Oil (Mentha x piperita) which has an intense, fresh grassy-mint scent that energizes and revitalizes (Read our Plant Therapy Review for more info).
2. Rose
For a calming, relaxing and rejuvenating addition to your homemade lip balm try rose essential oil. It is ideal for healing dry, cracked or irritated lips and the full, floral scent can help you feel serene. You can use the absolute, single oil on its own or choose a blend. Many people love the Rose Geranium blend for example.
Rose oil is particularly well-known for bringing positive benefits to the skin. It can work to combat visible signs of aging, purify the skin and rejuvenate it. Rose oil can even help with certain skin conditions like acne or eczema.
We can't get enough of Gya Labs' Rose Otto Oil (Rosa damascena). With a rich floral scent, it is a perfect addition to a lip balm and blends well with many other oils.
3. Orange
Orange oil, also known as sweet orange oil, brings a sweet and citrus element to your lip balm. It is perfect for bringing a little hydration to your lips and well as giving you an energy boost.
Orange oil is known for it's 'happy' properties and is great for lifting your mood. It is a gentle oil commonly used in skincare and is known to benefit various different skin types including dry, dehydrated and oily complexions.
Rocky Mountain Oils sell an amazing rich, sweet and citrus Orange Oil (Citrus sinensis) which we absolutely love. It will give you an instant boost along with some nourishing hydration!
4. Lemon
Another citrus oil here, lemon essential oil is great for a lip balm if you are looking for something zingy and fresh, particularly in the summertime. Using a natural lemon oil in your all-natural lip balm helps to avoid over drying the lips from chemicals and brings you awesome rejuvenating properties.
The refreshing and uplifting scent is well known for boosting the immune system as well as reviving and energizing the mind. However be careful in super sunny climates, as lemon oil can make you a little more prone to sunburn.
Check out the amazing organic Lemon Essential Oil from Healing Solutions with a medium-strength fruity, citrus and zingy aroma that packs a punch.
5. Grapefruit
A scent perfect for summer! If you love fruity, fresh citrus aromas that aren't too sweet, you will love grapefruit oil. Grapefruit oil brings you a burst of energy and is a total mood lifter, perfect for helping you bounce out the door!
Grapefruit is actually known to help improve problem skin, helping to clear and purify oily skin types that are prone to spots. This makes it a great choice for lip balms. People also use grapefruit oils to soothe headaches and aid digestion.
Check out the Plant Therapy Grapefruit Essential Oil (Citrus x paradisi). Not only is the fresh, juicy scent totally energizing, the product is 100% organic and kid safe!
6. Carrot Seed
For a lip balm with a sweet, earthy and even spiced aroma, why not try carrot seed oil? Carrot seed oil is nourishing and replenishing for the skin making it a great choice for a lip product. And a great herbaceous, musky alternative for those who are not fans of citrus scents.
As well as rejuvenating the skin, carrot seed oil is commonly used to support a healthy digestive system. It is also known for its relaxing properties, helping to calm the mind and make you feel relaxed .
The Carrot Seed Essential Oil (Daucus carota) has a powerful, uplifting woody scent and will help revive you from fatigue and rejuvenate the skin on your lips. (Read our Rocky Mountain Review Here).
7. Vanilla
The wonderful warm and sweet scent of vanilla makes it a favourite for homemade lip balms. The scent is soothing and inviting and can help ease tensions and soothe the body and mind. Mixed with your carrier oil and natural butter of choice, vanilla works in perfect harmony to nourish your lips while relaxing you with the musky vanilla bean aroma.
The classic vanilla scent can be used perfectly on its own or vanilla also blends well with other essential oils.
Check out the Vanilla Oleoresin Essential Oil by Eden's Garden that comes from Madagascar. It has a super rich, sweet scent that will make your lip balm smell amazing!
8. Jasmine
One of the most wonderfully intoxicating and distinctive aromas in the essential oils world is jasmine. The exotic and floral scent is well-known as an aphrodisiac so perfect if you are hoping to attract some kisses with your new lip balm.
As well as romance, jasmine is known to incite feelings of positivity and help uplift your mood. Jasmine oil also has antibacterial properties making it well-suited for skin care. It can fight various bacteria and prevent infections and even has properties that rejuvenate the skin. It is particularly great for dry, mature or sensitive skin. It can also add shine to your hair.
We love the Jasmine Essential Oil by RAINBOW ABBY. It is organic and has a rich floral and heady scent, making for an amazing-smelling natural lip product without chemicals!
9. Spearmint
Spearmint has an amazingly fresh, minty yet sweet scent that makes for a refreshing and uplifting lip balm. Similar to peppermint oil it provides a fresh, cooling feeling on the lips which can cool and calm chapped, dry or burnt lips. It can relieve some skin irritations as well as being antiviral. It is also an affordable oil choice, perfect for people looking for a rich but budget-friendly scent.
High in antioxidants, spearmint oil can help nourish the skin. Spearmint oil is known for having a positive effect on the mind and psyche and can reduce stress. It can also help your concentration making spearmint lip balm a great choice to throw in your bag for the office or school!
Plant Therapy has an awesome Spearmint Oil (Mentha spicata) for sale. It is part of the organic essential oil range and as it is from the same family as peppermint, it is totally kid safe.
10. Lavender
Lavender has been one of the world's most popular essential oils for thousands of years and for good reason. The scent is powerful, floral, herbaceous and irresistible making it supremely popular in products and skincare. As well as smelling great, this oil has loads of amazing therapeutic benefits. One of the main ones is that its a huge tension reliever. It can calm the mind and promote better and easier sleep. A great, instant relaxer that you can carry around in your bag!
It is also used on the skin making it a great for the lips. It can help soothe irritations on the skin, even helping to reduce signs of fine lines and wrinkles on the skin. It can also help rejuvenate skin and make it look and feel fresh, bright and illuminated.
We love this popular Essential Oil from PURA D'OR which is USDA approved and organic. Woody and sweet, it makes a great addition to a homemade lip balm! (Read our lavender oils guide here).
Conclusion
There you have it, 10 amazing essential oils that can be used in natural, homemade lip balms. Whether you prefer a zingy, citrus scent for a boost of energy, a refreshing and cooling mint, or a sweet and exotic flavour, you can take your pick! Which one will you choose?
Related Articles
15
Jul
Whether you've recently lost weight, given birth, or are simply getting older, one of the most frustrating changes to your body during this time can be stretch marks, visible scarring, or a general loss of elasticity in your skin. With[...]
02
Jun
Luscious Lavender! One of the world's favorite essential oils that doesn't only smell incredible, but brings a whole host of health benefits for the body and mind. Whether you are a regular essential oil user, or just getting started in[...]
02
Jun
Whether you use essential oils religiously, or have just started discovering their benefits, it can be hard to know which oil supplier to use. There are loads of different brands out there and they all claim to sell amazing essential[...]
Categories: Aromatherapy