Last Updated on January 5, 2021

Cheerful lemon perks up your mood while other scents can help you unwind for bed. The best smelling essential oils are a natural way to improve your environment. Use them in your house, your car, and even as your signature perfume.

We've chosen the best scented essential oils to help you shop. We'll give you tips on the top essential oils for concentrating at the office and improving the smell at your home. Many essential oils also have benefits beyond aromatherapy as they can help heal your skin and even regrow your hair.
Best Smelling Essential Oils for Diffuser (2023 Update)
Clary Sage
Clary Sage has a pleasant scent that helps you calm down. It's often blended with cedarwood. If you combine it with Roman chamomile, it can help you sleep better. Or mix it with a carrier oil and massage it on your abdomen to relieve cramps during your period.
Plant Therapy Clary Sage Essential Oil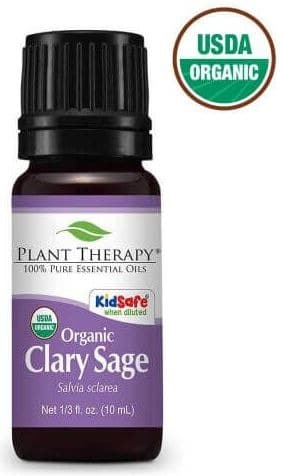 Plant Therapy sources their Clary Sage (also known as Salva sclera) from China. Then they extract the oil from the leaves and flowers with steam distillation. Furthermore, they say that there are no additives or fillers in the bottle. Should you have any questions, you can message their certified aromatherapist online.
Patchouli
Musky and sweet patchouli is a member of the mint family. It frequently appears in commercial perfumes and scented products like laundry detergents. It blends well with other essential oils like vetiver for peppermint. And if you apply it to your skin, it can help smooth wrinkles and brighten your complexion.
Plant Therapy Patchouli Essential Oil
Plant Therapy recommends their pure patchouli essential oils for a soothing experience. Its smell is both earthy and fruity at the same time. They don't add any carriers, bases, or fillers. If you're curious how to get the most out of this essential oil, you can message their certified aromatherapist for more information.
Bergamot
Bergamot is what turns black tea into Earl Grey. It's a citrus plant that requires specific conditions to grow properly. And its sweet clean scent relieves stress and sadness.
NOW Solutions Bergamot Essential Oil, 1-Ounce (30ml)
The NOW Solutions company sells one of the largest bottles of bergamot essential oils for one of the most reasonable prices. It's made specifically for aromatherapy. If you would like bergamot for use on your skin, check out the next essential oils below.
In the meantime, NOW Solutions is one of the top brands for essential oils. It's not just their low prices. It's also that they test their products for purity with a variety of techniques including gas chromatography.
Gya Labs Bergamot Bergapten-Free Essential Oil
Bergamot in its natural state contains bergapten, a component that makes the skin more sensitive to sunlight. If you want to use bergamot as an ingredient in your facial cleanser or as a perfume, get this bergapten-free version. Gya Labs cold-extracts the oil then sends it through molecular distillation so that it retains maximum smell and power.
Cedarwood
Cedarwood's warm woody aroma promotes a sense of well-being. It also keeps cloth-eating moths at bay.
Healing Solutions Cedarwood Premium Therapeutic Grade Essential Oil
The Healing Solutions cedarwood oil comes in a 10 mL bottle. Put a few drops in your diffuser to help yourself relax. You can combine these essential oils with other scents like bergamot, too.
It's backed by a 100% satisfaction guarantee. Plus, it's distilled in a kosher-certified, GMP, and FDA-registered facility. Just keep in mind it's not for taking internally.
Cinnamon
Everyone knows cinnamon, the spice. Diffuse its fragrance during the holidays to help you get in the mood. Or if you have food-grade cinnamon essential oil, you can use it to boost your immune system and flavor teas and desserts.
ArtNaturals 100% Pure Cinnamon Leaf Essential Oil
The ArtNaturals cinnamon leaf oil is safe for use on the skin as well as for diffusing. Although there is no universal standard for what qualifies as therapeutic grade, the company says that the essential oils are tested to be a hundred percent pure. If you aren't satisfied, they offer a full refund.
Clove
Diffuse cinnamon and clove to feel more energetic at the office. Clove is a classic addition to warming massage oil. It spices up Indian food and desserts while it cleanses your mouth and supports healthy heart function.
Artizen Clove Essential Oil
Artizen sells its clove essential oils in a 30 mL glass bottle with a dropper. It's guaranteed to be potent and pure without pollution or adulterants. Moreover, it comes with a satisfaction guarantee and a lifetime warranty.
Geranium
Geranium oil often appears in commercial perfumes. It's derived from a handful of varieties of the Pelargonium plant. This stress-reducing smell can help you keep calm on the drive home. It also repels insects. Finally, geranium essential oils are good for the skin and hair, too. Put a drop in your face cleanser, your moisturizer, and your conditioner.
doTERRA Geranium Essential Oil
The doTerra brand is known for being pricey, but also very picky about purity. Their geranium essential oils are safe to use on your skin and hair as well as in your diffuser.
Grapefruit
Why purchase grapefruit essential oil? You may have noticed that grapefruit isn't always in season. The oil is a way to keep the scent available and stable year round. The fruity aroma energizes your day no matter where you diffuse it. And food-grade essential oils can flavor your water to speed up your metabolism or help you clear up blemishes on your skin.
doTERRA Grapefruit Essential Oil
The grapefruit oil from doTerra is therapeutic-grade and safe to use on your skin, in your food, or diffused in the air. They point out that the grapefruit smell can help you stick to your diet.
Lavender
NOW Solutions Lavender Essential Oil
Save money by purchasing a 4-ounce bottle of this essential oil from NOW Solutions. Then you can diffuse it to your heart's content. They recommend adding chamomile and peppermint oils with the lavender to ease a headache.
Lemon
Don't have time to clean the house before your guests arrive? Diffuse lemon essential oils to freshen up the air. Its perky scent energizes and refreshes. Some office workers use lemon to battle the afternoon slump. Smokers diffuse it to help purify the air in their cars, too.
Majestic Pure Lemon Oil
Majestic Pure includes a glass dropper with their lemon oil. But they warn that their essential oils formula is for external use only. Besides aromatherapy, add a few drops of the essential oils to your favorite homemade cleaner recipe.
Rosemary
Did you know that rosemary can help you fight hair loss? It blocks DHT that causes hair follicles to fail. Of course, this requires you to apply it to your skin. In that case, make sure you purchase oil that's safe for that purpose. Food-grade oil may also help your digestion while it flavors your meals.
NATRÄL Rosemary, 100% Pure and Natural Essential Oil
The distinctive scent of rosemary blends well to help you chill out after a difficult day. The NATRAL oil comes highly recommended by customers who say it passes the white paper test and retains its aroma well. It ships in a blue glass bottle with an eyedropper.
Sandalwood
Sandalwood comes from more than one place. You're likely to see Indian and Hawaiian versions on the market. In general, the soothing woody scent promotes calmness and lessens tension. It blends well with other essential oils.
SenseLAB Sandalwood Essential Oil
SenseLAB uses Indian sandalwood, or Santalum album, in their therapeutic-grade essential oils. The strong aroma lasts for hours. And there are no fillers in the bottle.
Vetiver
Vetiver is a grass. It has the kind of fragrance that makes it ideal for colognes and perfumes. The exotic woody aroma combines well with other oils. Vetiver grounds a person in the here and now and helps them manage their emotions.
Aura Cacia Pure Essential Oil, Vetiver
Customers say that the vetiver essential oil from Aura Cacia is one of the best they've tried. It's for external use only but works very well in a diffuser. If you don't love the scent by itself, blend it with other essential oils as it boosts their calming effects.
Ylang ylang
Ylang Ylang also appears in many perfumes and skin care products. It mixes well with grapefruit, vetiver, geranium, and bergamot. When diffused, the citrusy minty floral scent puts you in a good mood.
Ylang Ylang Essential Oil by Healing Solutions
Healing Solutions offers a full refund if you don't have an excellent experience with their Ylang Ylang essential oil. They report that their distillation facility has several certifications because of its rigorous quality control and testing standards.
Ylang Ylang Essential Oil by Diffuse Essential Oils
Ylang essential oil is a multi-tasking oil as it controls the heartbeat and raises your blood flow. It is enriched with fragrance oil. It is plant-derived and helps to support physical and mental health. It helps to clear and heal acne. It also maintains the moisture of the skin and supports hair growth.
Ylang essential oil is sold by Diffuse Essential Oils, a renowned brand. One drop of natural essential oil has numerous health benefits. It is made of 100% natural elements that cleanse, nourish, protect, and gives a sweet smell to your soul and body.
Jasmine
Jasmine appears in many perfumes. Its distinctive floral scent has been enchanting people since ancient times. Not only is it uplifting, but some say it's an aphrodisiac.
100% Pure Undiluted Essential Oil – Jasmine by Red Silk Essentials
It's notoriously difficult to find 100% percent pure jasmine essential oil. But Red Silk Essentials guarantees that you'll love their pure oil or they'll give you your money back. Their facility bears a number of certifications including ISO 9001 and GMP.
Use this oil in your ultrasonic or nebulizing diffuser. Or blend it with a carrier oil, shower gel, or body lotion to perfume your skin.
Conclusion
You've just seen some of the best smelling essential oils. We hope our reviews guide you to the ones you need. As you shop, stick to the top brands of essential oils to ensure the purest products with the best scents. Also, check out our reviews of the top diffusers for your home, office, and vehicle.
Categories: Aromatherapy