Last Updated on
How do you know which are the best essential oil brands for your money? After all, this is an industry that isn't regulated by the FDA. Oil quality can vary based on the distillation process of each company.
It also matters if the company dilutes the pure plant oil with bases or additives. But many of the most popular companies do rigorous quality testing using gas chromatography and mass spectrometry testing to prove the purity of their products.
Read our reviews to find out more about each specific company and find the one that's best for you on our list of the most popular brands.
Best Essential Oil Brands in 2020 (Most Reputable Companies)
We researched to find the best and most popular essential oil brands with the purest products. Each one of the oils below is appropriate for use with a diffuser, or they can be applied to the skin. And if you're shopping for a wider variety of scents, check out our article about the best aromatherapy starter kits on the market.
dōTERRA
Yes, doTERRA is a multi-level marketing company. But don't let that stop you from enjoying this best quality essential oil brand. Some of the experienced folks who founded this company came from Young Living, another quality essential oil company. And they created their own therapeutic grade protocol with mass spectrometry to ensure the purity of each batch that hits the market.
doTERRA sources their ingredients from around the world then subjects them to a gentle distillation process that preserves their potency. Critics of the company don't knock the effectiveness of the oils; only their pricing and restrictions on availability.
Generally speaking, you'd have to purchase these oils from a certified online vendor at an expensive price point. But many of the oils are available online through third-party sellers. Just be sure to check the seller's ratings before you spend your hard-earned money. Then you can avoid signing up for a membership to enjoy the products.
doTERRA Lavender Essential Oil
doTERRA's lavender essential oil brand is a must-have at home to relieve stress and soothe mild injuries. Diffusing lavender before bedtime will help you to relax. You can also apply it to bug bites to relieve the itching.
doTERRA Family Essential Kit
If you enjoy the premium quality that doTERRA products have to offer and you use them on a daily basis, then you might want to purchase a bigger package for more money that is fitted for an entire family. Their Family Essential Kit contains a total of ten oils and blends that every parent needs to have around the house to provide their family with all their "feel better" needs and smooth skin therapy.
The kit comes with 5ml bottles that include the following flavors: Lemon, Peppermint, Lavender, Melaleuca, Frankincense, doTERRA Breathe, DigestZen, Deep Blue, doTERRA On Guard and Oregano. Therefore, you will have a new flavor to help you make things exciting every day and if there is one thing that you can be sure about, then it has to be the fact that your kids will never get bored of the oils when they have so many options to pick from in this kit.
doTERRA Serenity Essential Oil Restful Blend
What better way to relax after a hard day at work other than use oils that will instill a sense of peace and calmness? This is the effect that the Serenity Essential Oil Restful Blend from doTERRA has on its users and the reason behind this is that the product has been specially designed to promote relaxation and restful sleep environment. This makes the Serenity Essential Oil Restful Blend perfect for when you are looking to get a quality night's sleep.
The Serenity Essential Oil Restful Blend will lessen feelings of tension and calm emotions while also soothing the sense to make you feel more comfortable and at ease. This oil's aroma is described as a wonderful blend of warm, floral and the scent of herbs. In addition, the oil should be applied to the bottom of the feet during bedtime in order to support relaxation before sleep.
Young Living
They are a favorite essential oil company on our reviews list. They are based in the United States and are very popular with quality customer service. This well-established multi-level marketing company started in 1993 but has expanded worldwide. They have their own therapeutic grade control process that oversees the cultivation, harvesting, and distillation of their oils.
Thieves Essential Oil by Young Living
Thieves oil is possibly the best-known and favorite product from this company. It's a blend of clove, lemon, cinnamon bark, eucalyptus, and rosemary oils. And it's hailed as an immune booster, antiseptic, and anti-cavity treatment. You can also use it in place of household cleaning products.
Lavender Essential Oil 15ml by Young Living Essential Oils
The Lavender 15ml oil is one of the best-selling products that they offer and this is thanks to the multi-use blend that features sweet floral, coral and herbs notes in order to create a fresh aroma that promotes relaxation.
Lavender are versatile plants that can be used either topically or aromatically. According to a variety of research studies performed by the company, the aroma of lavender will lower blood pressure and decrease heart rate.
Due to its amazing aroma, the Lavender 15 ml oil will also help relieve anxiety and nighttime relaxation. What we like best about this oil is the fact that its balancing properties it can be used to support the body when dealing with high-stress situations or imbalances. Furthermore, the Lavender 15ml Oil can be added to your personal shampoo, lotion or cream to improve their benefits.
Frankincense Essential Oil by Young Living Essential Oils
Frankincense, also known as olibanum, is made from the resin of the Boswellia tree which can be found in the mountainous regions of India, Africa and the Middle East. These oils have been used in medicine for hundreds of years and this is why you can expect nothing but the best from the Essential Oil 5ml bottle.
This oil has a woody, spicy smell that will be absorbed and help reduce inflammations. Another great benefit that using this Essential Oil brings is that it can support healthy-looking skin because the oil contains the powerful Insensol which is going to make you feel young again! In addition, multiple research studies have proved that due to its anti-inflammatory properties, the oil can help the gut and body to function properly.
Plant Therapy
Plant Therapy sells directly to the public with no membership required. Each of the oils with this quality company undergoes testing for purity by third parties. Additionally, all the testing results are available on Plant Therapy's company website. Customer service has been reported to be pretty good with this company.
One of the distinct advantages of this company is the wide assortment of oils they sell, including organic-only ones and inexpensive starter kits.
Plant Therapy Top 6 USDA-Certified Organic Essential Oils Set
Plant Therapy's Essentials Set includes six of the most popular oils like lavender, peppermint, eucalyptus, lemon, tea tree, and sweet orange. Each set is USDA certified organic. And each one is also a hundred percent certified pure therapeutic grade because they have no additives, carrier oils, or fillers.
Each 10mL glass bottle in the set is amber-colored to protect the oils from degrading from exposure to light. Also, each cap doubles as a dropper. Furthermore, the set is packaged in a wooden gift box.
Plant Therapy USDA Certified Organic Frankincense Carteri Essential Oil
If you compare the price of this essential oil among the various companies, you'll find that Plant Therapy has one of the best deals. Their frankincense is harvested in Somalia and steam-distilled from the gum resin of the Boswellia Carteri tree.
Frankincense is a healing and calming oil. It helps reverse signs of aging, relieves joint pain like arthritis, and brings comfort in times of grief. The 100% pure USDA certified oil from Plant Therapy is safe to diffuse or use directly.
Plant Therapy Fractionated Coconut Oil, Carrier Oil + PUMP
If you use quality essential oils, you'll want the fractionated coconut oil from Plant Therapy. Like their other oils, it's 100% pure. Plus, it comes in a 16-ounce bottle that will last for quite a while.
Why dilute your oils with a carrier oil? That's because the pure oils could cause sensitivity or reactions for some people. But why use coconut oil? It absorbs quickly without leaving a greasy film behind.
Aura Cacia
Aura Cacia essential oils is a co-op or cooperative company where their community has input on their actions. Some of their oils are certified organic. And all of their oils are free from fillers and additives.
Aura Cacia Essential Oil, Uplifting Bergamot
The Uplifting Bergamot Aura Cacia essential oils has a citrus scent that will uplift your mood when you diffuse it. It's the same botanical ingredient that gives Earl Grey tea its unique flavor. This essential oil is guaranteed to be 100% pure and comes with child-resistant safety.
Aura Cacia Organic Essential Oil, Ylang Ylang
Ylang ylang fights anxiety lowers stress and serves as an aphrodisiac. Its floral aroma often appears in perfumes.
Aura Cacia's ylang-ylang essential oil comes from certified organic crops raised in Madagascar. And the oil goes through testing for purity and quality by gas chromatography and mass spectrometry.
Edens Garden
Edens Garden started in California almost a decade ago. The goal of this company has been to provide quality essential oils at an affordable price. To that end, Edens Garden rotate their stock every two weeks to make sure each batch is fresh. Moreover, they use testing to determine purity with gas chromatography and refuse to include fillers or bases. Customer service is another strong point for Edens Garden.
Edens Garden Head Ease
The Head Ease oil blend from Edens Garden has everything you need to relieve a headache and make sore muscles feel better. It contains peppermint, lavender, rosemary, basil, spearmint, ginger, chamomile, and Helichrysum. Both the aroma and the gentle tingling sensation work together to ease the pain.
Edens Garden Basil Essential Oil
Basil is a traditional remedy for lack of confidence, fatigue, sorrow, and negativity. It's also used for improving digestion and soothing achy muscles.
Basil blends well with lemon and lavender. And since the Edens Garden essential oil is 100% pure, be sure to dilute it with a carrier oil before applying it. That's because it has a high eugenol content.
NOW Foods
NOW Foods is a well-known company known for its great customer service. People recognize them for supplements but that isn't all they make. Their essential oils are quite popular because they are economical and go through testing both in-house and by third parties. Some of their oils are USDA certified organic, too.
NOW Eucalyptus Essential Oil
The 4-ounce bottle of Eucalyptus essential oil from NOW Foods is a bargain when you compare its price to what you'd pay for a much smaller and more expensive bottle from a different company. But the 100% pure and natural oil comes from steam-distilled leaves and branches of the Eucalyptus Globulus tree. There are no shortcuts in the manufacturing process or fillers in the bottle.
Eucalyptus is a well-known remedy for respiratory infections because it's a powerful decongestant. Diffuse this oil when the next cold strikes to make breathing easier.
NOW Peppermint Essential Oil
The peppermint essential oil from NOW FOODS is a steal. It comes in both 4-ounce and 16-ounce bottles which are enormously convenient if you use it often. The oil is certified pure and can be applied, diffused, or used for cooking. Peppermint has a variety of uses, from soothing an upset stomach to keeping mosquitoes away.
Mountain Rose Herbs
Mountain Rose Herbs sells certified organic essential oils. They avoid GMO products. And they've won awards for environmentally-friendly business practices.
Mountain Rose Herbs Rosemary Essential Oil
The rosemary essential oil from Mountain Rose Herbs comes from plants harvested in Spain. The oil is steam-distilled from the flowers. And it's packaged in amber glass bottles with droppers to protect it from degradation.
Rosemary plants are proven to reduce hair loss. It also improves memory and blends well with many other essential oils.
Tea Tree Essential Oil
The tea tree oil from Mountain Rose Herbs comes from Kenya. It's sold in amber glass bottles with droppers.
Tea tree isn't the most appealing for diffusing unless it's blended with another oil like bergamot. But when applied properly, it fights infections and speeds up healing. Just be sure to dilute it with a carrier oil.
Rocky Mountain Oils 15ml
This oil comes in a 15ml bottle and it offers a 100% pure and natural essential oil blend that has been specially designed to promote healthy-looking skin. After using this pure and natural oil, you will soon find out that your skin feels fresh and that it has a clean, floral scent that is powerful enough to bring a smile to your face.
The folks at Rocky Mountain Oils are advising everyone who wants to improve their appearance and have a youthful glow to apply the oil on a daily basis, especially since it has been diluted with carrier oils that makes it usable as a moisturizer that can help soften and rejuvenate the overall appearance of skin. We also want to mention that the Rocky Mountain Oils 15ml is GC/MS verified as 100% pure and natural which makes the oil perfect for therapeutic massages.
Art Naturals
Art Naturals is a beauty and cosmetics company that was founded in Gardena, California back in 2014. This company has now moved into the health-conscious capital of Los Angeles and it specializes in creating oils that fuse the beauty and art of nature which provide customers with eco-friendly and health-conscious products for their skin, hair, body and bath at an affordable price. Art Naturals has made its name in the industry by only using natural ingredients and also for creating products that contain the highest-quality of oil extracts which offer long-lasting results.
The company sources oils from a variety of countries around the world in order to ensure the best possible quality and you can read all about the place of origin on each oil bottle sold by Art Naturals. What makes the products sold by Art Naturals stand out is the fact that they are made via steam distillation which is a process that uses gentle heat to extract the volatile aromatic components from the plants.
In addition, Art Naturals also uses cold expression/press for citrus only products. This process uses a special pressure system that squeezes essential oils from citrus peels and thus, manages to keep their benefits intact.
Essential Oils Rollerball Blends Gift Set
If you enjoy using essential oils but don't like the fact that they are often difficult and messy to apply, then you should be pleased to know that Art Naturals has a solution to that problem with their gift set. The Essential Oils Rollerball Blends is an amazing gift set that contains eight aromatherapy rollerballs that feature unique blends of essential oils that only Art Naturals offers. Thanks to rollerball technology, these essential oils are easy to apply and use throughout the day or night.
The signature senses that you will find in this gift set are: Serene, Zen, Om, Chi, Relief, Bliss and Solace. To top it all off, the essential oil blends have already been combined with Jojoba Oil (Art Naturals exclusive) and this means that they don't need any mixing before using. Last not but least, Art Naturals is proud that to say that the Essential Oils in the Rollerball Blends gift set is 100% cruelty-free and vegan!
100% Organic Morrocan Argan Oil
The 100% Organic Morrocan Argan Oil from Art Naturals comes in a big 120ml bottle and it is perfect for people who are searching for a way to replenish and revitalize their skin. The oil is a natural moisturizer and this means that it will combat dry, damaged, wrinkled and cracked skin or hair. As it is the case with all Art Naturals products, the 100% Organic Morrocan Argan Oil is cruelty-free and vegan.
The 100% Organic Morrocan Argan is great by itself when it comes to moisturizing, but it can do much more than that when combined with an essential oil that can add a multitude of healing benefits and make you feel relaxed. Art Naturals is so confident in the performances of the 100% Organic Morrocan Argan Oil that it is offering a 100% satisfaction guaranteed or your money back warranty program. Ordering this oil is a win-win situation!
Rocky Mountain Oils
Rocky Mountain Oils is an industry leading essential oil company that sells 100% pure, natural and authentic essential oils alongside crafted blends and nutritional products. The company was founded by a group of wellness enthusiasts in 2004 and unlike many other reputable essential oil companies, Rocky Mountain Oils doesn't use an MLM (multi-level-marketing) model to sell its products. Rocky Mountain Oils believes that effective essential oils are gifts from the earth and this is why they want to provide high-quality wellness products to everyone.
The company is confident in the quality of its products and it uses independent third-party quality/purity testing labs to verify if the products are safe and if they actually offer the results that Rocky Mountain Oils advertises. This isn't something that all essential oils company are willing to do and it shows us why Rocky Mountain Oils is an industry leader and why its products are some of the best for the premium quality and quality customer service they offer.
Moreover, Rocky Mountain Oils has recently acquired Native American Nutritionals (NAN) and partnered with multiple companies all under the guidance of the S.A.F.E. Promise in order to keep expanding its offering with the best premium quality essential oils and proprietary blends on the market.
Sacred Frankincense Essential Oil
The Sacred Frankincense Essential Oil is available in a 15ml bottle and it is grown with organic practices and harvested without the use of fillers or fragrance enhancers of any kind. Therefore, you can be sure that this is an 100% pure essential oil. The Sacred Frankincense Essential Oil features an amazing combination of balsamic, warm, rich, slightly spicy, woody and sweet orange aromas that are guaranteed to make you feel relieved whenever you are using it.
If you love meditation, then you don't need to look any further than the Sacred Frankincense Essential Oil because this oil excels at enhancing meditation and helping people balance their emotions while lessening the feelings of grief and loneliness at the same time.
Although, the most important thing that this essential oil does is the fact that it helps improve all skin types with toning and also tightening the skin which can fade the appearance of scars. The folks at Rocky Mountain Oils are recommending 1-3 drops of the essential oil per ½ teaspoon carrier oil.
100% Pure and Natural Essential Oil Blend for Skin Care
Rocky Mountain's essential oil company offers lots of products that help with skin care and the 100% Pure and Natural Essential Oil Blend is the most popular one. This is due to the fact that the essential oil features a floral aroma that is guaranteed to bring a smile to your face while also taking care of your skin and giving it a youthful glow. The 100% Pure and Natural Essential Oil Blend comes in a 15ml bottle and it can also be found bundled in the special "Skin Care Collection" package that Rocky Mountain Oils sells.
Nonetheless, the essential oil can be applied to all parts of the body at all times but it's recommended to use it before bedtime because it will provide a sense of relief and promote nighttime relaxation. In addition, GC/MS has verified the essential oil to be 100% pure and natural which makes it ideal for therapeutic uses.
Frequently Asked Questions
Which essential oil company is the purest?
Every company that specializes in essential oils claims that they offer pure and natural products but have you ever wondered which company actually delivers on that promise? While most companies sell pure essential oils, not all of their product live up to the same standards while some are doing their utmost to go through all the highest standards of production and quality in order to offer the purest essential oils possible.
As previously noted, there are many companies that sell pure essential oils but the one that offers the purest ones at an affordable price is Young Living. This company was founded in 1993 in Lehi, Utah and now it has offices all over the world. They are an industry leader when it comes to essential oils and the only downside to their products is that Young Living uses the MLM (multi-level-marketing) structure which sometimes makes it difficult to acquire their best products from third-party sellers.
Young Living control everything in terms of product production starting with cultivating and harvesting the seeds and ending with distilling the pure essential oils in their own distilleries that are located all over the world. This is enabling Young Living to verify the quality standards at every step of production.
Which brand of lavender oil is best?
People are always looking for new ways to make their homes more comfortable and relaxing. After all, our homes are the place where we spend most of our time and it's normal to want to make it feel special and private. Aromatherapy is often the best way to add a personal touch to a home and lavender is the most popular one for that. If you are searching for the best brand of lavender oil, then doTERRA is the company that you are looking for.
They are a world-renowned company that has made its name in the industry by offering some of the best products and the lavender oil is doTERRA's best-selling product. The scent of the essential oil is magnificent and it can be used in numerous ways. You can obviously make your home have a natural and beautiful scent, but you can also use the lavender to freshen up the mood in your car.
The reason why the lavender essential oil sold by them holds the title for being the best is thanks to the fact that it can reduce feelings of depression and anxiety. Not just that, but using it on the skin will help reduce inflammations and irritation while giving the skin a youthful glow at the same time.
How do you know if essential oils are pure?
Purchasing essential oils is super-simple since you can find the products everywhere. However, things get a little bit more challenging when it comes to finding the best essential oil that is actually going to deliver on the promises they make when they market themselves.
It's quite simple to get tricked by so-called "certified" sellers who are "extending" essential oils by mixing them with more affordable oils or by simply selling synthetic oils that have been scented. Nonetheless, here is what you need to check to see if an essential oil is pure.
The first thing that you wan to verify is the way that the essential oil pours. Even though this might not sound like an important thing, it's actually quite significant. Also, make sure to be careful when unscrewing the cap to check the way it has been sealed. Premium quality essential oils will be sealed with something called "orifice reducer" that will control the number of drops that can come out at the same time.
A fun fact that most people don't know about essential oils is that they are not actually oils. This is why you can always try testing the purity of an oil by placing one drop on white paper and waiting for it to dry. If an oily ring is left behind, then you will know that what you are looking at is not a pure essential oil.
Can you mix essential oil brands?
If you love using essential oils and if you own multiple bottles from a variety of brands, then you have surely wondered at least once what happens if you mix them? You can blend them but you need to be careful to combine essential oils that have the same benefits because otherwise, you can ruin them.
Take for example the highly popular Frankincense and Lavender combination that many quality companies are selling. However, if you blend a high-quality Lavender with a poor-quality Frankincense essential oil you will not get the best of both worlds and instead, you will end up with no benefits at all.
With that said, you can blend any essential oil company with another but the outcome might not always be what you expect. Madeline Langley is a Certified Aromatherapist and she said that she doesn't want to mix different brands of essential oils because each of them has its own "energy" and putting them together will more than often cancel their effects such as promoting relaxation for example. However, if you are only looking to create a unique scent and don't care for the potential therapeutic value of the blend, then you can go ahead and blend any type of essential oil brands together.
Conclusion
If you rely on essential oils to improve your health and well-being, you need pure products from responsible companies with solid customer service and certified third party online vendors.
The best brands can be used for a range of different purposes and even replace cleaning products sometimes.
We hope our reviews list of the best essential oil brands helped you discover the right company for your needs.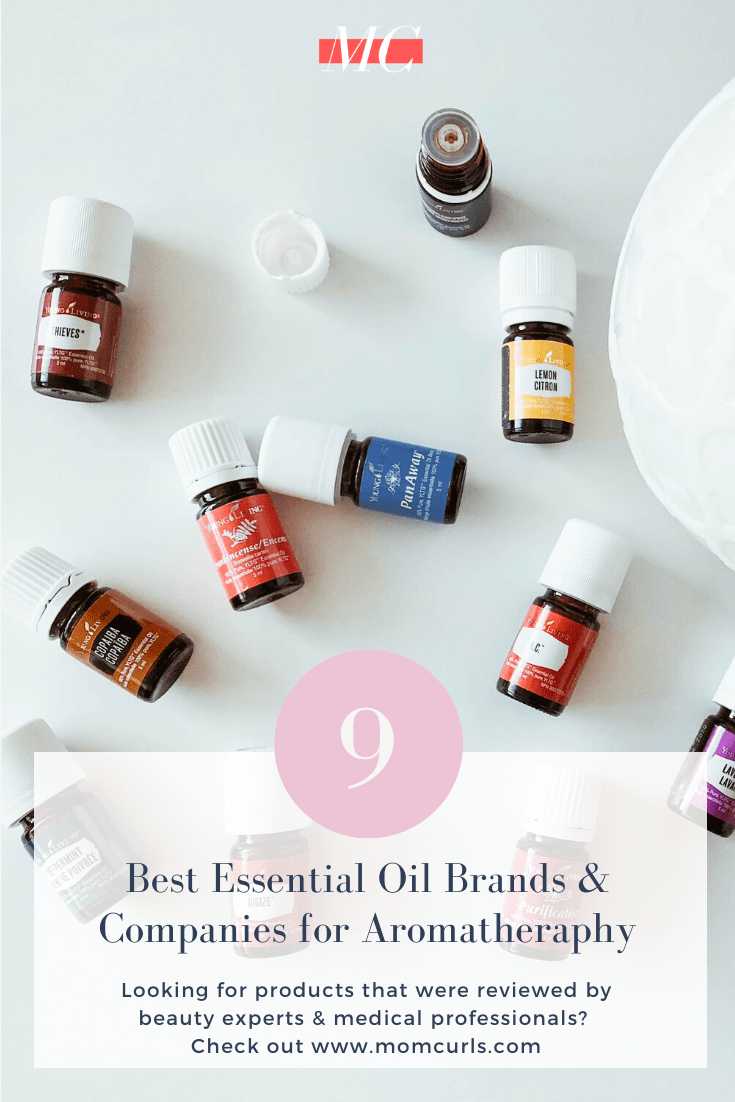 [wp-cats-pop-posts]