Last Updated on May 6, 2021

How do you know which are the best essential oil brands for your money? After all, this is an industry that isn't regulated by the FDA. Oil quality can vary based on the distillation process of each company.

Does the company dilute the pure plant oil with bases or additives? Also, do they do rigorous quality testing using gas chromatography and mass spectrometry testing to prove the purity of their products? These are all questions that you should ask when trying to find the best essential oil company.

Overwhelmed? Don't worry! We researched to find the best and most popular essential oil brands with the purest products. Each one of the companies below has options that are appropriate for use with a diffuser, as well as applied topically to the skin.

In our buying guide, we'll tell you more about each specific company so that you can find the one that's best for you. Also, if you read until the end we'll go over which two brands are better to avoid…
10 Best Essential Oil Brands (2023 Updated)
1. Plant Therapy®
Plant Therapy believes that the power of essential oils is because of purity and quality. They sell directly to the public with no membership required.
Quality Control and Testing
Each of their oils has been tested for purity by third parties and all the testing results are available on their official website.
Price Range
One of the distinct advantages of this company is the wide assortment of oils they sell, including organic-only ones and inexpensive starter kits. They have several options to suit every price range.
Customer Service
They guarantee 100% customer satisfaction and use third-party testing as the other major companies do. You will be refunded your money with no questions asked if you are ever unhappy with their products.
2. Rocky Mountain Oils™
Rocky Mountain Oils is an industry-leading essential oil company that sells 100% pure, natural, and authentic essential oils alongside crafted blends and nutritional products. The company was founded by a group of wellness enthusiasts in 2004 and unlike many other reputable essential oil companies, they don't use an MLM (multi-level-marketing) model to sell its products. The company believes that effective essential oils are gifts from the earth and this is why they want to provide high-quality wellness products to everyone.
Quality Control and Testing
The company is confident in the quality of its products and it uses independent third-party quality/purity testing labs to verify if the products are safe and if they actually offer the results are advertized. This isn't something that all essential oils company are willing to do and it shows us why they are an industry leader and why its products are some of the best for the premium quality
Moreover, they have recently acquired Native American Nutritionals (NAN) and partnered with multiple companies all under the guidance of the S.A.A.F.E. Promise. This stands for Satisfaction, Authentic, Analysis, Free of Adulterants, and Effective and Pure. In order to keep expanding its offering with the best premium-quality essential oils and proprietary blends on the market.
Price Range
For what they offer, they have quite competitive pricing. Sure they might cost a bit more than organic options but they still cost less than other companies and the quality is just as good!
Customer Service
If quality customer service is important to you then you're in luck! They offer a 90 day no hassle 100% money-back guarantee. If you aren't happy with your purchase then you can contact them for a refund. They have an online store which you can visit by clicking the button above.
3. Young Living™
They are a favorite essential oil company on our list. They are based in the United States and are very popular with quality customer service. This well-established multi-level marketing company started in 1993 but has expanded worldwide into places like Australia, Canada, Europe, Singapore, and Japan.
Quality Control and Testing
The thing we like most about this brand is that they have their own therapeutic grade control process that oversees the cultivation, harvesting, and distillation of their oils. This gives them very good control over the end product. Everything from cultivating, harvesting, and distilling is done on their own farms at various locations.
They use a proprietary steam extraction technique for distilling their essential oils. They also utilize cold pressing and resin tapping techniques for some of their oils. You can read about their process on the Seed to Seal site (2).
Price Range
You can get Young Living essential oils from Independent Distributors and also on Amazon. They are one of the most expensive essential oils you'll buy though. You also have to decide whether the Young Living quality standards, production process, and company structure are ok with you. For some other alternatives keep reading.
Customer Service
Customer service through the Young Living essential oils website features a live chat, e-mail address and toll-free number.
4. dōTERRA®
Yes, doTERRA is a multi-level marketing company. But don't let that stop you from enjoying this best quality essential oil brand. Some of the experienced folks who founded this company in 2008 came from Young Living, which is another essential oil company on our list.
The founders all have a lot of experience with the benefits of essential oils and "strive to bring a new standard of therapeutic grade essential oils to the world" which is their mission statement".
Quality Control and Testing
They have created their own therapeutic grade protocol with mass spectrometry to ensure the purity of each batch that hits the market.
doTERRA sources their ingredients from around the world and then subjects them to a gentle low heat steam distillation process that preserves their potency. Critics of the company don't knock the effectiveness of the oils; only their pricing and restrictions on availability.
They offer full insight into their sourcing and delivering on their Source to You website where you can download reports (1.)
Price Range
Generally speaking, you'd have to purchase these oils from a certified online vendor at an expensive price point. But many of the oils are available online through third-party sellers. Just be sure to check the seller's ratings before you spend your hard-earned money. Then you can avoid signing up for a membership to enjoy the products.
Customer Service
If you're not completely satisfied with your purchase, you can return it for a 100% refund or 100% product credit. This will depend a little bit on timeline and whether you've opened the product or not.
5. Aura Cacia®
Aura Cacia essential oils are part of the Frontier Co-Op instead of being their own corporation. This means that there is more of a community feel within the company. They were founded in Eastern Iowa in 1976.
Quality Control and Testing
Some of their oils are certified organic. And all of their oils are free from fillers and additives.
They use amber glass bottles, which ensures that light does not ruin the oils' integrity and individual properties. The essential oil products are also 100% pure. They don't use any additional bases, fillers, or additives. While not all of their oils are certified organic, they do feature some certified organic oils in their inventory.
Price Range
We like that this brand is affordable, yet doesn't compromise quality and testing protocols. We should note that their bottles contain 7.4 mL instead of other "standard" 10 mL, so just be aware of that when shopping around.
Customer Service
If you're not satisfied with a product for any reason, you have 60 days starting from the date of the invoice to get a refund. You can ask for either a refund or replacement. Products are also sold in retail stores and not only online, so you are able to go that route if you wish. For assistance with all returns please start by calling Customer Service at 1-800-669-3275.
6. Edens Garden™
Edens Garden started in San Clemente, California a decade ago. Their CEO, Grace, states that the goal of this company has been to provide quality essential oils at an affordable price.
Quality Control and Testing
The company follows their standard E.D.E.N.S. pledge. This stands for Effective, Dedicated, Educated, Natural, and Safe. Their oils are all thoroughly tested in batches before they are put into Edens Garden bottles.
To this end, Edens Garden rotate their stock every two weeks to make sure each batch is fresh. Moreover, they use testing to determine purity with gas chromatography and refuse to include fillers or bases.
Price Range
We like the branding of Eden's Garden essential oils. You can buy their nice-looking "Best of the Best Set" for a very reasonable price. This is a really nice-looking, home-use "medicine cabinet" starter kit that won't hurt your wallet.
Customer Service
Customer service is another strong point for Edens Garden. If you're not happy with the purchase, you have a 30 day no questions asked refund policy available to you.
7. Now Foods® (NOW®)
NOW Foods is a well-known company known for its great customer service. People recognize them for supplements but that isn't all they make. They manufacture and distribute over 1,400 natural foods, dietary supplements, sports nutrition, as well as personal care products.
Quality Control and Testing
NOW Foods uses an in-house full facility laboratory and utilizes third-party testing only when it is deemed necessary. They use Gas Chromatography (GC) testing and Infrared Spectometry for their oils. Some of their assortment are USDA certified organic essential oils, and their oils are natural and pure.
There is one jasmine blend that is clearly labeled as synthetic, but it is the only one in their assortment and they have explained why this is on the FAQ page (3), basically they say that the synthetic scent is due to the very high price of pure jasmine oil.
Price Range
The price range is very reasonable. We would classify it as mid-range.
Customer Service
While we like most things about this oil, getting in touch with customer service at NOW Health Group is a bit of a con. Their website lists all of their corporate offices, but there is no toll-free line mentioned for customer service or order inquiries. This leaves you to fill out a product feedback form, or fill in an email inquiry form. For the people who don't like to use email, this could be the deciding factor between choosing NOW or another reputable essential oil brand that allows talking to a real person.
8. Mountain Rose Herbs®
Mountain Rose Herbs sells certified organic essential oils. They avoid GMO products. And they've won awards for environmentally-friendly business practices.
Quality Control and Testing
This is a company that holds quite a few certifications and awards regarding their product sourcing, including non-GMO project certification, and the 2013 Best Green Businesses To Work For In Oregon. We have to say, this company is making quite a few awesome commitments to better, green business practices and if this is important to you then this is a good company to support.
Price Range
The company's essential oils actually come in a variety of price ranges. We've found them quite affordable, but certain oils are on the expensive side. It depends on which one you're looking for. Therefore, the best thing you can do is have a look at their website and shop for the one you'd like. Keep in mind that they are certified organic, so the extra dollars spent may be worth the investment.
Customer Service
The brand's customer service includes a 1-800 number, fax line, mailing address, email support. You can even pick up your order in person at their Eugene, OR address. They have regular hours of operation of Monday-Friday 9:00am-5:00pm PST.
9. Art Naturals
Art Naturals is a beauty and cosmetics company that was founded in Gardena, California back in 2014. This company has now moved into the health-conscious capital of Los Angeles and it specializes in creating oils that fuse the beauty and art of nature which provide customers with eco-friendly and health-conscious products for their skin, hair, body, and bath at an affordable price. Art Naturals has made its name in the industry by only using natural ingredients and also for creating products that contain the highest-quality of oil extracts which offer long-lasting results.
Quality Control and Testing
The company sources oils from a variety of countries around the world in order to ensure the best possible quality and you can read all about the place of origin on each oil bottle sold by Art Naturals. What makes the products sold by Art Naturals stand out is the fact that they are made via steam distillation which is a process that uses gentle heat to extract the volatile aromatic components from the plants.
In addition, Art Naturals also uses cold expression/press for citrus only products. This process uses a special pressure system that squeezes essential oils from citrus peels and thus, manages to keep their benefits intact.
Price Range
The price range is quite reasonable with this company, nothing to report here.
Customer Service
Customer service is reported to be quite good as well.
10. Plant Guru®
Plant Guru® began online by providing 100% pure therapeutic grade essential oils with no pyramid schemes. Their oils are produced globally from reputable plant producing farms.
Quality Control and Testing
he suppliers abide by USDA standards and are third-party tested using GC/MS methods. They don't use pesticides or chemicals, and no GMOs are added to their 175+ types of essential oils and blends.
Price Range
They offer fair and competitive prices without using any marketing systems.
Customer Service
Their philosophy has always been to treat customers respectfully by using the best quality ingredients.
Here's Some of Our Favorite Products
Plant Therapy USDA Certified Organic Frankincense Carteri Essential Oil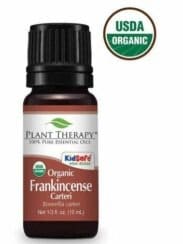 If you compare the price of this essential oil among the various companies, you'll find that this company has some of the best deals. Their frankincense is harvested in Somalia and steam-distilled from the gum resin of the Boswellia Carteri tree.
Frankincense is a healing and calming oil. It helps reverse signs of aging, relieves joint pain like arthritis, and brings comfort in times of grief. The 100% pure USDA certified oil is safe to diffuse or use directly.
Sacred Frankincense Essential Oil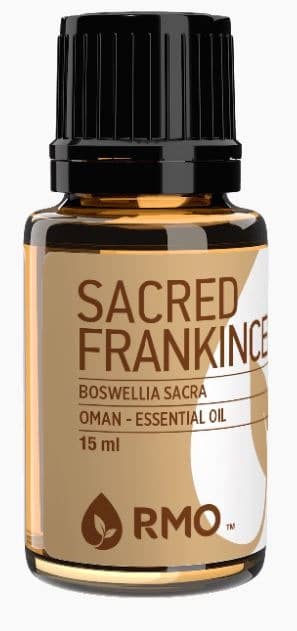 The Sacred Frankincense Essential Oil is available in a 15ml bottle and it is grown with organic practices and harvested without the use of fillers or fragrance enhancers of any kind. Therefore, you can be sure that this is a 100% pure essential oil. The Sacred Frankincense Essential Oil features an amazing combination of balsamic, warm, rich, slightly spicy, woody, and sweet orange aromas that are guaranteed to make you feel relieved whenever you are using it.
If you love meditation, then you don't need to look any further than the Sacred Frankincense Essential Oil because this oil excels at enhancing meditation and helping people balance their emotions while lessening the feelings of grief and loneliness at the same time.
Although, the most important thing that this essential oil does is the fact that it helps improve all skin types with toning and also tightening the skin which can fade the appearance of scars.
100% Pure and Natural Essential Oil Blend for Skin Care
RMO offers lots of products that help with skin care and the 100% Pure and Natural Essential Oil Blend is the most popular one. This is due to the fact that the essential oil features a floral aroma that is guaranteed to bring a smile to your face while also taking care of your skin and giving it a youthful glow. The 100% Pure and Natural Essential Oil Blend comes in a 15ml bottle and it can also be found bundled in the special "Skin Care Collection" package that they sell.
Nonetheless, the essential oil can be applied to all parts of the body at all times but it's recommended to use it before bedtime because it will provide a sense of relief and promote nighttime relaxation. In addition, GC/MS has verified the essential oil to be 100% pure and natural which makes it ideal for therapeutic uses.
doTERRA Family Essential Kit
If you enjoy the premium quality that doTERRA products have to offer and you use them on a daily basis, then you might want to purchase a bigger package for more money that is fitted for an entire family. Their Family Essential Kit contains a total of ten oils and blends that every parent needs to have around the house to provide their family with all their "feel better" needs and smooth skin therapy.
The kit comes with 5ml bottles that include the following flavors: Lemon, Peppermint, Melaleuca, Frankincense, doTERRA Breathe, DigestZen, Deep Blue, doTERRA On Guard and Oregano. Therefore, you will have a new flavor to help you make things exciting every day and if there is one thing that you can be sure about, then it has to be the fact that your kids will never get bored of the oils when they have so many options to pick from in this kit.
doTERRA Serenity Essential Oil Restful Blend
What better way to relax after a hard day at work other than use oils that will instill a sense of peace and calmness? This is the effect that the Serenity Essential Oil Restful Blend from doTERRA has on its users and the reason behind this is that the product has been specially designed to promote relaxation and restful sleep environment. This makes the Serenity Essential Oil Restful Blend perfect for when you are looking to get a quality night's sleep.
The Serenity Essential Oil Restful Blend will lessen feelings of tension and calm emotions while also soothing the sense to make you feel more comfortable and at ease. This oil's aroma is described as a wonderful blend of warm, floral and the scent of herbs. In addition, the oil should be applied to the bottom of the feet during bedtime in order to support relaxation before sleep.
Frankincense Essential Oil by Young Living Essential Oils
Frankincense, also known as olibanum, is made from the resin of the Boswellia tree which can be found in the mountainous regions of India, Africa and the Middle East. These oils have been used in medicine for hundreds of years and this is why you can expect nothing but the best from the Essential Oil 5ml bottle.
This oil has a woody, spicy smell that will be absorbed and help reduce inflammations. Another great benefit that using this Essential Oil brings is that it can support healthy-looking skin because the oil contains the powerful Insensol which is going to make you feel young again! In addition, multiple research studies have proved that due to its anti-inflammatory properties, the oil can help the gut and body to function properly.
Aura Cacia Organic Essential Oil, Ylang Ylang
Ylang ylang fights anxiety lowers stress and serves as an aphrodisiac. Its floral aroma often appears in perfumes.
Aura Cacia's ylang-ylang essential oil comes from certified organic crops raised in Madagascar. And the oil goes through testing for purity and quality by gas chromatography and mass spectrometry.
100% Organic Morrocan Argan Oil
The 100% Organic Morrocan Argan Oil from Art Naturals comes in a big 120ml bottle and it is perfect for people who are searching for a way to replenish and revitalize their skin. The oil is a natural moisturizer and this means that it will combat dry, damaged, wrinkled and cracked skin or hair. As it is the case with all Art Naturals products, the 100% Organic Morrocan Argan Oil is cruelty-free and vegan.
The 100% Organic Morrocan Argan is great by itself when it comes to moisturizing, but it can do much more than that when combined with an essential oil that can add a multitude of healing benefits and make you feel relaxed. Art Naturals is so confident in the performances of the 100% Organic Morrocan Argan Oil that it is offering a 100% satisfaction guaranteed or your money back warranty program. Ordering this oil is a win-win situation!
Edens Garden Basil Essential Oil
Basil is a traditional remedy for lack of confidence, fatigue, sorrow, and negativity. It's also used for improving digestion and soothing achy muscles.
Basil blends well with lemon. And since the Edens Garden essential oil is 100% pure, be sure to dilute it with a carrier oil before applying it. That's because it has high eugenol content.
NOW Peppermint Essential Oil
The peppermint essential oil from NOW FOODS is a steal. It comes in both 4-ounce and 16-ounce bottles which are enormously convenient if you use it often. The oil is certified pure and can be applied, diffused, or used for cooking. Peppermint has a variety of uses, from soothing an upset stomach to keeping mosquitoes away.
Frequently Asked Questions
What essential oil brands should be avoided?
The first brand that we would not recommend is the Radha brand. We tested out the Rest and relax, Four Thieves, Stress-Free, and Happy Citrus oils. Overall the smell was far too strong which is what other people have said as well.
The second brand that we were not a fan of was the Zellous essential oils. We tried the set which included Sweet orange, Lavender, Peppermint, Tea Tree, and Lemon Grass. Although the smell wasn't as bad as Radha, it still had a very chemical type scent that we didn't like.
Which essential oils are the purest?
Every company that specializes in essential oils claims that they offer pure and natural products but have you ever wondered which product actually delivers on that promise? The answer is Thieves Essential oil by Young Living. It has the highest standards of production and quality in order to offer the purest essential oils possible.
Young Living control everything in terms of product production starting with cultivating and harvesting the seeds and ending with distilling the pure essential oils in their own distilleries that are located all over the world. This is enabling Young Living to verify the quality standards at every step of production.
How do you know if essential oils are pure?
Purchasing essential oils is super-simple since you can find the products everywhere. However, things get a little bit more challenging when it comes to finding the best essential oil that is actually going to deliver on the promises they make when they market themselves.
It's quite simple to get tricked by so-called "certified" sellers who are "extending" essential oils by mixing them with more affordable oils or by simply selling synthetic oils that have been scented.
Here is how you can spot if an essential oil is pure. First, do a ring test on a strip of white paper. Pure essential oils won't leave any residue behind.
Next, check the way it pours. Pure essential oils will pour with a drop at a time due to the plug at the lid.
Can you mix essential oil brands?
If you love using essential oils and if you own multiple bottles from a variety of brands, then you have surely wondered at least once what happens if you mix them? You can blend them but you need to be careful to combine essential oils that have the same benefits because otherwise, you can ruin them.
Take for example the highly popular Frankincense and Lavender combination that many quality companies are selling. However, if you blend a high-quality oil with a poor-quality oil you will not get the best of both worlds, and instead, you will end up with no benefits at all.
With that said, you can blend any essential oil company with another but the outcome might not always be what you expect. Madeline Langley is a Certified Aromatherapist and she said that she doesn't want to mix different brands of essential oils because each of them has its own "energy" and putting them together will more than often cancel their effects such as promoting relaxation for example. However, if you are only looking to create a unique scent and don't care for the potential therapeutic value of the blend, then you can go ahead and blend any type of essential oil brands together.
Conclusion
If you rely on essential oils to improve your health and well-being, you need pure products from responsible companies with solid customer service and certified third-party online vendors.
The best brands can be used for a range of different purposes and even replace cleaning products sometimes.
We hope our list of the best essential oil brands helped you discover the right company for your needs.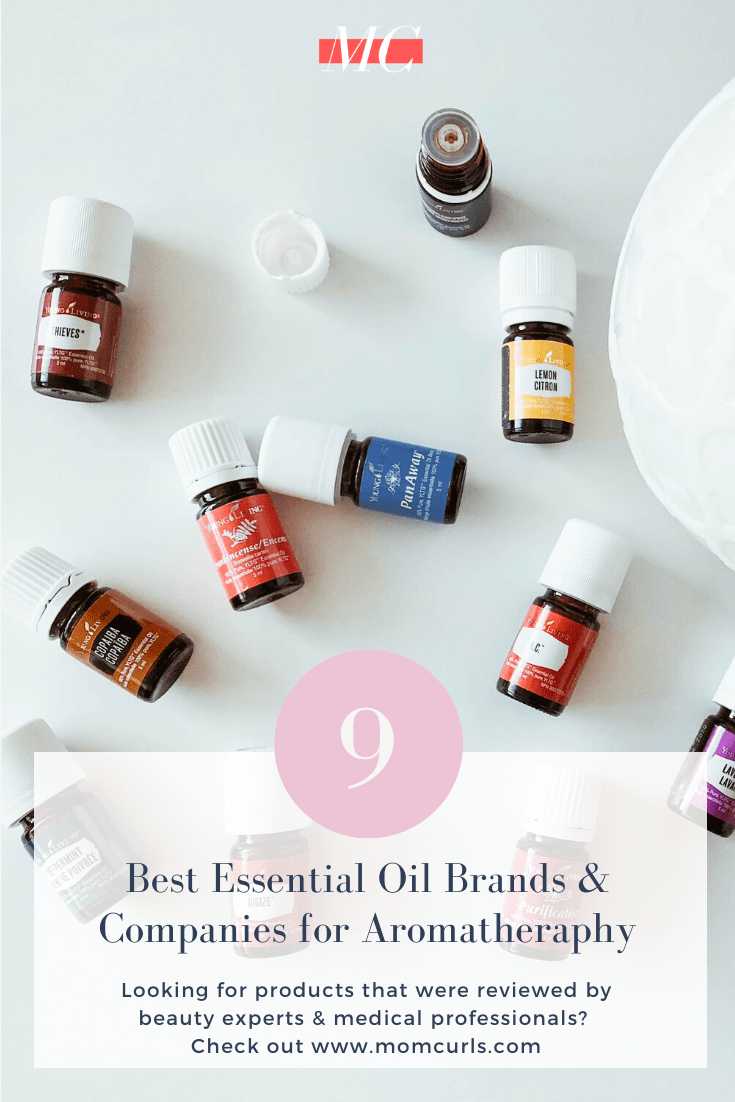 Categories: Aromatherapy