Last Updated on January 5, 2021

Luscious Lavender! One of the world's favorite essential oils that doesn't only smell incredible, but brings a whole host of health benefits for the body and mind. Whether you are a regular essential oil user, or just getting started in the essential oil world, once you try Lavender oil you will go back again and again. So naturally you want to find the best one!

So what are the benefits of Lavender essential oil? And how do you use it? One of the primary reasons people love this oil is its calming and soothing effect. Try diffusing it in your home to help you relax and get to sleep at night. Lavender also has antibacterial properties and it can be used to reduce inflammation and clear the skin. You can mix it with carrier oils or body lotions and apply it to the skin to reap its amazing benefits.

But how do you choose the best Lavender essential oil when there are literally thousands out there on the market? It can be overwhelming and difficult to know which ones are good quality or how much you should pay. Well, don't worry, we have reviewed our favourite 10 Lavender essential oils on the market to make it easy for you! Check out our list below!
10 Best Lavender Essential Oils (2023 Update)
1. Plant Therapy 100% Pure Lavender Essential Oil, 10 ml
Our number one recommended Lavender essential oil is this one from Plant Therapy. It is one of the most affordable on the market while still being amazing quality. It is 100% pure Lavandula Angustifolia with no adulterants or synthetic fillers in it.
It is a super versatile oil which is perfect for creating a calm, relaxing atmosphere. On their website, they recommend diffusing Plant Therapy Lavender Oil into the air for around 30 minutes to an hour before bed to help you wind down, release tensions, and fall asleep. It can be diluted into a carrier oil to improve skin issues like fine lines and wrinkles, acne and chapped lips, almost like a lip balm. It can even help to stimulate hair growth and dandruff.
A great thing about Plant Therapy is that they test every batch of oils twice to make sure they are 100% pure and safe every time. First in-house with their own specialists, and then by a third party with GC/MS (Gas Chromatography Mass Spectrometry) testing.
They are super transparent and you can even access the GC/MS results online. Their rigorous testing system was developed with world-renowned aromatherapy specialist Robert Tisserand, and along with their great reputation, it means you can trust you are getting the best quality.
Worried about using essential oils on or around your kids? This oil is even totally safe for children when diluted as part of their special KidSafe line for little ones between 2 and 10. Plant Therapy is also sustainably-minded with a mission to positively impact the lives of as many people as possible.
Key Ingredients:
Pros:
Totally pure and natural
Affordable price
Plant Therapy thoroughly test their oils
Cons:
Some people felt that the smell did not last very long
Some people prefer bottles with pipette-style dropper tops
2. Rocky Mountain Oils 100% Pure Lavender Essential Oil, 15ml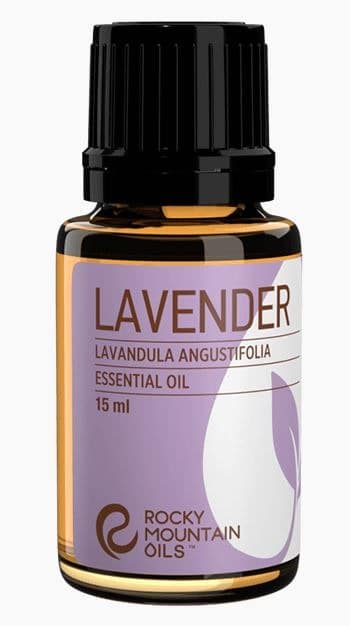 If you love natural products, Rocky Mountain Oils (RMO) Lavender Oil is another amazing 100% pure essential oil! It is grown with totally organic practices and harvested with no fillers or fragrance enhancers which makes it safe for the body and the planet.
Fill your home or office with the medium-strength, sweet, flowery and herbaceous aroma. It is perfect for diffusing or inhaling with an essential oil inhaler, for a calming and relaxing effect. They suggest you dilute 5 to 10 drops into every 100 ml of water.
RMO also recommends this oil as a great natural after-sun moisturizer as it helps to soothe the skin. Rocky Mountain Oils guarantees the highest-quality industry standards for their oils. They carry out extensive testing on all their oils including GC/MS testing.
You can even see the results of these tests online! RMO's oils are therapeutic grade making them great for use in aromatherapy but at reasonable prices. Finally, as Lavender oil is so versatile, it mixes well with other oils to unlock more amazing benefits.
RMO suggests a whole host of awesome blends, they suggest pairing it with floral, citrus and woody oils like Ylang Ylang, Geranium, Orange, Lemon, Sandalwood or Chamomile!
Key Ingredients:
100% Pure Lavender Essential Oil
Pros:
Pure, natural and grown with organic practices
Rigorously tested
Versatile benefits including mood, skin care, and sleep
Cons:
Can find cheaper on the market
Some people received a bottle that was leaking
3. Edens Garden Lavender Essential Oil, 100% Pure Therapeutic Grade, 30 ml
Edens Garden is a female-owned, family-operated company that was voted the #1 Non-MLM (multi-level-marketing) essential oil company. We love their excellent-quality Lavender oil which is 100% pure Lavandula Angustifolia.
It has a rich sweet and herby aroma which helps to energize the mind and restore the body. It is perfect for use with a diffuser, carrier oil or body care product to benefit from its calming, antibacterial and anti aging properties. We love the care and craft that goes into every Edens Garden essential oil.
Every one of their 200+ oils and blends is expertly formulated and hand-poured. Every batch also undergoes GC/MS testing to ensure its purity and safety, and you can actually access these test results on their website. Edens Garden products are all vegan and cruelty-free.
They have a sustainable and eco-friendly ethos and make sure all their products are all free from parabens, phthalates, gluten, synthetic fragrances and artificial colors.
Key Ingredients:
100% pure Lavender essential oil
Pros:
Natural, vegan and cruelty-free
Affordable
30 day, no-questions-asked money back guarantee
Cons:
May cause mild irritation on sensitive skin
Must be careful if pregnant
4. Healing Solutions Organic Lavender Essential Oil Therapeutic Grade Essential Oil – 10ml
If you are looking for an organic oil that won't break the bank, the much-loved Healing Solutions Lavender Essential Oil might be the perfect solution. This product is certified by the United States Department of Agriculture (USDA) and is registered on their website, so you can be certain that it is entirely organic.
This oil is also totally pure and natural, check out their purity guarantee that confirms that their oils have been GC/MS tested to verify their purity and make sure they contain no adulterants. Their test results are also made publicly available.
There are loads of ways that you can use the Healing Solutions Lavender Essential Oil and reap its benefits. Diffuse or inhale the oil to let go of your worries and feel calm and relaxed.
If you want to help clear, purify or soothe your skin or reduce the appearance of wrinkles and fine lines, try mixing a few drops of the oil with a carrier oil or body lotion. Overall Healing Solutions offers organic oils with amazing affordability. The manufacturer is so sure you´ll love it they even offer a money-back guarantee.
Key Ingredients:
100% Pure Organic Lavender Oil
Pros:
Organic Oil
Super affordable pricing
USDA certified
Cons:
Make sure to dilute properly to avoid skin irritation
Some people thought the aroma was weak
5. doTERRA Lavender Essential Oil, 15 ml
If you love buying from companies with the best reputations, you might consider doTERRA's Lavender Essential Oil. doTERRA dives deep into the history of Lavender, back to when it was used by the Romans and Egyptians, and they really value the wonderful ancient powers of essential oils.
They recommend adding a few drops to your pillow or the bottoms of your feet for a calming and restful sleep. It can soothe skin irritations and is great for freshening your house, linen, car etc. Their website and blog have loads of useful resources and information on different ways to use oils and safe practices.
doTERRA is an established oil supplier who guarantees top quality every time. They have developed their own testing system called Certified Pure Therapeutic Grade (CPTG), where every batch is tested by their own experts as well as by a third party with GC/MS testing.
The company promotes sustainable practices, and boasts a traceable supply chain. They also take actions to help provide jobs in impoverished communities across 40 nations. Overall, the quality of doTERRA is second to none, however partly due to their MLM business structure, their prices are higher than many of their competitors.
Key Ingredients:
Pros:
Amazing quality and rich scent
Extensive quality testing and control
Transparent supply chain
Cons:
More expensive than many other suppliers
Some people prefer not to buy through an MLM company
6. Orchid and Temple Lavender Essential Oil, 118ml
Do you like to use essential oils in different ways? Check out the Orchid and Temple Oil that comes with both a handy pipette-style dropper top as well as a mini roller bottle, perfect for travel. Orchid and Temple offers the best quality, totally pure oil which is made in the USA.
It is made with real extracts of the Lavender plant and can bring awesome benefits, like relieving stress, helping you relax or sleep, improving your mood, easing headaches and even helping to tackle acne!
The oils are paraben free, non GMO, cruelty free and fair trade which is great although the company does not mention performing any GC/MS testing on their oils to guarantee purity. Orchid and Temple is sustainably-minded and aims to produce natural, sustainably-sourced products.
Their oils are suitable for all skin types. Their oils can be added to a bath, mixed with a carrier oil, added to shampoo or other body care products. The roller is a great added bonus allowing you to spot oil onto different areas of the body for different effects, such as the temples to soothe headaches or even behind the ears, on the wrists or the bottoms of the feet.
Key Ingredients:
Pros:
Pure, natural and undiluted
Comes with bonus travel roller
Non GMO, cruelty free and fair trade
Cons:
Orchid and Temple does not perform GC/MS testing
Some people preferred the smell of other suppliers
7. PURA D'OR USDA Organic 100% Pure Lavender Essential Oil, 118ml
We love PURA D'OR as they work with a team of qualified aromatherapy specialists, in-house botanists and chemists to develop and test all their essential oils. Their awesome therapeutic-grade Lavender oil has a floral, refreshing scent that will energize any room and relieve tension in the mind and body.
The soothing, anti-inflammatory properties can also soothe skin and calm itching. Check out their dilution chart for different and safe ways on how to use their lavender oil. One of the best things about PURA D'OR is that their oils are all completely organic.
They are USDA certified, meaning they are inspected by a government sponsored body so you can trust they are the highest quality and organic. Quality is paramount for the them. They have their own rigorous 9 point Testing system where they test everything about the oils including pH,viscosity, blotter testing, organoleptic testing and external GC/MS testing.
If it doesn't pass, the supplier is not interested! They have total control over their sourcing and supply chain and likes it to be as straightforward and transparent as possible.They are even leading a reforestation scheme where they plant a tree for every bottle of essential oil produced!
Key Ingredients:
100% pure organic essential Lavender oil
Pros:
Totally organic and USDA certified
One of the most rigorous 9 point testing regimes on the market
Part of a reforestation tree-planting scheme
Cons:
Aromatherapy is just part of their selection, some people prefer to buy from solely essential oils sellers
Some suppliers give more information about oils and uses
8. Cliganic USDA 100% Pure Organic Lavender Essential Oil, 10ml
Who says you can't find an amazing good-value oil that is organic, doesn't test on animals, is non-GMO and totally cruelty-free? Cliganic does all this and more to bring you a USDA certified, high-quality, 100% pure and natural organic Lavender oil. It has no chemicals or additives, being just one pure ingredient.
The awesome versatile oil can be used for many purposes, from aromatherapy, skin care, hair care, soap making and dryer balls to all sorts of other things! Cliganic is very open about their supply chain and where they source their ingredients.
The Lavender Oil is sourced in either France or Bulgaria depending on the batch. It is then bottled fairly and ethically in the USA. They use a stream extraction process using Lavender flowers and bottle the product in a premium dark amber glass bottle.
This keeps the oil protected from UV rays. There is a German dropper cap included with the product which makes it super easy to use the right measured amount.
Key Ingredients:
100% pure organic Lavender oil
Pros:
USDA certified organic oil
Pure, natural quality
Easy-to-use top to control drops
Cons:
They do not mention their testing process or GC/MS testing
Some people prefer a pipette style cap
9. Majestic Pure Lavender Oil, Natural, Therapeutic Grade, Premium Quality Blend of Lavender Essential Oil, 118ml
Tired of buying tiny quantities of overpriced oils? You will love this 118ml, budget-friendly bottle of Lavender oil from Majestic Pure. It comes with a handy dropper top for easy use, but lasts a long time because of its extra-large size.
This makes it great for people that use or diffuse a lot of essential oils and love the amazing benefits of Lavender. This is a steam-distilled essential oil blend that uses two pure Lavender oils; Lavandula Angustifolia from Bulgaria and Lavandula hybrida from France. It has a rich, floral scent, a little fruitier than some others and fairly mellow.
This product is perfect for aromatherapy, diffusing or external use on the skin and is a great way to soothe the mind and body. It can be an effective sleep aid and can even naturally repel insects. Although Majestic Pure offers high-quality oils, these are not third party tested for purity like many other competitors.
Key Ingredients:
Lavandula Angustifolia
Lavandula Hybrida
Pros:
Large size
God value
Handy and easy-to-use dropper top
Cons:
Not third-party tested
Can irritate sensitive skin
10. Lavender Essential Oil by Young Living, 15ml
Last but not least is the Lavender essential oil from Young Living. It is an amazing-quality essential oil that exudes a range of notes from sweet, floral and herbal to coral. Customers love the fresh aroma that has multiple uses and benefits.
Fill your house with the uplifting scent or diffuse your way to a good night's sleep or a relaxing meditation session. Young Living also recommends that you mix their Lavender essential oil into your skin or hair care routine. You might add it to your shampoo, lotion or skin cream to help soothe minor irritations or reduce the appearance of spots.
If you want to know more about different oils and hope to use them, Young Living has a great blog with loads of advice, tips, tricks and knowledge. Young Living guarantees their high quality through their Seed to Seal promise.
This promise is at the core of the company and says that it operates on 3 main pillars; Sourcing, Science and Standards. This means they carefully select the farms they partner with for an ethical production and supply chain.
They also make sure that all their products are genuine and free from synthetics. They thoroughly test all their oils, first right on the farms, then in their own labs, and often use third-party labs too with highly trained scientists.
Key Ingredients:
100% pure Lavender essential oil
Pros:
Rigorous testing program
Ethical practices
Multiple uses from relaxing, sleep, meditation, skin care and hair care
Cons:
Young Living oils are not organic
More expensive than many competitors
What is the purest Lavender oil?
Many companies sell Lavender oil that is 100% pure and undiluted and made from natural extracts of the Lavender plant. Many also claim that their oils are 100% pure and include no adulterants or chemical fillers but this is not always the case.
A good way to identify products that have the best purity are those that rigorously test their products, including third party GC/MS testing. Sometimes these test results will be available online.
Related: Best essential oil company reviews
Can you rub Lavender oil directly on your skin?
Lavender has anti-inflammatory properties, it can ease dry skin conditions as well as being able to help fight against fine lines and wrinkles through skin tightening.
You can use Lavender essential oil on the skin, but as it is a highly-concentrated oil, some people may experience irritation if it is applied directly to the skin. Therefore it is recommended that you dilute it first by mixing it into a carrier oil or into a skincare product. Then you can massage it into the skin to reap its benefits.
What carrier oil do you use for Lavender oil?
There are various different carrier oils you can use with Lavender oil; Coconut Oil, Olive Oil, Argan Oil, Avocado Oil, Jojoba Oil, Sweet Almond Oil, Grapeseed Oil, Moringa Oil and many more!
Carrier oils are used to dilute essential oils and help you apply them evenly to the skin and experience their benefits. This is usually done by mixing a few drops of essential oil with the carrier. Always follow a dilution guide to do this safely.
Why does Lavender help you sleep?
Lavender has soothing and calming properties that can help reduce anxiety and help people relax. Diffusing Lavender for 30 minutes to half an hour before bed, or diluting it with water and spraying over linens, pyjamas or sheets can help you get to sleep.
Studies have shown that Lavender can increase slow-wave sleep which helps slow your heartbeat and relax your muscles.
Conclusion
So there's a good reason that Lavender essential oil is one of the most widely-used and popular oils on the essential oil market. It can help aid relaxation, reduce anxiety and stress levels, tackle fine lines, wrinkles and dry skin issues, and on top of that, it smells amazing! Now you know more about it, you are ready to choose the best oil for you and start experiencing the benefits for yourself.
Comparisons You Might Like:
Related Articles
16
Jul
If you are a serial lip balm user AND you love essential oils, making your own natural lip balms is a no-brainer. Essential oils can bring amazing benefits and therapeutic properties to smooth, moisturize and plump the lips. As well[...]
15
Jul
Whether you've recently lost weight, given birth, or are simply getting older, one of the most frustrating changes to your body during this time can be stretch marks, visible scarring, or a general loss of elasticity in your skin. With[...]
02
Jun
Whether you use essential oils religiously, or have just started discovering their benefits, it can be hard to know which oil supplier to use. There are loads of different brands out there and they all claim to sell amazing essential[...]
Categories: Aromatherapy