Last Updated on January 5, 2021

Many of us try different natural remedies to tackle health problems. Headaches, in particular, are very common, and many of us are no stranger to this. Reaching for over-the-counter medication has been our go-to in treating one over the years. However, essential oils are the new kid on the block, and it's proven one of the best and effective remedies to ease headaches. You can also use essential oil for anxiety.

With so many options out in the market, figuring out which essential oil to pick can be an added stress. This is where we aim to help. Our team has narrowed it down to the top 7 essential oils that will provide

So, we list down our seven best essential oils for headaches to help you. Let's dig in.
7 Best Essential Oils for Headaches (2023 Update)
Peppermint Oil – Best Essential Oil for Sinus Headache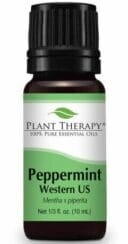 This one is very common and used in headache treatments for different reasons. Peppermint oil helps relieve sinus pressure, which in turn helps relieve any headaches related to it.
It is the best natural way of getting rid of a migraine headache. This oil is naturally calming and numbing. According to researchers, the properties of this oil benefits people suffering from migraines. It works effectively when applied to the forehead. It is the best natural remedy to treat migraines.
Apart from this, the menthol in peppermint oil helps the muscle to relax and helps ease the pain. Serving as a numbing and anesthetic agent, the peppermint oil when applied on any part of your head provides relief.
Eucalyptus Oil – Best Essential Oil for Headache due to Cold
Eucalyptus oil has numerous health benefits. It does help to reduce the pain caused by headaches. It is an antispasmodic, decongestant, and anti-inflammatory. All of these can relieve pain.
This oil acts as an antiseptic antibacterial, and as a deodorant.
Its antibacterial properties help in treating headaches. Not only does this oil prevent you from catching a cold, but it also helps cure a cold faster while ensuring you do not catch the same cold again once you recover.
When suffering from a headache caused by sinus, using eucalyptus oil is the best way to treat it. You could use this oil in any vaporizer. This will keep your nasal passages moist and treat any nasal congestion and also sinus pressure. This oil also facilitates sputum secretion, which relieves sinus pressure further.
Rosemary – Best Essential Oil for Tension Headaches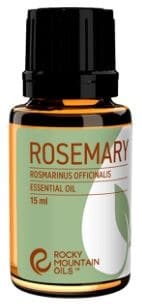 This is commonly used to treat respiratory problems and also to reduce pain. Apart from this, Rosemary is used to relieve stress and can treat tension headaches.
A study conducted in the year 2007 shows how this oil can reduce the cortisol levels present in the saliva, by inhaling this oil for 5 minutes.
If rosemary oil is massaged on your head, you can be relieved of pain quickly. Few people opt to have a rosemary oil vapor bath as it is anti-inflammatory and thus helps relieve pain. This oil also helps to increase the blood circulation, which in turn can relieve pain and support healing.
This oil is best to apply to your temples directly for instant relief.
Roman Chamomile – Best Essential Oil for Stress Headaches
Chamomile is an old medicinal herb. Our ancestors have used to cure many health ailments.
Roman Chamomile has been used in different preparations of oils for years. It is mostly used for relaxation as it is a mild sedative. Many people add chamomile to their tea as it helps them relax at night. This oil is also an excellent herb that can be used as an essential oil.
This oil is best used for stress headaches. It has an anti-inflammatory, analgesic, and anti-stress properties. These properties help for reducing arthritis pain while decreasing the severity of toothaches, headaches, bone injuries, and sinus pressure.
Another study proved how effective this oil is in relieving pain, anxiety and helping one get good sleep. This study states that the use of this oil reduces anxiety levels and also improves the quality of sleep.
Lavender
This oil is both curative and therapeutic.
Lavender oil properties range from treating skin problems to inducing relaxation. A lot of evidence suggests that this oil may also treat certain neurological disorders effectively. It can also stabilize your mood and reduce anxiety. It is proven to treat migraine and tension headaches greatly. As per medical research conducted recently, this oil helps in reducing pain caused by a headache, if inhaled for around 15 minutes.
This is considered to be the best by many as a 'general' essential oil. There is a lot of positive effects when this oil is used to treat various health issues.
When this oil is combined with other oils like peppermint and is applied to the temple and nape of the neck, it is said to be great. Just 2 drops from each of the oil are great as a remedy to relieve pain.
Clary Sage – Best Essential Oil for Hormonal Headaches
Clary sage oil, when considered in terms of headaches, helps decrease blood pressure levels by getting the arteries and the veins relaxed. This is, in turn, helps reduce tension and stress.
When blood pressure is reduced, the blood vessels get widened, and this helps circulation. And thus the body is provided with more oxygen. This boosts the metabolic performance.
Inflammation is also reduced. It provides a calming effect which reduces anxiety or stress and one feels comfortable.
The clary sage works well even when it comes to hormonal headaches. Hormones are balanced and the pain is reduced with this oil. Pain that is normally caused by PMS and certain hormonal issues that cause the headache is reduced.
Sweet Basil – Best Essential Oil for Migraines
Basil oil, when used on muscles that have a strain or on the aching head, helps alleviate pain. If you rub just a few drops of basil oil on your forehead, you will find your alertness increased.
You can massage sweet basil oil to soothe pain and help the blood flow well.
Nervous disorders, migraines, allergies, and stress headaches can be treated by this oil that acts as a tonic. Apart from these, it can also make a person feel relaxed and clear their mind while providing mental strength and clarity simultaneously.
Other than migraines, basil can be used for cold too that cause headaches.
How to Use These Essential Oils
There are many ways on how you could use essential oils. But, it depends on your personal preference as to how you would like to use it.
Topical Application
With the topical application of essential oils, you need to use a carrier oil to dilute it. This will not make it contact your skin directly. Almond oil and coconut are good carrier oils. If you do not dilute the essential oils, you could damage or irritate your skin.
When making a topical solution, mix 3-4 drops of the essential oil with a carrier oil of your choice. This mix can be used for massages. You could also just apply it on the skin anywhere. By doing this, you will benefit from the aroma of the oils for the entire day.
One other way of using essential oils through topical applications is to have a roll-on bottle to use. Carrier oil is needed here too along with some drops from your preferred essential oil. Roll this mix on your skin so you could enjoy its fragrance and its curative benefits. You can also try it if you have a sore throat.
Diffuser
The diffuser helps get the oils in the air. You can then breathe these and benefit from this aromatherapy. It is an effective and easy way to benefit from essential oils while using a diffuser at home.
When using a diffuser add 4-5 drops of your preferred essential oils to the water. Allow it to release its therapeutic aromatherapy to the entire house. This way, it cleans the air in your home and makes it smell good. There are other methods as to how you can use essential oils. But, the diffuser is longer lasting and the easiest way to benefit from the oils to the maximum.
Bath
Mix 5-6 drops of any essential oil of your choice or a mix of essential oils in your warm bath. Some bath salts could also be added. Today we get bath oils in the market. You could add those too instead. When you add essential oils to your bath, it is very effective. This is because while the water from the bath evaporates, you inhale the added oils.
While nothing beats instant relief from over the counter medicines, there is no harm in trying natural alternatives. They offer tons of benefits and can effectively help to deal with headaches. However, if headaches are persistent, recurring, and starting to interfere with your life, it is best to consult a doctor. If synthetic medicine becomes inevitable, essential oils would still work as a complementary treatment to other medications.
Understanding your Headache
Headaches, while they're common, are not the same. Some are mild and easy to tolerate while some can make you go down to your knees in pain.
Tension headaches, for example, are experienced when there is a muscle contraction in your neck and head area. These contractions could be caused by many things like activities, stressors, and different types of food. Some people get tension headaches if they work for too long on computers, or if they have driven for a long distance.
Sinus headaches mostly are caused because of an infection in the nasal passage that results in inflammation. The congestion causes pressure to build up below the eye and in the forehead.
Sugar headache can be caused by too much consumption of prepackaged foods due to the rise of blood sugar level in your body. When your blood sugar level increases, your body's insulin tries to help by getting the extra sugar excreted from the blood. Rigorous dieting, skipping meals, fasting, and irregular or delayed meals can also be a contributing factor for 'sugar headaches'.This is due to your blood's glucose level has gone below normal.
Migraine is another kind of headache which causes remains unknown. Theories have said that it can be a result of abnormal activity of the brain which causes a temporary change in the person's blood flow, nerve signals, and chemicals present in the brain.
Knowing that there are different causes and kinds of headaches, it is important to understand that they should not be treated the same. Aromatherapy can help with certain headaches. They are the best option if you are not a fan of synthetic medicines. This kind of treatment or therapy is proven, safe, and effective. Not only that it helps you with your headache, it can also significantly help reducing stress.
Categories: Aromatherapy