Last Updated on January 5, 2021

The Korean face mask has been hailed as one of the biggest beauty breakthroughs in recent years, and with good reason.

These famous sheet masks have a range of benefits that other styles just don't offer, and if you're looking for a quick and easy way to give your skin a healthy boost, they're the way to go.

What are the best Korean face masks on the market, though?

To determine which is best for you, you'll need to establish why you need one and what specific skin requirements you have.

There are face masks for acne, dryness, exfoliation, brightening, and so much more, which makes it difficult to sort through the pack.

We've undertaken this hard task for you and compiled a top 10 list of our favorite Korean face mask sheets.

With picks ranging from the best cheap Korean face mask or the best for treating acne, you'll have the key to a healthier complexion and a quick beauty hack that can make a dramatic difference to your skin.
Best Korean Face Masks of 2023
#1: LA Pure Korean Face Masks
LA Pure lay claim to being the best face mask Korean brand and original inventor of these beauty sheets, and their millions of happy customers would have to agree.
Their masks come in a packet of 10 and are all made in Korea using snail secretion filtrate, which can repair and rejuvenate the skin while you're wearing it.
These masks are 100% cruelty-free so there's no need to worry about snails, or any other animal, being harmed during the process.
LA Pure makes their masks with loads of natural ingredients like Panax Ginseng, Cucumber Fruit, Anise Fruit, so you can feel really good about what you're putting on your face.
Features
Pack of 10 face masks
Contains 7000ppm snail secretion filtrate
Cruelty-free and natural ingredients
Pros
More snail secretion than other masks
A sturdy mask that doesn't tear
Cons
One of the more expensive face sheet masks
#2: Cellavi Collagen Face Masks
If you're someone who likes to mix things up with your beauty routine, the Cellavi Collagen Face Masks will be up your alley.
This 12-pack features masks with different flavors and purposes, including Tea Tree, Charcoal, and Avocado, so you can try something new each week and have one on hand for whatever beauty emergency pops up next.
Cellavi has created all of their collagen face masks to be infused with anti-aging antioxidants, but they're great for people of all ages.
Not designed to be a deeply moisturizing mask, these won't be as helpful if you already have dry skin, but they do serve lots of other skincare purposes.
Features
12 pack of different flavor masks
Brightens skin tone and provides anti-aging antioxidants
Comes with a Thai tea pack
Pros
Lots of flavors to choose from
An affordable way to buy sheet masks
Cons
Not as deeply moisturizing as some masks
#3: Balloon Blanc Therapy Face Masks
If you want to treat your face with a range of therapy options with one product, the Baloon Blanc Therapy Face Masks are the best choice.
With flavors including honey, egg white, aloe vera, and cucumber, you can choose one to suit your mood and whatever treatment your skin requires.
This is the best face mask Korean men and women could ask for if they prefer a gentle touch, as it's ideal for sensitive skin and those who usually get irritated from treatments.
Balloon Blanc has infused their masks with natural ingredients and used Tencel-Cupra sheets which means they stick better and have a higher rate of absorption, giving you better results.
Features
Six pack of assorted masks
Flavors include honey, aloe, and tea tree
Pore tightening, moisturizing, and improving skin elasticity
Pros
A lightweight mask that's gentle enough for all skin types
Good adhesion to the face
Cons
The packet is sometimes hard to open
#4: Dermal Color Facial Essence Sheet Mask Set
Dermal Color has created a set of face masks to suit any purpose, whether your skin is dried out and needs hydration or you need a boost of antioxidants or firming up for an anti-aging effect.
With 12 different masks to choose from and each with its own powers, you'll be spoilt for choice with this set.
The Facial Essence Set from Dermal Color is infused with natural ingredients like beet, green tea, acai berry, and tea tree, with each color of the mask using its own special element.
As one of the cheaper choices, they're surprisingly refreshing and are a good choice for people with sensitive skin, as they won't cause any irritation.
Features
12 different types of face mask in a set
Made with natural ingredients like tea tree and acai berry
Masks to tighten, hydrate, smooth, and shine
Pros
An affordable set of face masks
Has a refreshing feeling after using and is good for gentle skin
Cons
Users couldn't tell a huge difference between them
#5: U-Need Korean Sheet Masks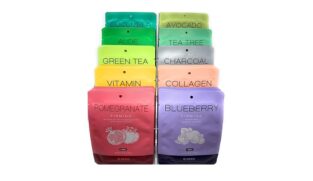 If you're looking for a Korean best face mask that won't break the budget, the U-Need Sheet Masks are our favorite.
You get a huge bulk pack of 100 masks priced at around a third of the cost of other brands, and there are 10 different types to choose from in each set.
U-Need Sheet Masks come in flavors like charcoal, collagen, green tea, and vitamin, each giving your face something special and unique.
As a thinner, natural Tencel sheet, they can be delicate, but each session with them will deliver to your face a toxin and paraben-free beauty treatment that can be felt in mere moments.
Features
Set of 100 face masks
10 different types of mask including collagen and vitamin-infused sheets
Made with natural Tencel sheets and no toxins
Pros
Face feels noticeably different after just one use
The cheapest way to buy Korean face sheet masks
Cons
Very thin sheet so you have to be careful with the application or it can tear
#6: Dermal 39 Combo Pack Korean Sheet Mask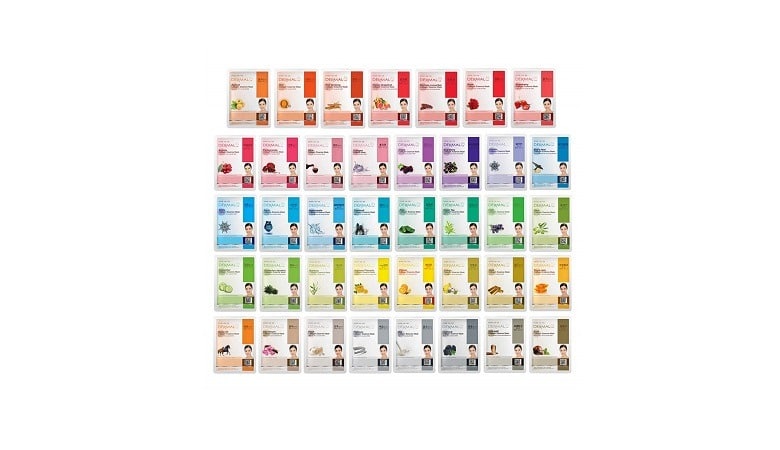 This is the best Korean face mask review for people who like variety, as you'll get a massive 39 different masks to try out from Dermal.
Within the range are masks for elasticity, hydration, anti-aging, and antioxidants, with a different flavor for each sheet.
You'll be able to spend months trying out all of the flavors, and save yourself a lot of money in the process when you buy in bulk this way.
The 39 pack of Korean sheet masks from Dermal are cruelty-free, infused with natural ingredients like honey, seaweed, and mineral water, and each one is a treat for your face and a chance to get a mini pampering session for cheap.
Features
39 different types of face masks in every set
Vitamin E and collagen in each mask
Cruelty-free with natural ingredients
Pros
Biggest selection of face mask varieties in any set and noticeably different flavors
Cheap to buy in bulk
Cons
Masks are quite thin and delicate to handle
#7: Tami Sense Revitalizing All in One Mask
When you want a premium face mask, and only accept the best, Tami Sense's Revitalizing All in One Mask if a top pick.
This set of five face masks features key ingredients like botanical stem cells, rice fermented extract, and 5-peptide, all infused into a milky white essence that's captured with the sheet mask.
The benefit of the Tami Sense masks is that they revitalize the face, and users saw an instant improvement in their skin tone.
This is the best Korean whitening face mask for those who want brightness, and although it's more expensive than others we've reviewed, the results make it all worthwhile.
Features
Set of five premium face mask sheets
Each sheet contains botanical stem cells, 5-peptide, and EGF
20-minute mask for a deep pampering session
Pros
Visibly brighter skin after use
Milky essence feels nicer on the face
Cons
Expensive option for face masks
#8: SNP Jeju Rest Cactus Mask
The cactus is a plant full of amazing nutrients, and when you use the SNP Jeju Rest Cactus Mask you're delivering them straight to your face.
These amazing rest masks are designed to rest on your face, and also offer you a chance for relaxation, as while you rest the facial tissue they'll help reduce stress and signs of aging.
Infused in each mask is a range of fresh ingredients, with the most important being the palm cactus direct from Jeju Island.
These are mid-range priced sheet masks but the best Korean face mask for acne sufferers, so if you have problem skin that you want to be corrected, they're worth a go.
Features
A set of 10 cactus masks for the face
Designed for resting on the face and delivering moisture
Fresh and natural ingredients including Palm Cactus from Jeju Island
Pros
Good for people with acne and pimples
Has a nice scent and uses natural ingredients
Cons
The eye opening is a little small for some users
#9: Cellavi Essence Face Masks
Cellavi is known for its amazing sheet masks, and if you're after some that are designed specifically for a brighter skin tone and younger appearance, these are our favorite.
With six different flavors including pomegranate and charcoal, you can choose the exact treatment you need that day.
Unlike other brands that claim each mask is different, customers can tell a real difference between each of the flavors.
They're cruelty-free, loaded full of natural goodness, and are ideal for sensitive skin types and soft enough to be used every day. For a mid-range all-rounder treatment that everyone can enjoy, these sheet masks from Cellavi are one of the best.
Features
12 pack of assorted face masks
Six different types including cucumber, pomegranate, and charcoal
Pros
Gentle enough to use daily and good for sensitive skin
Noticeable difference from each of the flavors
Cons
Some have found the feeling to be sticky
#10: Epielle Character Sheet Masks
If you like to have fun with your beauty routine or want something your kids can get involved in, the Epielle Character Sheet Masks are an exciting choice.
With six different characters on each type of mask, you can be a mermaid of a llama while still getting a seriously effective beauty boost to your epidermis.
The Epielle Sheet Masks come in different styles depending on the results you're looking for. There are glowing and hydration masks, or nourishing and firming sheets, so there's something for every occasion and need.
Although priced a little higher than your regular Korean face mask, they're fun to use and packed full of natural ingredients, so they're just as nourishing as a more serious-looking kind.
Features
A packet of six face masks designed for kids and adults
Different characters on each mask including mermaid, panda, and llama
Pros
Real and natural ingredients in each mask
A fun way to do beauty treatments for kids and adults
Cons
A little large to fit on kids' faces and may need adjusting
Deep Down Beauty With Korean Face Masks
A Korean face mask is the best way to penetrate the skin and deliver a truly effective boost of moisture, vitamins, and nutrients.
With so many options out there for ingredients and benefits, finding a face mask that suits your needs can be overwhelming, but it doesn't have to be.
Our recommendations for the best Korean face mask span all types of purposes, skin goals, and skincare routines, so you can find one to suit yours exactly.
This is one easy way to pamper yourself and your skin with recognizable results, and these masks have become a true gamechanger in the world of skincare products.
Related Articles
27
Oct
Up until a decade ago, not many people knew what a BB cream was. Fast forward to today, and it's a must-have in every girl's makeup routine, and the easiest way to get a smooth and finished complexion without having[...]
27
Oct
If you were stranded on a deserted island and could only pick one beauty product to take with you, it would have to be BB cream. The once unknown cream has now become a staple in every woman's daily routine,[...]
06
Feb
Some of us don't like hair down there, and prefer our pubic area to be smooth. Now I'm not talking just a short back and sides, but full on brazilian-style smooth. If that sounds like you, then you have probably[...]
Categories: Misc