Last Updated on January 7, 2021

Up until a decade ago, not many people knew what a BB cream was.

Fast forward to today, and it's a must-have in every girl's makeup routine, and the easiest way to get a smooth and finished complexion without having to go too hard with other products.

What is the best Korean BB cream on the market, though?

Finding the best BB cream depends on your face's unique needs and what type of skin you have. The goal with this product is to deliver a light but effective coverage of a foundation, moisturizer, and sunscreen in one, which is sometimes hard to find.

We've counted down 10 of our favorite beauty balms from brands that we know and love, so you can see which ones are worth considering.

Whether you need the best Korean BB cream for oily skin or one that soothes your sensitive skin, you'll find the perfect fit in our line-up of BB cream reviews.
The Best Korean BB Creams
#1: Missha M Perfect Cover BB Cream No. 21
Missha M has a famous range of BB creams, and their #21 is a top seller.
This BB cream is made with naturally conditioning ingredients that won't dry your skin out and it does a great job of hiding imperfections and giving you a smooth but subtle complexion.
This BB cream is made with hyaluronic acid, ceramide, and gatuline RC, so it works beneath the skin to soothe and calm, while it hydrates.
You'll get a natural look that doesn't require any makeup, and for an affordable price compared to other blemish balms.
Features
Number 21 shade for medium complexions
Herbal botanicals and plant extracts to calm the skin
Naturally conditioning
Pros
Nice neutral tone
Goes on lightweight and doesn't feel too dense
Cons
Not ideal for people with oily skin
#2: Skin 79 Super Plus BB
Skin 79 has created this simple but effective cream, with the Super Plus BB, designed to brighten and smooth your complexion all in one.
Better suited for people with oily complexions, it can feel a little dry for others but gives a light coverage that makes it look as though you have naturally flawless skin.
This is ideal for people with pink undertones on their skin, so would suit those with a lighter complexion. The BB cream from Skin 70 goes on smooth and stays all day, so there's no need to apply again.
Features
Pink beige color for light complexions with pink undertones
Can be applied with fingers, pad, or brush
No oil formula and best Korean BB cream for oily skin
Pros
Long-lasting coverage that lasts all day
Cons
Dry feel to the cream so isn't good for those without oily skin
#3: Missha M Perfect Cover BB Cream No.23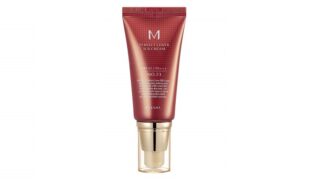 Missha M's No.23 Perfect Cover BB Cream is a favorite among those who want to balance their skin tone and protect their face from the elements.
With SPF protection as well as nourishing botanical essences and plant oils, it works harder than most Korean BB creams on the market.
This is the best Korean BB cream for combination skin, but probably not ideal for those prone to oiliness.
For an affordable blemish balm, it still has the goods, with ingredients including hyaluronic acid and rosemary and chamomile extracts, so your skin is calm, smooth, bright, and even, without having to do much at all.
Features
No 23. Shade for medium skin tones
Contains SPF42+ sun protection
Brightens and smooths skin
Pros
Highly moisturizing for people with dry and combination skin
Smells pleasant with herbal botanicals
Cons
Not as good for oily complexions
#4: Ever Glam Beauty Balm
Ever Glam has created their Beauty Balm to be fully customizable to your needs and unique skin types.
As a light-medium tone, you can build the coverage to suit your skin, and it's ideal for anyone who wants to achieve a natural and flawless look before they walk out the door.
This is the best BB cream Korean men and women can use if they want a foundation, sunscreen, moisturizer, and skin tone brightener in one, as it offers it all and delivers better results than most singular products on the market.
Ever Glam's Beauty Balm is a tad pricier than others but gives a truly flawless complexion that takes just seconds to apply and will last all day with amazing results.
Features
Medium beige coverage that lets you build as you go
Anti aging and anti-wrinkle ingredients like algae, purslane, and sugar beetroot
Broad spectrum SPF 30 coverage
Pros
Suitable for more skin tones as you can build the coverage
A non-oily formula that feels nice on your skin
Cons
One of the more expensive BB creams on the market
#5: Aenepure BB Cream
If you prefer your BB cream to be more about skincare than beauty, Aenepure has the perfect product.
The secret ingredient in this beauty cream is snail secretions which means you're benefiting from the natural protective properties this ingredient has, even if it does sound a little weird.
Although the coverage is light, this Korean BB cream best suits all skin tones and types, and you can build on it so that it matches your face perfectly.
Aenepure BB Cream is more than just a light coverage foundation, but rather designed to hydrate and protect throughout the day, so it's a must-have for any morning beauty routine.
Features
Contains natural snail secretion to protect the skin
Features SPF50+ sun protection
Suits all complexions
Pros
Hydrating and moisturizing feel when applied
Has strong SPF protection
Cons
Not as much foundation coverage as other BB creams
#6: Missha M Misa Cho Bo Yang BB Cream
For those wanting an anti-aging effect with their beauty balm, something like the Missha M Misa Cho Bo Yang Cream is ideal.
This cream is made with bound gum which means not only does it stay put all day long, but it firms your skin and reduces the appearance of fine lines and wrinkles at the same time.
Misa Cho Bo Yang Cream from Missha M features oriental herbal ingredients that brighten the skin and provide a gentle but perfecting coverage.
As the more costly cream from this brand, it's a premium product, but suits medium skin tones of men and women with a soft and smooth finish that looks good on everyone.
Features
23 suits medium skin tones
Made with oriental herbal extracts
Tightens skin with bound gum
Pros
Gives a more youthful appearance with fewer wrinkles
Feels soft and dewy on the skin
Cons
Most expensive Missha M brand BB cream
#7: Dr. G Perfect Pore BB Cream
Dr.G's Perfect Pore BB Cream is ideal for people who need a beauty product that looks good, without the usual irritation that some ingredients produce.
This cream provides a smooth and soft finish that works on all skin types and it's the only product you'll need to put on in the morning to feel good.
This is by far the best Korean BB cream for acne-prone skin or those who want to cover acne scars, with a feather-light finish that won't upset your face.
Packed full of natural ingredients like rosehip oil for moisturization and lime tree water that helps prevent oil build-up, it's so much more than your regular BB cream. After a day of wearing this, you'll still feel fresh as a daisy, and it washes away gently and easily.
Features
Light color cream can be built up as needed to suit your skin tone
Free from alcohol, minerals, GMOs, and tar colorants
Contains natural ingredients like lemon balm and rosehip oil extracts
Pros
A natural product that's gentle for all skin types
Best Korean BB cream for acne scars
Cons
Might be too light on coverage for some
#8: Missha M Signature Real Complete BB Cream
Another popular BB cream from Missha M, the Signature Real Complete BB is one of their top sellers and a favorite of ours in this product range.
This blemish balm features over 50 natural ingredients to give you the best care for your skin, no matter your complexion or skin type. This cream provides nutrition and hydration with just a slight amount of coverage in their number 23 shade.
This beauty balm is perfect for people with yellow undertones and is good for skin that needs a gentle touch, and is the best Korean BB cream for dry skin without being oily.
You'll achieve a brightened and luminous complexion that looks completely natural, giving you everything a BB cream should be.
Features
Number 23 tone provides natural yellow beige coverage
Over 50 different plant-based ingredients
Small particles stick to the skin
Pros
Stays put for longer
Perfect for people who love natural ingredients in their skincare products
Cons
Harder to match to a wider range of complexions so limited in who can use it
#9: Missha M Cho Bo Yang Renewed BB Cream No. 21
When your skin gets dried out with normal BB creams, you need something that packs extra moisture.
The Missha M Cho Bo Yang Renewed BB Cream can do exactly that, which it achieves with a range of natural ingredients like oriental flower and plant extracts, even if it does have a slightly strong aroma.
Although marketed to an older woman and typically reserved for the mature crowd, this BB cream can be used and enjoyed by everyone, and it's especially soothing for sensitive skin.
This Missha M BB Cream provides a good, even coverage, and doesn't dry out, so all day you'll benefit from the dewy complexion that it gives.
Features
Shade number 21 suits lighter skin tones
Pump style bottle upgrade
Moisturizes and tightens skin to hide fine lines
Pros
Stronger coverage than most BB creams with more foundation like properties
Doesn't dry out your skin
Cons
Slightly fragranced which can be offputting
#10: Missha M Perfect Cover Cream
Our final contender from Missha M proves that this beauty brand knows how to make a BB cream to suit every single person.
The Perfect Cover Cream's most popular shade is #25 which is a warm beige, better suited to those with olive and medium complexions, and features hyaluronic acid and ceramide that makes skin soft all day.
Perfect Cover Cream features rosemary and chamomile extract which can calm down angry skin, and it naturally conditions with plant oils and botanical essences, which give it a light but sweet scent as well.
The final finish is dewy and smooth with minimal coverage, suitable for those who don't need anything too intense. This is the ideal BB cream if you want to smooth out the complexion you already have, and give it a dewy, moisturized feel all day long.
Features
Plant and flower extracts including chamomile and rosemary
Light coverage with a medium beige shade
Long lasting formula
Pros
Soothing and gentle for people with sensitive skin
Has a nice dewy finish that stays that way all-day
Cons
Not a lot of coverage for those with problem or scarred skin
Simple and Beautiful Coverage
A BB cream has a big task at hand when it comes to your skincare and makeup routine, having to do the job of multiple products at once.
That's why you need to take care when shopping for your next BB cream, to ensure it's going to live up to all of your expectations and more.
The best Korean BB creams will look different for every woman, so you need to find the one that suits your skin and lifestyle closest.
With the right blemish balm at your disposal, you'll be able to leave the house with a smooth complexion, confidence, and minimal fuss, which is what beauty dreams are made of.
Related Articles
28
Oct
The Korean face mask has been hailed as one of the biggest beauty breakthroughs in recent years, and with good reason. These famous sheet masks have a range of benefits that other styles just don't offer, and if you're looking[...]
27
Oct
If you were stranded on a deserted island and could only pick one beauty product to take with you, it would have to be BB cream. The once unknown cream has now become a staple in every woman's daily routine,[...]
06
Feb
Some of us don't like hair down there, and prefer our pubic area to be smooth. Now I'm not talking just a short back and sides, but full on brazilian-style smooth. If that sounds like you, then you have probably[...]
Categories: Misc