With other cleansers, acne treatments, toners, exfoliators, serums, and moisturizers, it can get pretty exhausting to get suitable products.
Worry no more because the best Korean essences offer more advantages than other facial creams in the market.
They help fight off aging properties, blemishes, and dryness to leave you with youthful skin. Also, the application is easy without leaving a sticky and irritating feeling.
Check out the following Korean Essences we have below for more information.
#1. Essence Korean Skin Care
Looking for effective and safe skincare? One that does not damage your pores, and lead to blemishes?
Essence Korean product provides all these and much more. It contains Aloe, Japanese Green Tea, Marine Minerals, Cucumber, and Tamarind Extract.
They combine effort to leave you with a beautiful, youthful glow without the expensive care routines like laser treatments and plastic surgery. Note that; the formulation is ideal for dry, normal, oily, and combination skin types.
Besides, the lovely cucumber scent is not too defined, causing irritations to you and others. And the ingredients are more nutrient-dense than other facial creams for healthier and brighter skin.
With impressive hydrating capabilities, this mist improves the moisture in your skin. It doubles as a safe facial toner for a softer texture. Plus, with a natural PH balance and non-comedogenic nutrients, you are guaranteed favorable results.
Ingredient Profile:
Deionized Water
Glycerin
Tamarind Extract
Cucumber Fruit Extract
Aloe Barbadensis Leaf Juice
Pros
Leaves the skin with a beautiful glow
Comes with a lovely cucumber scent
Doubles as a safe facial toner
Con
The cucumber scent gets a bit funky after some time
#2. Neogen Dermalogy
Some facial creams promise safe and quick results but fail to deliver. With Neogen Dermalogy, it contains over 90% natural fermented ingredients that provide instant moisture absorption. Also, they are skin-compatible to help most people with their daily skin routine.
This Korean skincare essence stimulates and promotes your skin's natural cell energy for hydrated, bright, tighter, and clear skin. And the fermented water comes in handy to target your skin's foundation and improve its moisture and cell renewal.
We like the safe formulation of this paste, including Bifida Ferment Lysate, which helps skin barrier strengthening and skin elasticity. Also, it improves moisture balance while increasing your skin's immunity against nasty chemicals.
For Saccharomyces Ferment Filtrate element, it promotes skin regeneration while the Betula Alba Juice offers antiseptic and antioxidant benefits.
Key Ingredients:
Natural fermented Water
Bifida Ferment Lysate
Saccharomyces Ferment Filtrate
Betula Alba Juice
Aspergillus/Rice Ferment Filtrate
Pros
Provide instant moisture absorption
Strengthens your skin's barrier and elasticity
Provides antiseptic and antioxidant benefits
Cons
The glass jar is tiny
Used up quickly
#3. Hanskin Real Complexion Hyaluron Skin Essence
Boost your skin hydration levels without spending too much money with this Hanskin Hyaluron Essence. It offers a multi-use service while leaving a moisturized and hydrated effect. The formulation containing Hyaluronic Acid and Zostera Marina Extract is safe on all skin types such as combined and oily.
Achieving a Korean glass skin has never been this easy. This cream contains 150ml of content to serve as a toner, moisturizing, and essence lotion. After application, it leaves your skin dewy, elastic, and plump free of residues. What's more, the extracts keep skin glowing, soft, and balanced to promote a more youthful look.
Ingredient Profile
Hyaluronic Acid
Zostera Marina Extract
Collagen Extract
Elasten Extract
Pros
Helps boost skin hydration levels
Suitable for all skin such as oily and combines
Leaves skin dewy, elastic, and plum
Cons
Works better for those with dry skin
Quite pricey than other brands
#4. Jin Jung Sung Soothing Face Moisturizer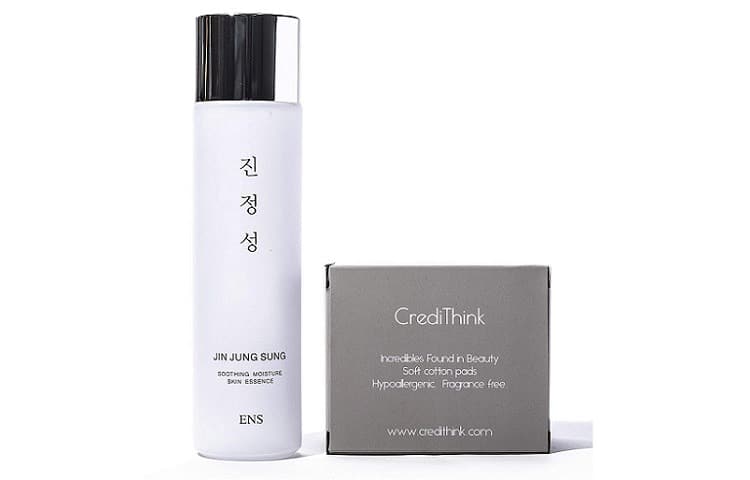 The four skin types include oily, dry, combined, and normal. If you have a dry and sensitive tone, then Jin Jung Sung moisturizer offers better service than other facial creams.
It lacks all the harmful elements such as Phosphate, silicone, PEG, SLS, Sulphate, SLES, and Parabens, leading to skin damage. Also, niacinamide, adenosine, peptides, and collagen provide nourishing nutrients for healthy, clear, and younger skin.
This essence has aloe vera leaf extract and organic lavender water to help calm the skin. Plus, a lovely scent blend of Apricot, Pomegranate, Aloe Vera, and Lavender meet most user fragrance needs.
Key Ingredients:
Glycerin
Meadowfoam seed oil
Apricot kernel oil
Botanical squalane
Beeswax
Butylene Glycol
Pros
Works best for those with dry and sensitive skin
Lacks harmful products like parabens and silicone
The lovely fragrance leaves a pleasing scent
Cons
Some users don't like the scent
Comes in a heavy-packaged glass
#5. MISSHA Time Revolution Essence
Containing 150ml of safe and upgraded formulation, MISSHA Essence is best for smoothing and moisturizing your skin. It doubles as a toner to save you money while adding more skin benefits. What's more, the application is simple even after following the directions resulting in a clean and beautiful base.
With an undiluted solution, this item enhances skin hydration level, texture, and tone to make it more straightforward and transparent for a healthy appearance.
Help your skin get faster and safe changes with this product. It contains yeast fermentation to boost beneficial properties for sensitive and dry skin.
Those with low moisture content can apply this essence without worrying about the external or internal environment. Besides, it contains enzyme fermentation from dual fermentation of warm and cold temperature.
Ingredient Profile:
Niacinamide
Saccharomyces Ferment Filtrate
Water
Diethoxyethyl Succinate
Bifida Ferment Lysate
Pros
The upgraded formula is safe to smooth the skin
Comes undiluted to enhance your skin's hydration level
Aids in boosting the skin's look, texture, tone, and health
Cons
The lid/cap begins peeling, leaving the face with some glitter
Not easy to dispense the liquid
#6. Missha Time Revolution Mist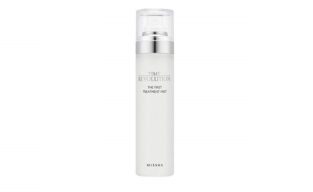 Just like its name, this mist provides Time-Revolution benefits to your skin. It offers brightening, soothing, wrinkle-repairing, and hydrating advantages. What's more, it improves the skin's foundation through firming, balancing, and moisturizing.
The manufacturer recommends those with sensitive skin types to use this cream. Also, it's 120ml volume and 120g weight makes dispensing super easy.
Using this highly concentrated essence is vital in most skincare routines.
Not only for glowing and clear but also healthy skin. And the milf formulation comes in fluid form to improve the speed of absorption. Key ingredients include Himalayan purple barley, Chamomile extract, and gemmule to calm tired skin.
Key Ingredients:
Fermented yeast Extract
Chamomile Extract
Gemmule
Diethoxyethyl Succinate
Himalayan purple barley
Sugarcane Extract
Pros
It offers brightening, soothing, wrinkle-repairing advantages
Improves the skin's foundation through firming, balancing, and moisturizing
Helps calm and soothe tired skin
Cons
The nozzle on some containers come broken, leading to poor mist delivery
Takes time for significant skin results
#7. PYUNKANG YUL Essence Toner 100 ml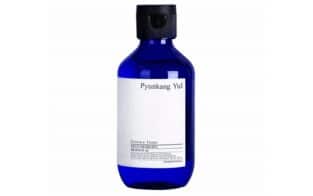 This Essence Toner by Pyunkang Yul calms and moisturizes the acne-prone face. The brand is renowned for its practical and safe skincare products to treat respiratory and skin diseases.
Also, this cream offers hydrating properties to help balance your PH while reducing acne. As a result, the tone looks younger, fresher, softer, and smooth. Containing only 7 ingredients, they offer a natural and beneficial service unlike others with harmful compositions.
For instance, the Milk Vetch Root Extract of this best Korean essence for acne calms and revitalizes the skin. And the isoflavonoids contain high anti-aging and antioxidant properties for better vitality and elasticity.
There is no need to concern yourself with worries about harmful properties when using this toner. It lacks artificial color, artificial fragrance, alcohol, or paraben for a non-irritant, non-comedogenic, and dry feel.
This essence is among the best Korean essence for oily skin and works well for combined, normal, and dry tones. That means a flexible and safe application to improve the skin's health.
Also, it's dermatologically tested to prevent irritations like redness and itching. The dense texture absorbs easily and quickly for a dewy, clean, and moisture-full finish. Plus, the composition guarantees a more substantial skin barrier as well as anti-inflammatory effects.
Ingredient Profile:
Milk Vetch Root Extract
Astragalus membranaceus root Extract
1,2-hexanediol butylene
Glycol
Hydroxyethylcellulose
Carbomer
Pros
It calms and moisturizes acne-prone skin
Contains 7 ingredients for hydrating properties
Helps balance skin's PH to reduce acne
Cons
The consistency is very thin
Lacks a scent for those who love fragrant-filled essence
#8. Etude House Moiftfull Collagen Essence (old)
Etude House has various skincare products, including essence, primer, moisturizers, and much more. With this collagen essence, it's suitable for dry skin thanks to the skin-friendly and safe ingredients.
It contains Hydrolyzed Collagen, Butylene, Cetearyl Alcohol, Glyceryl, Water, Betaine, and other secure elements. Besides, they hydrate the skin with super collagen particles for the best moisturizing effect. It leaves it more bouncy and firmer for long hours before another application.
This item is clinically-tested to prevent skin irritations such as itching, scratching, swelling, and redness. It has a white transparent texture for incredible softness in every application.
Further, the consistency has higher absorption than the rest and a non-sticky feel. Use this best Korean essence for dry skin with confidence without worries about harmful ingredients like urea, Polyacrylamide, Tar color, PEG surfactant, and Imidazolidinyl.
Key Ingredients:
Hydrolyzed Collagen
Butylene
Water
Betaine
Cetearyl Alcohol
Glyceryl
Pros
The safe ingredients are suitable for dry skin
Hydrates, softens, and moisturizes the skin
Leaves the skin feeling more bouncy for long
Cons
The texture is a bit thick and slippery to some users
More moisture can improve the feel of the skin
#9. Etude House Wonder Pore Tightening Essence 50ml
Do you have bigger pores than usual? Does your face feel oily and full of undesirables? Worry no more because Etude House Essence comes in handy to solve these issues.
Apart from pore-tightening, it offers a safe astringent effect to minimize breakages. And the slightly acidic PH and peppermint vinegar improve your natural's skin PH balance.
They combine with the activated organic acid to keep your skin pores clean and clog-free. This item has a 50ml practical formulation ideal for most skin types. Not only to smoothen but improve your complexion.
Applying just a little goes a long way to prevent frequent repurchases. The best Korean essence products have a smooth liquid that feels great on the skin, and results don't take time to show.
Ingredient Profile:
Peppermint vinegar
Activated organic acid
Achillea millefolium Extract
Artemisia Absinthium
Cypress Water
Ginkgo Biloba Extract
Pros
Helps reduce bigger skin pores
Improves the natural skin's PH balance
Keeps pores clean and anti-clog
Con
Those with oily skin complain about minimal to zero results
#10. Innisfree— Jeju Lava Seawater Essence
If you struggle with acne and blemishes, we have a solution. Innisfree Essence helps cleanse your skin for a younger-looking and healthy tone. Besides, it's much smaller than other containers measuring 1.5 inches tall by 1.61 inches wide by 5.12 inches long.
These dimensions can accommodate 50ml or 4.23 ounces of skin cream to last you for a few days. What's more, the packaging is simple and promotes an anti-slip application.
Another benefit of using this best Korean skin care essence is its excellent anti-aging properties. It consists of particular minerals and antioxidative water to reduce premature aging.
What's more, it eliminates wrinkles thanks to the moisture-full agents. And the consistency of this Korean face essence is lighter than others to prevent residues and slow skin absorption.
Key Ingredients:
Jeju Lava Seawater
Antioxidative water
Special Minerals
Pros
Helps in acne and blemish reduction
Comes in a small container for secure application
Provides high-quality anti-aging properties
Con
Korean Essence FAQ
What is a Korean essence?
First of all, an essence is a formula with concentrated ingredients to help tackle skin problems. It comes in handy for wrinkle, dull, uneven, and fine line problems with a Korean essence.
If you have experienced any of these issues, then a Korean essence is essential.
It contains safe and active agents such as water, Aloe Vera, and much more to optimize your skin's cell turnover. What's more, natural skin regeneration leaves you looking younger, fresher, and healthier.
Note that a Korean beauty essence is lightweight with fantastic complex-enhancing and hydrating ingredients.
Can I use essence every day?
The benefits essence offers the skin make them a worthwhile investment. They don't irritate the skin with redness, itchiness, and pain, making them a vital skincare product.
For those wondering if it's safe to apply daily, then we have an answer for you.
They act as a middle ground between serums and toners by providing moisture to the skin. That leaves you with improved hydration thanks to safe ingredients. Most manufacturers of these essences make them ideal for daily, regular, or on-demand applications.
They have fast absorption to deep-moisten the skin, brighten, and reduce the aging process. Also, these products typically have a powerful skin barrier to increase protection and defense against irritants.
Which is better essence or serum?
Before deciding to use either serum or essence, you need to understand more about them. Essences are much lighter in weight than serum and naturally less concentrated. Also, they are usually applied after toner for more hydration.
When it comes to serums, they contain less active ingredients than essences. These agents help brighten your skin, reduce dark spots, wrinkles, and fine lines.
What's more, the functional elements are much more concentrated than in regular moisturizing creams. And you will see a difference in consistency, which is more thickness.
Can essence replace moisturizer?
Most people use the best Korean essences to improve their skincare regime. But are they better than moisturizers? You usually apply it on a clean face for high absorption of the liquid, leading to a clean base. Even using a serum or a moisturizer, your face needs to be clear of dirt and debris.
Essences have similar advantages to serums containing a lighter molecular form than moisturizers. It helps penetrate your skin much faster for better results. Moreover, these essences' multiple combinations of botanical and active ingredients address specific skin concerns. For instance, you can use them on dry and sensitive, oily, or combined skin type.
But remember, moisturizers have emollient and occlusive agents that provide long-lasting moisturizing. They have improved hydrating properties to last you the whole day.
Conclusion
The best Korean essence products are simple, safe, and quick to apply with promising results. They contain active ingredients such as Bifida Ferment Lysate, which helps skin barrier strengthening and skin elasticity.
Also, it improves moisture balance while increasing your skin's immunity against nasty chemicals. The MISSHA Time Revolution Essence is undiluted to enhance the skin hydration level, texture, and tone resulting in a healthy skin appearance.
Remember, the best Korean essences are widely available, safe, and affordable to most people. Therefore, pick one or two korean face essence depending on your skin type, and you will have smooth -glowing skin.
Related Articles
02
Mar
When it comes to keeping your face clean and protecting it from pollution, a gentle face cleanser is something that you need to add to your basic skincare routine. With the increasing number of cosmetic brands on the market today,[...]
23
Apr
Hyperpigmentation may be harmless, but it doesn't mean it's pretty. Hyperpigmentation causes dark patches of skin on the body, anywhere from the face to the arms or legs. It is caused by an excess of melanoma in the skin and[...]
11
Feb
Until someone figures out the cure for aging, we'll still need the best face washes and cleansers for mature skin. That's because aging skin is drier and more delicate. Unfortunately, this is true even if you've noticed larger pores and[...]
Categories: Face Wash & Cleanser