Last Updated on March 8, 2021

Modern makeup is all about the glow; however, dewy foundations have a drawback, and that is accentuating large pores because they are designed to reflect the light, which ultimately draws attention to your pores.

A natural satin finish foundation usually is your best bet if you want to reduce the appearance of large pores.

Powder foundations and mineral foundations tend to work well for larger pores as they typically don't sit as heavy on the skin and contain fewer of the usual culprit's ingredients that tend to clog up and make your pores look even bigger.

In the following guide, we're going to take a look at some of the best foundations for large pores and exactly why you should be investing in them.
Best Overall: Dermablend Flawless Creator Multi-Use Liquid Foundation
This liquid foundation containing only 10 ingredients is both oil and water-free. It also contains concentrated pigments for full coverage and is a non-comedogenic foundation for acne-prone oily skin. Therefore, it's also suitable for people with sensitive skin.
In addition to being water and oil-free, the foundation is fragrance-free and allergy-tested. It's also formulated without parabens and is made using a vegan formula. For best results, it is recommended that you shake well before each use as the formula tends to separate naturally. However, the benefit of this is that a little goes a long way.
Pros:
Oil and water-free
Fragrance-free
Non-comedogenic
Cons:
Product specifications:
Type of foundation: Liquid
Ingredients: Cyclopentasiloxane, Dimethicone, Isododecane, Dimethicone Crosspolymer, PEG-10 Dimethicone, Silica, Disodium Stearoyl Glutamate, Dimethiconol, Aluminum hydroxide
Volume: 1 Fl. Oz
Best for: Acne-prone skin
Runner Up: TOUCH IN SOL No Pore Blem Primer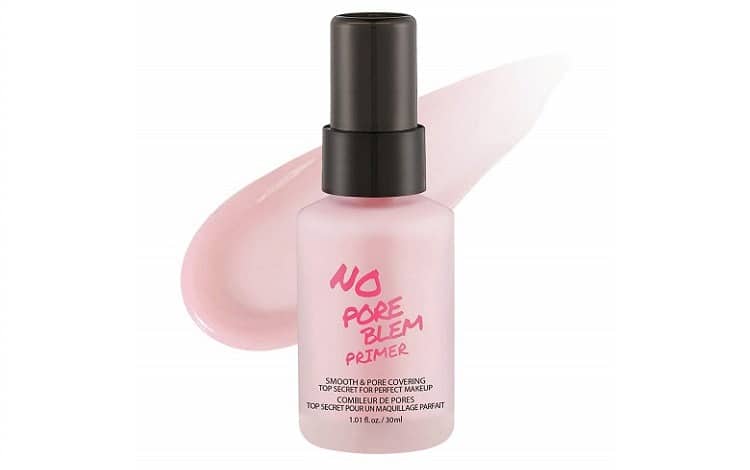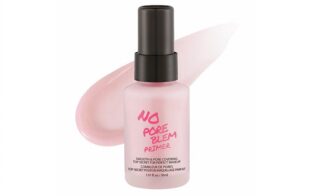 If you want to tackle large pores and fine lines in one easy step, then this is the answer. The No Bore Blem primer provides perfect and seamless coverage concealing pores and uneven skin tone. It also contains skin sebum catch powder which controls skin pores so that you can start your makeup with velvety skin.
It also makes the skin feel fresh and smooth throughout the day. If you're looking for an invisible layer that acts as a barrier, then this will do the trick. The light and silky texture covers your pores and hides wrinkles making it an essential accessory to your makeup collection.
It's also infused with soluble collagen to help skins moisture levels and elasticity. Thanks to the green tea extracts, it protects and energizes your skin and acts as a perfect primer for long-lasting and all-day makeup. The formula is also lightweight so it won't clog your pores and it gives a natural finish.
Pros:
Lightweight formula
Smooths and covers large pores
Hides wrinkles
Cons:
Not suitable for oil skin
Product specifications:
Type of foundation: Primer
Ingredients: Cyclopentasiloxane, water, dimethicone, dimethicone/vinyl dimethicone crosspolymer, peg-10 dimethicone, dimethicone crosspolymer, di propylene glycol, silica
Volume: 1.01 fl. oz
Best for: Use before foundation
Alternative: Bella Terra BB Cream Tinted Moisturizer Mineral Foundation
The Bella Terra BB Cream Tinted Moisturizer, Mineral Foundation allows you to blend away blemishes. The BB cream tinted moisturizer allows you to perfectly blend and build tones from sheer to medium coverage, thereby erasing the appearance of acne, scars, dark circles, including fine lines.
This hydrating formula goes onto the skin smoothly and dries into a lightweight, nearly matte finish which has a bit of a silky texture to achieve that perfect dewy complexion of your dreams.
You will never experience caking or the uneven look of heavy and oily foundations. As a bonus, it's suitable for all skin types. Irrespective of whether you have dry, oily or acne-prone skin, it works with all skin types and tones.
This tinted moisturizer contains pure minerals such as zinc, mica, magnesium as well as hydroxatone, which all act as a natural SPF and works as active antiaging ingredients and prevent premature aging of the skin. No parabens, preservatives, alcohol, sulfates, synthetic dyes or additives are included in this product.
Additionally, it is fragrance-free and hypoallergenic. When used as a part of your daily cosmetic regime, it lasts throughout the day, providing a smooth and satin finish complexion all day long.
Pros:
Hides blemishes
Suitable for all skin types
Contains natural mineral ingredients
Cons:
Product specifications:
Type of foundation: Mineral BB cream
Ingredients: mica, zinc, hydroxatone and magnesium
Volume: 1.69 oz
Best for: All skin types
Alternative: It Cosmetics Bye Bye Pores Poreless Finish Airbrush Powder
The It Cosmetics Bye Bye Pores Poreless Finish Airbrush Powder instantly erases the appearance of blemishes and skin imperfections. So you can think of it as your airbrushed perfection in a jar.
Developed by plastic surgeons and infused with bye-bye pores optical blurring technology, this is a skin-perfecting powder that utilizes real silk to make your pores disappear from view. It also contains anti-ageing properties and hydrolyzed collagen to smooth away fine lines and wrinkles.
It's loaded with peptides, antioxidants and skin-loving ingredients to give you a shine-free and airbrushed finish. This translucent shade also goes on completely clear and works wonders on all skin tones.
Pros:
Erases the appearance of imperfections
Shine-free
Works on all skin tones
Cons:
Tiny holes in jar make it hard to get product out
Product specifications:
Type of foundation: Powder
Ingredients: Hydrolyzed collagen, peptides and antioxidants
Volume: 0.23 oz
Best for: Setting your foundation
Alternative: TOUCH IN SOL No Pore Blem Primer Liquid Foundation
The TOUCH IN SOL No Pore Blem Primer Advanced Real Moisture Liquid Foundation is an advanced formulation. The moisture complex formulation holds moisture on the skin and keeps the skin healthy and hydrated.
The multipurpose foundation functions as a whitening agent, provides anti-ageing benefits and sun-blocking capabilities to keep the skin healthy and beautiful. The sebum catching powder controls excessive oil production keeping the skin oil-free for long-lasting hours and transforms the skin into a smooth and velvety texture.
It also conceals larger pores, uneven skin tone and wrinkles providing a smooth and sleek base for your make-up.
Pros:
Anti-wrinkle moisture complex
No harmful ingredients
Control excessive sebum
Cons:
Has a strong perfume scent
Product specifications:
Type of foundation: Liquid
Ingredients: Glycerin, Urea, Poly, quatemium-51, Sodium Hyaluronate, Trehalose, Sodium PCA
Volume: 30 ml
Best for: Oily skin
Foundation for large pores FAQ
If the size of your pores is starting to weigh you down, then you're not alone.
However, the good news is that you don't have to go into hiding because you can cover your large pores using makeup.
Technically, you can't shrink the size of your pores, but by using the right makeup, you can help diminish their appearance. So if you want to hide your larger pores, keep reading to see how makeup can help you do that.
How do you cover large pores with foundation?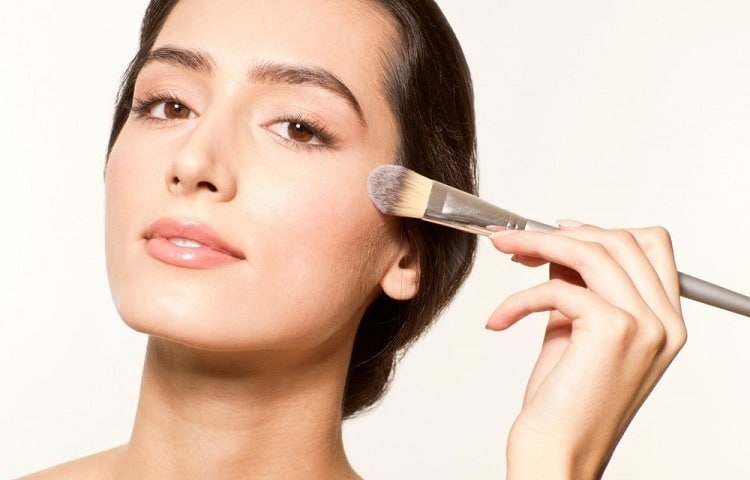 It's important to take the time to care for your complexion before getting into your makeup routine. A good serum will help you even out your skin tone and fade the appearance of discolourations and dark spots.
You can also try a serum specifically for mature skin if you need to. Ultimately the serum will boost your skin's radiance and with continued use will leave you with younger and more youthful-looking skin.
It's imperative that you apply a moisturizer. A lightweight water-based moisturizer is recommended since it is formulated to hydrate your skin without weighing it down. While it won't minimize your pores, larger pores are emphasized by another skin concern and that is oily skin.
So by reducing the oil on your skin, you also reduce the appearance of your pores. A mattifying moisturizer added to your skincare regime is the best route to go. They are, however, moisturizing products that do have actual pore-minimizing abilities and if you can get your hands on one of those, then you'll be doing yourself a great service.
Using a primer is absolutely imperative to create the right base for your foundation. Primers work by minimizing the appearance of your pores and smooths your skin, thereby creating an even surface.
Ultimately, it can even your skin for you to apply your makeup. Primers also smooth fine lines and are usually non-comedogenic, leaving your skin with a matte finish.
It's recommended that you also use a matte foundation if you're trying to minimize the appearance of your pores. Although you may have a tendency to go for luminous face makeup, if you have large pores, this is not recommended.
This is because it only draws attention to your skin and thus your larger pores. So a lightweight foundation that has a matte finish will draw attention away from your problem areas. Oil-free formula is the best way to go.
You should also blend your foundation using a sponge or makeup blender. Brushes emphasize your pores by leaving behind brush strokes, while blenders leave behind a seamless and more solid coverage.
After blending your foundation, you should follow through with a translucent powder. This is usually a setting powder that will help finish off your makeup and set your foundation.
Lastly, applying a matte blush will draw attention away from your pores as opposed to a shimmery one. So try to opt for matte blush as often as possible and steer clear off oily and luminous foundations and shimmery blushes.
Does foundation enlarge your pores?
Wearing foundation itself will not make your pores look bigger, unless, of course, you are not using the right foundation or not using it correctly. Sadly, there are lots of reasons why pores still look large even after makeup has been applied, so let's address the reasons.
Opting for a luminous foundation is definitely going to accentuate your pores and draw attention to them. This is because this type of foundation is meant to reflect light, therefore drawing attention to your skin and ultimately your pores.
So one way to eliminate this is to opt for a matte foundation which will keep the skin from looking shiny throughout the day and therefore helps your pores stay minimized and out of sight.
Secondly, not applying your foundation the right way can also draw attention to your enlargened pores. This is because wearing makeup is not as simple as stepping out of the shower and lathering on your foundation. In fact, they are a few steps to your beauty regime that go before this step.
Those steps include exfoliating your skin, applying a serum, applying your daily moisturizer, using primer, and then applying and blending your foundation.
To provide a matte finish, it is also recommended that you set your foundation using a translucent powder. Additionally, staying away from shiny and shimmery blushes also minimizes the attention to large pores.
Is powder or liquid foundation better for large pores?
Powder foundations are usually light, so they don't leave behind a greasy residue on the skin. This is because they don't use oils or emollients and are therefore unlikely to cause clogged pores.
If you don't genetically have large pores, then it is highly likely to have them clogged with extra oil and dirt on your skin.
Foundations are best suited to skins that are sensitive only. Powder foundations are good for oily, acne-prone and sensitive skin and therefore make the obvious choice for people with large pores.
Powder foundations also tend to give the skin a smooth appearance without making the skin feel heavy. So it's usually the best option for people with clogged or large pores as it is less likely to fit heavy on the skin.
Liquid foundations are known to give you a fantastic and flawless look all day long. They tend to give the skin a dewy look without clogging the pores.
While lots of people are under the impression that it's impossible to cover large pores using liquid foundation, the reality is that using liquid foundation may actually be the easiest way to cover the skin and conceal large pores.
So there are lots of foundations on the market that tend to hide pores and also smooth fine lines. So if your skin is prone to breakouts and uneven skin tone, then the liquid foundation may just be the answer. It may just be what you're looking for to give you excellent coverage and a silky smooth texture.
This is especially in the dry season when liquid foundations tend to add an extra layer of moisture to the skin. So when it comes to finding the best foundation for people with large pores, then it obviously is ones that don't suffocate your pores and has a balance between dryness and moisture.
So the answer to this question may not be as straightforward as it seems. This because there are many factors involved, such as what skin type you have and the way your skin reacts to certain products. When it comes to hiding large pores, liquid the foundation wins by a small margin.
However, when the liquid foundation is used in conjunction with other products such as translucent setting powder, it can conceal large pores and give you an awesome finish.
How do you keep the foundation from settling into pores?
Cleansing
Before applying the foundation to your skin, you should clean it properly. Applying your foundation to dirty skin is one of the worst things you can do in your makeup routine. It leads to uneven finishes and will cause your foundation to settle down into your pores and creating wrinkles a lot faster.
Cleaning your skin the correct way before applying foundation will help you get a more even finish. Removing dirt, excess oil, and bacteria will prevent the foundation from getting into your pores and breaking up after a couple of hours.
Exfoliation
If you're looking for a way to get smoother skin, then exfoliation is the key. Additionally, it also keeps your foundation from settling into your pores and prevents wrinkles and fine lines.
There are lots of exfoliators that remove dead skin cells and increase the rate at which new skin cells form. It's essential to exfoliate your skin on a regular basis for effective results.
Moisturizing
Before applying foundation, use a moisturizer. This is because if you apply foundation on dehydrated skin, the lack of hydration will make your foundation settle down in your pores and cause lines to appear.
Applying makeup on already dehydrated skin will also give your skin a cakey appearance. Therefore, moisturizing your skin prepares it for the foundation and creates the ideal surface for applying your foundation.
Primer
One of the best ways to keep the foundation from settling into your pores is to apply a primer. Never underestimate the value of a primer. A good primer will fill up your pores, and also fill up wrinkles and fine lines providing a flat finish on which to lay your foundation.
Go lighter
More often than not a lighter foundation with lighter compositions will not easily settle and accumulate into pores, causing lines but instead will stay on the surface. However, for most women, leaving their full coverage foundation is not without its challenges.
However, using your moisturizer before applying a foundation is a great help. You could also choose to mix your foundation with a small amount of your daily moisturizer to create a more natural finish.
Beauty blender
Another key to keeping the foundation out of your pores is blending it choosing the right tool. It is often recommended that you use a beauty blender for a more even and natural finish.
Setting powder
Lastly, applying a setting powder will lock up the entire look. If you have a long day ahead, and you need your make-up to last a little longer, loose setting powder is not optional and absolutely compulsory.
During the day, dust, and sweat can cause your foundation to crack. However, applying a setting powder will help keep your foundation in place and provide a cohesive look.
Conclusion
Although foundation is designed to hide blemishes and flaws, if it's not applied correctly, it can go into your pores and give your skin an unsightly appearance.
The same applies to foundations containing shimmer. Using a matte foundation is recommended as it won't seep into your pores and gives your skin a lasting finish.
By following a few simple tips and tricks, you'll stop your foundation from settling into your pores, ultimately giving you that smooth and velvety appearance you are after.
Related Articles
05
Jun
What's your main concern when choosing foundations for mature skin? Are you looking for the best anti-aging foundation? What about coverage without creasing? These are both pertinent points. You might also consider your budget. Luckily, there are many options from[...]
19
Feb
You have them, and they bother you. But the best foundations and concealers for freckles will hide them. Your skin has simply produced too much pigment. Exposure to the sun is only going to make those little brown spots worse.[...]
16
Jan
If it seems like everything gives you a rash, can you wear makeup? Chances are you can, especially if you use one of the best foundations for eczema. It's extremely unpleasant to have an eczema flare-up on your face. That's[...]
Categories: Foundation & Concealer