Last Updated on April 30, 2021

Something is captivating about having dyed hair. It boosts your confidence and makes you look unique.

Just imagine having pink, purple, or brilliant blue hair locks; you will, without a doubt, stand out in any crowd. It goes into helping you make a statement.

In all its glory, dying your hair can also ruin the hair badly. First of all, it dries out the bristles robbing off all the hydration, leading to hair that breaks and cuts quickly.

Secondly, if you use hair colors with strong chemicals, they might inflict the skin's pH in the scalp leading to adverse reactions. Thirdly, if you keep treating your follicles to these harsh chemicals without proper care, it could result in you losing the locks altogether.

Now, assuming you have your locks dyed hitherto, wondering what are some of the things you should do to keep it healthy?

In a nutshell, you should keep it moisturized, conditioned, and well-fed with the needed nutrients. You will achieve all these by using the best conditioner for color treated hair.

Puzzled about where to get some of the best conditioners for color treated hair? Worry no more, below is ten of the best conditioner for color treated hair of all kinds, blonde, fine, frizzy, and the rest.
Products
#1.Biolage Colorlast Conditioner
This is the first product on the list, meaning that it is the best conditioner for color-treated hair. And this is probably because it has been tested and used by many hence deserving this position.
Features
The biolage conditioner comes in a 38.8 Fl oz white plastic container with the best blend of ingredients to maintain the dye's color and even improve its shine and tone. The main element that makes this product magical is orchid oil, exceptional addition to colored hair.
It has properties that help hydrate, glow, add elasticity, and add softness. This formulation also includes aqua, beneficial alcohols, and citric acid, which helps hair softer and help seal in moisture.
This formulation is low in pH, which helps keep the color longer and looking vibrant. Using this treatment keeps your hair in top-notch condition for close to two months. This product is a vegan conditioner.
Perks
You can use it on bleached hair as well as dyed hair.
It works perfectly for all color types and textures.
This conditioner does not strip color from the hair but makes it look vibrant.
Drawbacks
It is easy to get a counterfeit product, so you have to be careful where you buy it.
#2. Redken Color Extend Conditioner
This Redken conditioner is a red-bottled 1000ml product. This product is very exceptional as a conditioner for color treated hair that works in just one wash. It keeps the color looking gleaming and, most importantly, protects the hair.
Features
The most commendable thing about this product is that it offers four protective layers to safeguard the hair from dehydration, color damage, and breakage. With the infused ingredients, it keeps the colors in, creating a protective layer against fading. This formula gives the hair ample protection from both UVA and UVB sun rays.
Perks
It helps colored hair look fresh and vibrant.
The conditioner keeps the hair moisturized.
The formula has a lovely scent that sticks around even after the wash.
Drawbacks
If you use this product daily, you might be inviting build-up.
For best results, you should buy the shampoo.
It's common to get a counterfeit product.
#3. Redken Color Extend Brownlights Blue Conditioner
This is also a Redken product that has been specially formulated for hair treated with brown color. It comes in a navy blue 250mo plastic bottle. As one of the exceptional conditioners for color treated hair, brunettes love this product as it best serves their hair types keeping it looking bright and glowing.
Features
The ingredients in this formula help keep brown hair dye locked in and offer extra moisturization. Additionally, the hair strands become thicker and luxurious, maintaining the hair's volume.
This Redken conditioner for color treated hair neutralized violet and blue pigments, making the brown color appear dull. It also works against making hair assume a dusty brass-yellow color standard with multitiered brown dyed hair.
Perks
It can also be used on naturally brown hair to improve its glow.
The mix does not stain any white tiles, and even if it gets on clothing, you can wash it off.
It has a mild formulation that is gentle on the scalp; hence someone with a sensitive scalp can use it.
Drawbacks
The scent can overpower someone who is allergic to the conditioner. It's not the best to use.
If you use it daily, it might result in product build-up.
If you do not rinse out properly or leave it on for too long, it leaves your hair greasy and sticky.
It may stain your skin, so it's best to wear gloves.
#4. Pureology Conditioner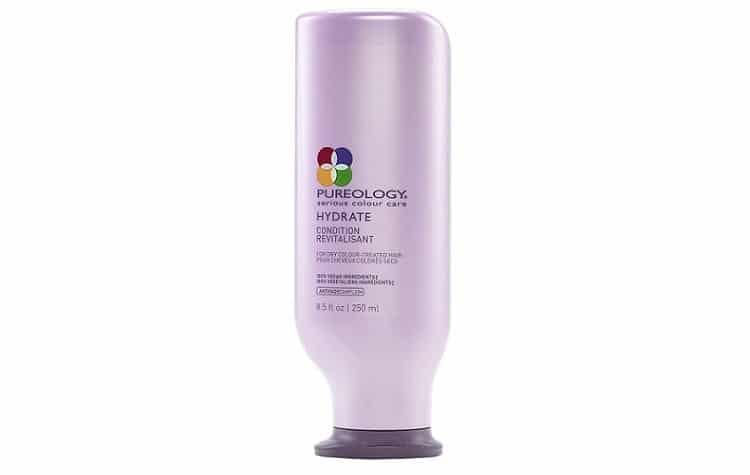 This shiny lilac container has 250 ML of 100% vegan formulation that will help your hair retains its color and stay healthy as well.
Features
This Pureology Air conditioner is made of aqua, beneficial alcohols, jojoba butter, rosemary leaf extract, and soybean oil, among many more. Soybean oil is beneficial to colored hair as it aids moisture retention of the individual hair follicles.
This oil is also instrumental in helping your hair absorb other healthy fats into the strands. The scent of this conditioner is a mixture of ylang-ylang, patchouli, and citrusy bergamot. This formulation is sulfate-free, which reduced product build-up.
Perks
It works for all kinds of colored hair.
The scent of this product is divine and will linger even after a session.
It had no leave-in time, which translates to easy usage and less time-consuming.
It increases hair color radiance by reducing fading.
Drawbacks
You must purchase this product from a trusted source; otherwise, you will get a counterfeit piece.
Some people find this smell a bit too strong and overpowering.
#5. Moroccan Argan Oil Conditioner
Presented in half a liter brown pump bottle, the Moroccan Argan Oil brand is the best deep conditioner for color treated hair, and you are about to find out why.
Features
The Moroccan Argan Oil conditioner is the superior product to use on frizzy hair. The argan oil in the formula is the show's star since it hydrates dyed hair from the roots to the tips. The argan oil is beautifully blended with deionizing water, fragrance, hydrolyzed collagen, and citric acid.
It is free of sulfates, gluten, or parabens, making it ideal for people applying vegan and safe hair brands. Using this brand proffers you fuller and vibrantly colored hair since it is one of the best deep conditioner for color treated natural hair and relaxed hair.
Perks
People with nappy and curly natural hair can rely on this product as their only piece, and it works wonders.
Besides hydrating hair, it adds volume, protects, and makes colors appear brighter.
It's a cruelty-free product that does not test on animals.
It is ideal for saving damaged hair taken through rigorous dying and exposure to other harmful elements.
This formula is very gentle on your scalp, and so allergies are uncommon.
Despite it being particularly formulated for frizzy hair, it can still work for fine locks too.
It is a unisex piece of product used by both male and female clients.
Drawbacks
For best results, you might have to purchase the shampoo, which is an extra cost.
#6. Olaplex No. 5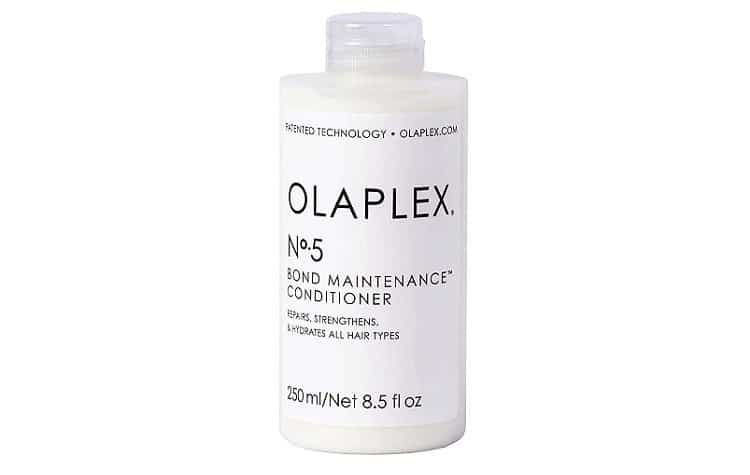 The OlaPlex hair conditioner is particularly blended for all hair sorts and textures to keep the color in, strengthen their hair follicles, and thicken the hair, adding volume.
Features
The OlaPlex number five has a fascinating and technological chemistry bonding method that helps chemically treated hair regain its healthy state. It works from the inside out, making individual hair strands more substantial and thicker. It contains water, glycerin, avocado oil, and soybean oil, to mention a few.
It is a hair conditioner that is among the first of its kind formulated by chemists who work to create hair product blends that fit and are suitable for all hair types. This particular formulation is scientifically one of the best conditioner for fine color treated hair.
Perks
The scents are gentle and not overpowering.
Being a scientific product, it used tech that is eco-friendly in all stages of manufacturing.
The tiny bottle is enough for a month's use, making it an economical pick.
Drawbacks
This product has silicone, which is terrible for people with nappy hair.
People who like scented hair products may not pick this piece.
The Olaplex no.5 is part of about four more products, which incur extra costs.
#7. Bold Uniq Purple Hair Mask
This hair mask is the best conditioner for dry color treated hair that is bleached white, platinum, grey, or silver.
Features
This purple hair mask comes in a 200ml tab that is the best conditioner for blonde color treated hair—the elements in the paste work to eradicate any amber and brass hues in blonde locks. By depositing the violet-hued tones into the hair, there is a cancelation of the dull yellow hues. It achieves all this without stripping the radiance of the dyed style.
It contains soy proteins, jojoba oil, coconut oil, marula oil, vitamin B5 strengthened with UV protection layers that safeguard the hair from fading. It's a cruelty-free, entirely green, and PETA certified hair mask that lacks both paraben and sulfates.
Perks
It is ideal for both natural and dyed gray hairs.
With one wash per week, your hair looks stunning all through.
By removing the yellow tones, blonde hair follicles appear lighter and brighter.
Drawbacks
The purple paste is likely to discolor hands and clothes.
Applying too much may leave hair with a violet shade.
#8. Hempz Volumizing dye conditioner
The Hempz volumizing conditioner is well packaged in a one-liter black vessel with a shiny orange brass background branding with the trademark's name and contents. The Hempz is the perfect formula for fine hair.
Features
One pump of this conditioner oozes out the sweet-smelling scent of sweet pineapple and honey melon. Additionally, it contains Shea butter, jojoba seed, and unsynthesized hemp seed oil.
This formula extends hair color life, increases hair thickness, eradicates frizz and flyaways, and moisturizes locks. This conditioner doesn't contain gluten, parabens, and THC.
Perks
It has many benefits to dyed hair, providing shine, protection, and adding hair volume.
The formula smells nice and remains after a wash.
It is lightweight and washes off easily.
This product works well for fragile, delicate hair and someone with an oily or sensitive scalp.
Drawbacks
If you do not wash it off well, it leaves hair sticky and greasy.
#9. Nioxin Scalp Therapy Hair Conditioner
This Nioxin blend is well packaged in a white 300 ml container with peach and black trademark markings on the box. It is a unique formula that does not only cater to the hair but also the scalp.
Features
As one of the best conditioners for dry color-treated hair, Nioxin sorts the individual hair strands and goes more in-depth to cater to the scalp, aided by the refreshing and soothing peppermint ingredient. Beyond that, there is aqua, camellia, Cetyl alcohol, biotin, and EDTA, among several others.
This blend had light thinning properties that help dyed hair stay in top shape. It is lightweight, moisturizes the scalp and hair. For the preferable results, use it after shampooing, smear on every inch of your head, leave it on for about three minutes, and then rinse it off.
Perks
Since it sorts out the scalp and the hair, it's an all-rounded product.
It helps balance water quantity in the hair and scalp, and the aftermath is thicker, luscious hair locks.
Drawbacks
The scent of this conditioner is not pleasant since it smells like a chemical. For this reason, some people find it repulsive.
#10. Paul Mitchell Color Protect conditioner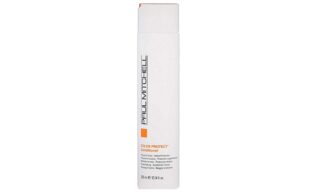 This Paul Mitchell hair conditioner comes in a 300ml white container with subtle orange and black branding. It is simple in design but superior as the best salon shampoo and conditioner for color treated hair.
Features
This Paul Mitchell piece is a perfect supplement to your regular hair routine that nourishes and makes your hair soft, gleaming, and vibrant. The sweet citrusy scent of orange, bergamot, leafy greens and apple makes this conditioner unforgettable.
It contains Eau, sunflower, aloe, fragrance, and many more each with exceptional properties to turn damaged dyed hair to look and feel better. Because of the constituents, this Paul Mitchell conditioner is the best deep conditioner for color-treated hair locks.
Perks
The fragrance is energizing and refreshing.
After usage, you experience softer and easily manageable hair.
Since you can use it every day, you will have healthy dyed hair daily.
Drawbacks
It gets greasy if you do not wash off properly.
Buying this brand from an unauthorized seller incurs a possibility you will get a fake.
Conditioner For Color Treated Hair FAQ
Can you use any conditioner on colored hair?
You can, but it is advisable to go with one that is formulated for colored hair. They work best since the blend had been specialized for that sole purpose— to better-dyed hair.
Can I use the leave-in conditioner on colored hair?
Yes, you can. The best leave in conditioner for color treated hair is in plenty, and it functions just as effectively as rinse-off conditioners. Applying leave-in conditioners is that you do not have to wash it off, which is time-efficient.
They are the ideal everyday product for getting ready to start your day. Leave in conditioner for color treated hair is a perfect option as you give the ingredients ample time to do their magic.
How do you rehydrate colored hair?
As mentioned above, dyed hair gets dehydrated faster than untreated sorts, and so it needs moisturizing more often. Therefore, the first way you moisturize it is to wash it or regularly spray water on it.
The next method is to employ moisturizing hair products that lock in moisture within the follicles. These items comprise shampoos, conditioners, hair kinds of butter, oils, and sprays.
Conclusion
Struggling with dyed hair locks that are parched and splintery kills the joy of delighting in the confidence and uniqueness brought forth with augmenting color to your hair.
If you have dyed hair, of which at least one in a hundred people have, then you should protect it. And the ideal technique to employ is by treating it using the best deep conditioner for color treated hair.
As that is not all, the products to use therein have to be advantageous and suitable to your hair strands. The ten discussed in this piece is a great place to start, so pick one and give your hair what it deserves.
Related Articles
22
Oct
You gain weight, get food cravings, feel exhausted, and might not feel good about how your body looks. All these things tend to happen when you're pregnant. Pregnancy comes with a host of body changes as the baby develops, and[...]
19
Oct
It's not that dye doesn't work on synthetic hair. The fact is that these processed fibers don't have the natural pigment in human hair, so the hair dyes we use on human hair don't work on synthetic fibers. So, can[...]
08
Oct
If you want to have hair that turns heads, the first thing you need to do is take proper care of your scalp. In case you are wondering how to do that, I am here to tell you that it[...]
Categories: Hair Care