Last Updated on September 22, 2022

It's not that dye doesn't work on synthetic hair. The fact is that these processed fibers don't have the natural pigment in human hair, so the hair dyes we use on human hair don't work on synthetic fibers.

So, can synthetic hair be dyed?

Yes, you can, but with ink that isn't corrosive on synthetic fibers like nylon, acrylic, and polyester.

The results are permanent depending on the ink used. Further, unlike human hair, you don't have to worry about new growth taking you back to the original color of the fibers.

So…
What Can You Use to Dye Synthetic Hair?
If you love being creative with your hair, then you'll love working with synthetic hair, as you can go as wild as your imagination enables you. Most of the experiments you can attempt with synthetic wigs are almost impossible on human hair without worrying about the effects of hair dye on your hair and scalp health.
However, even synthetic hair is prone to damage. Dyeing it with natural hair dyes can damage your wigs in seconds. That's why you can only use inks instead of natural hair dyes.
So, let's look at what's safe to use on your synthetic wigs, such as:
Acrylic Paint
You'd need to combine acrylic ink with rubbing alcohol to create a dye. About a quarter teaspoon of paint mixes with three tablespoons of rubbing alcohol. The more alcohol you add, the darker the color it leaves on your wig.
Dyeing it is easy when you slip the wig on a mannequin head to have all-around access to all the fibers.
Spray the wig with the mixture while finger combing it for the paint to reach all synthetic fibers. This process takes about 40 minutes. However, the dyed wig dries for about two hours, then you wash it and dry it again for about two hours.
Alcohol-Based Dye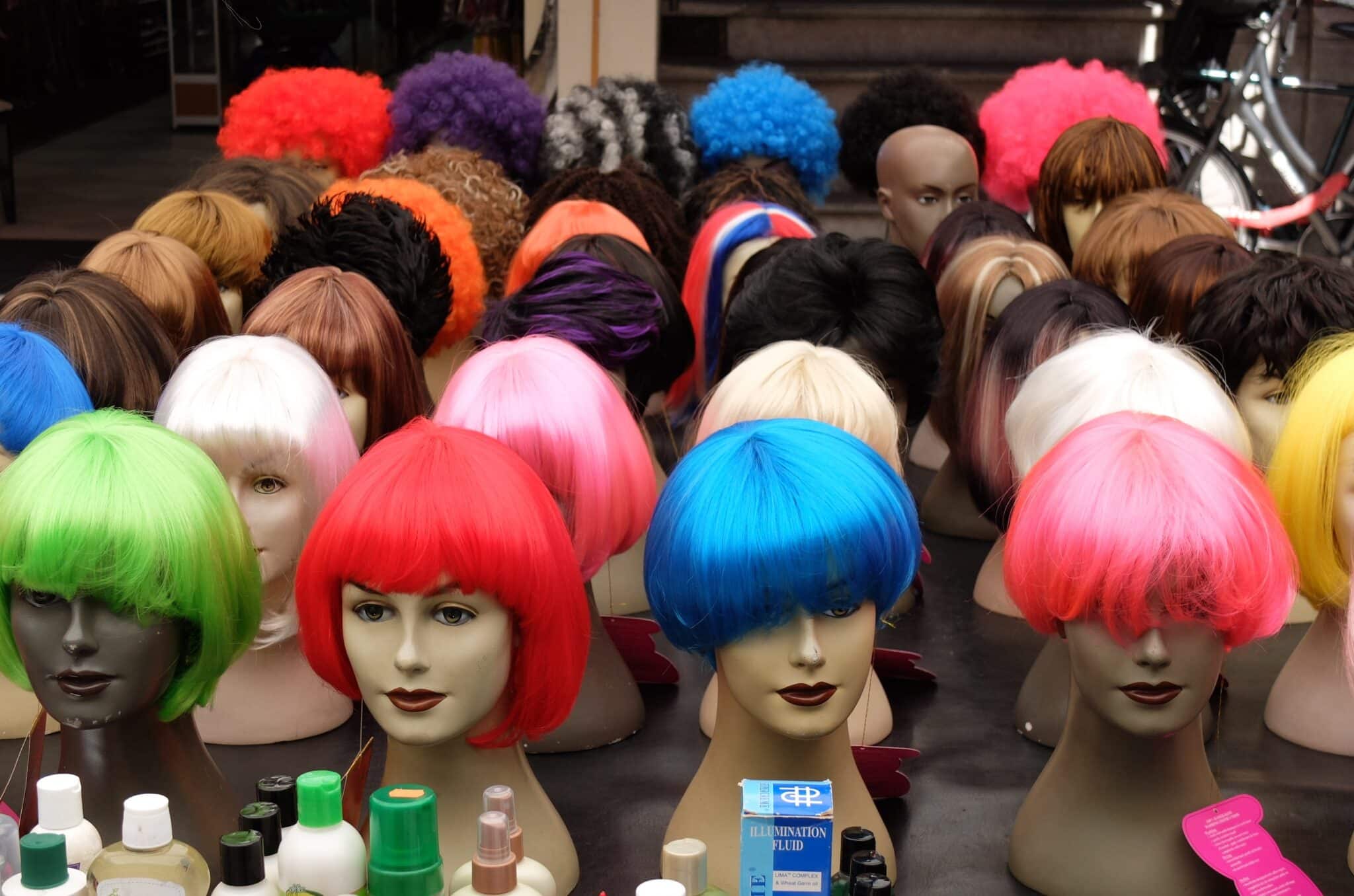 A 1:1 ratio of ink to water is appropriate so you can maintain the original shade of the dye. However, if you'd like it lighter, dilute it some more. You dye it in a similar process to the one discussed above.
Fabric Dye
Using fabric dye is arduous compared to other methods as you have to boil the water first. Your wig should fit in that pot. When the water boils, add at least three teaspoons of the dye. Damp the wig with water and place it into the pot with dyed water.
Leave the wig in the boiled water for a few minutes until the color changes to the one you desire. Then, take the wig out and dry it. It's a tasking process, but it's worth it as fabric dyes come in many colors, from fuchsia to tan, black, and navy blue.
Sharpie Ink
Yes, even a marker can help you dye a wig. Choose a color that matches the dye you'd like on your wig. Up to five sharpies can provide enough ink for this process.
First, pour rubbing alcohol into a spray bottle. The amount of rubbing alcohol needed depends on the length of your wig. The longer it is, the more alcohol you'll need. Next, pull the inkwells out of the sharpies and drop them into the spray bottle with rubbing alcohol.
Shake the mixture vigorously in sessions of about 10 minutes until it yields the color you want. Start with a strand test to confirm the color before spraying the whole wig.
How Long Does the Dye Last on Synthetic Hair?
When using the dyes described above, you get permanent results. You'd need to wash the wig many times to get the ink out. Another way of getting the hair dye out is soaking it in rubbing alcohol overnight.
But, that would take out about half of the ink, so you'd need to repeat the process until the wig goes back to its original color.
Sometimes, it may take weeks to wash out about half of the ink using all manner of ideas from dishwashing detergent to paint thinner and conditioner. Nonetheless, they may destroy the texture and curl pattern of your wig.
Can You Use Semi-Permanent Dye?
No, because it won't stay on the synthetic fiber. It all goes back to the structural difference between human hair and synthetic fibers. You see, human hair has three layers starting with the cuticle as the outermost layer.
When you use a permanent dye, its molecules penetrate the innermost layer of your hair. These molecules aren't as small as the ones in semi-permanent dyes, so you can't wash them out.
The semi-permanent dye washes out with shampoo as it doesn't change the natural pigment.
In contrast, synthetic hair lacks the cuticle or other layers in which dye molecules can penetrate and occupy.
Precautions When Dyeing Synthetic Hair
If you only need a few strands of a different color, you may consider getting extensions instead of dyeing your wig.
When dyeing the whole wig,
Use a light-colored wig as dark-colored ones don't dye easily.
Wear hand gloves when handling the dye. You can soak the wig or spray it, then run your fingers through its fibers to saturate all strands. A wide-toothed comb can also brush the ink into the inner fibers.
Cover the working surface to prevent dye stains.
Do a strand test, more so when dyeing an expensive wig. It'll also show you the color, so you can darken or dilute it.
After dyeing your wig, wash it in cold water until the last rinse is clear. Avoid warm or hot water as it washes the dye off. If the ink runs, it'll transfer from your wig to your clothes.
Final Thoughts
Yes, you can dye synthetic hair, but there are some ifs and buts to it. For example, you can only work with light-colored wigs. Two, you can't use natural hair dyes on synthetic wigs as they can damage the artificial fiber.
Even when using acrylic ink or other dyes for synthetic fibers, you must start with a strand test, more so when you're working on a costly wig. The beauty of using synthetic wigs is that there are cheaper ones that you can dye as often as you like instead of dyeing an expensive human hair wig.
Related Articles
22
Oct
You gain weight, get food cravings, feel exhausted, and might not feel good about how your body looks. All these things tend to happen when you're pregnant. Pregnancy comes with a host of body changes as the baby develops, and[...]
08
Oct
If you want to have hair that turns heads, the first thing you need to do is take proper care of your scalp. In case you are wondering how to do that, I am here to tell you that it[...]
01
Oct
When you first start styling your hair at home, even the simplest hair tools can make you feel overwhelmed. The same goes for curlers—there are a ton of them, and it is not always easy to use them on yourself.[...]
Categories: Hair Care