Last Updated on January 5, 2021

As I am always on the lookout to test out natural products with fewer chemicals, I was so excited to finally try out some Tree to Tub products. And they didn't disappoint. The entire product range at Tree to Tub is pH-balanced, hypoallergenic, cruelty free, vegan, fair trade, eco-friendly as well as silicone, sulfate, paraben, gluten and perfume free! That's quite a list! It would be nice to see Tree to Tub find an alternative to the plastic packaging, but for now, at least it is recyclable and other than the actual bottles all the packaging was cardboard.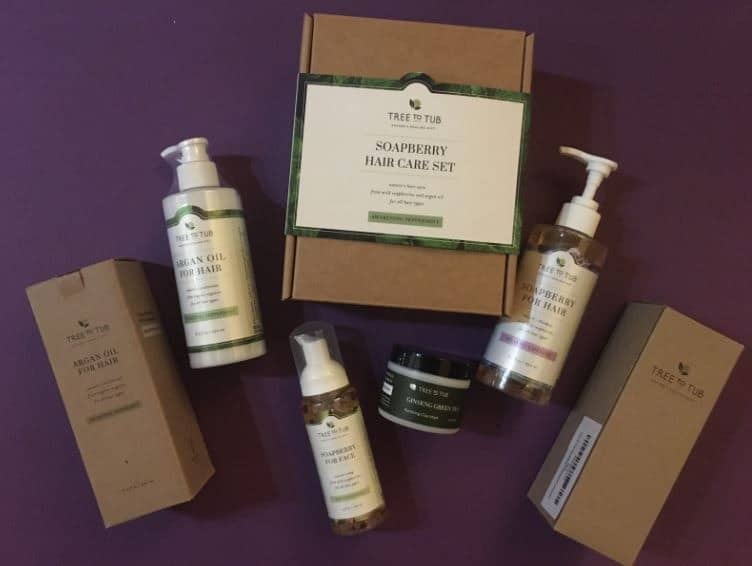 What is in the products?
Most of the products I tried out are made with the company's signature ingredient, the Soapberry. If you have never heard of a Soapberry before (I hadn't!), let me fill you in. In fact, every product actually includes a little card with the story behind the Soapberry, as well as a dried, natural Soapberry that you can use to wash your face! I thought this was a nice touch, and I actually tried lathering up the soapberry myself, I'll let you know how it went later in the review.
The brand was born in Taiwan, where Michael the creator is from. As a baby he always had sensitive skin and rashes which all changed when his grandmother would bring soapberries from the forest to wash him with. Soapberries also have antibacterial and antifungal properties and they are super gentle on skin. They are small berries with a soft shell and seed inside. They have natural foaming properties for gentle cleaning so these products are amazing for sensitive skin.
Soapberry lather vs artificial lather
Because Soapberry lathers up naturally it means Tree to Tub does not have to put artificial foaming agents, such as Sodium Laureth Sulfate, into their products. The natural lather helps maintain and protect the natural oils in your skin and hair that can be stripped away with chemicals. Soapberry lather is also great for dry or sensitive skin that can be irritated by chemicals, restoring the balance to your skin and hair. It can help the health of your scalp and doesn't dry out hair as much, in turn reducing split ends and hair loss.
Further benefits of Soapberry
Finally, Soapberry trees protect the land from typhoons, and Tree to Tub works to protect the native groves from commercial development. This means by supporting the brand you are also supporting this project. There is zero waste and the only byproducts are Soapberry seeds!
Now we have discussed the background, let's dive in and see the different products I tried and how I found them.
1. Relaxing Lavender Shampoo and Conditioner Set
So the first product I checked out was the Soapberry Lavender shampoo and conditioner set. The first thing I have to mention about these 2 products is wow, they smell amazing! They have the most intense, pure lavender scent as they are made with lavender essential oil. If you have ever found lavender growing on the side of the road and crushed it between your fingers, it smells like this.
Lavender has soothing, relaxing properties so these products are perfect for a Sunday night self-care routine. The Wild Soapberry is pH-balanced, antibacterial and anti-inflammatory which is great for a dry or itchy scalp and dandruff and sensitive skin.
Soapberry for Hair, Relaxing Lavender Shampoo
I really liked this product overall, especially the fact that it is made with natural ingredients and left my hair feeling super soft. I was really happy with how my hair dried and looked after washing, and the fact it has no harsh chemicals means it doesn't strip your hair of their natural oils. I would definitely recommend it if you are looking for a more natural product or if you have particularly sensitive skin.
The natural formula was also very gentle and really good for my scalp, which tends to get dry in the winter. The smooth formula, without drying chemicals, helped reduce the dryness and sometimes itchiness of my scalp which was a big plus.
There was one thing I wasn't sure about at first, which was that the shampoo takes a little while to lather up and I found I needed to do two washes to get the desired effect. Also just after washing it sometimes felt like there was a little residue left in my hair. From having tried out natural shampoos in the past, I know this is the price you pay for not having harsh chemicals and artificial foaming agents. So although it took a little getting used to, it is something I am willing to persevere with as it does bring huge benefits for your hair like stronger hair, less breakage and fall out, and less dryness.
Equally, by the second wash I was usually able to get rich, foaming lather, but it did mean that I used the product slightly faster than a standard shampoo. But overall I would recommend this shampoo if you want to avoid synthetic products or have a sensitive scalp.
What's in it?
So the shampoo uses the signature Soapberry which is a neutral pH 5.5 and balances hair. Many synthetic soaps and shampoos can be between pH 6 and 9 which is more alkaline which can lead to cuticle damage or breaking of fibers. The product also includes moisturizing Argan Oil to leave your hair feeling nourished and hydrating Aloe Vera to soothe and moisturize and it did feel nourishing. It also includes Chamomile which is an anti-inflammatory so can reduce itchiness and calm and soothe the scalp and finally balancing Olive Leaves which help to repair damage as well as strengthen the hair.
Key Ingredients List:
Soapberry

Aloe Vera 

Argan Oil

Camomile 

Olive Leaves

Lavender Essential Oil
Argan Oil for Hair, Relaxing Lavender Conditioner
The conditioner was great. I only needed to use a pump or two and it was super smooth and moisturising in my hair without making it greasy. It smelled amazing and felt very luxurious using it in the shower. This product is designed to reduce tangles, frizz and flyaway hair and leave hair sleek and shiny. It definitely felt very hydrating and left my hair feeling really soft.
It is ideally suited to sensitive skin as it nourishes a dry, flaky scalp and doesn't strip away natural oils which can be unhealthy for your hair. It is also colour and keratin safe! I would definitely recommend this conditioner for all hair types and it is a great natural product to avoid using synthetic chemicals that can be harmful to your hair and the environment.
What is in it?
This product contains the soothing Soapberry which helps to balance the hair and the scalp as it is pH 5.5. This helps to reduce breakage and damage to the hair and keep it healthy.
The nourishing Argan Oil, a hydrating natural ingredient from Morocco, helps to repair and strengthen hair. The conditioner also includes Organic Shea Butter, Organic Coconut Oil and Organic Pomegranate which are all-natural ingredients that work to hydrate and strengthen. I really felt that after a few weeks I could feel my scalp was less dry, and the ends of my hair felt hydrated. 
Key Ingredients List:
Soapberry

Argan Oil 

Shea Butter

Coconut Oil 

Pomegranate

Lavender Essential Oil
2. Awakening Peppermint Shampoo and Conditioner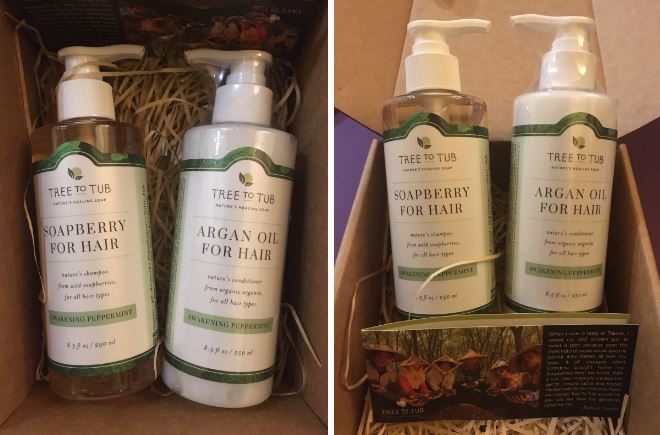 I also checked out the Soapberry for Hair Shampoo and the Argan Oil for hair Conditioner set in the scent Awakening Peppermint. And again these smell incredible! Tree to Tub adds Peppermint essential oil which infuses the whole product with the most intense, fresh peppermint smell. And it is a natural scent, with no artificial chemicals, which is great! The shampoo and conditioner were perfect for waking me up in the morning.
The products were really refreshing to use leaving my hair feeling fresh and clean. The products are dermatologist recommended as they are free from all parabens and sulfates, and are hypoallergenic and very gentle. They are also naturally antibacterial and antifungal, making them a great choice for people with sensitive skin. The Tree to Tub shampoo and conditioner can also help with dandruff, itchy scalp, oily scalp, psoriasis or eczema.
Soapberry for Hair, Awakening Peppermint Shampoo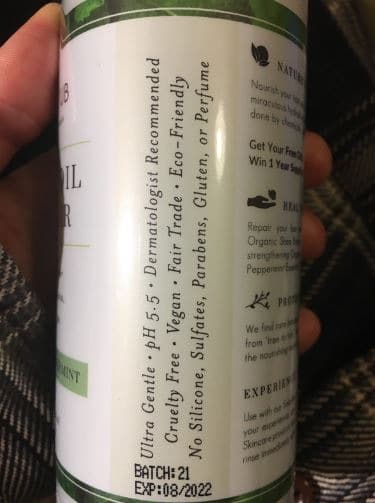 I loved the smell and feel of this shampoo. The scent was tingling and cooling and really refreshing in the shower. It felt nourishing and gentle on my scalp and left my hair feeling really soft. However, the one problem with this shampoo was that similarly to the lavender shampoo, you have to use quite a lot of product to get the required lather over the whole head, or do 2 washes. Once it does lather, it is super foamy and creamy and I like how the hair washes and dries. However, it meant I would use the product up quite quickly.
What is in it?
The shampoo is made with natural Soapberry, which is the natural lathering agent in the product. Again this means the product is pH neutral, at pH 5.5, which is similar to the natural pH of your hair. This means it will not strip away too much of the natural sebum in your hair and scalp, will stop your hair drying out too much, reduce frizz and keep the hair cuticle sealed. These effects can happen with many products that are too alkaline for your hair.
The product has Aloe Vera which helps to calm, soothe and moisturize the scalp and hair. Argan Oil also moisturizes and nourishes and Chamomile calms the scalp. There are also Olive Leaves in the product which help to repair damaged hair and preserve hair color. Then finally there is the additional Peppermint essential oil. This is often used in cosmetic products for its pleasant smell and cooling and tingling effects. It is also known for properties that encourage hair growth.
Key Ingredients List:
Soapberry

Aloe Vera 

Argan Oil

Camomile 

Olive Leaves

Peppermint Essential Oil
Argan Oil for Hair, Awakening Peppermint Conditioner
I really enjoyed the Awakening Peppermint Argan Oil Conditioner and would highly recommend it. It was smoothing and nourishing, I didn't need much to hydrate my whole hair, and I absolutely loved the intense aroma from the peppermint essential oils. It felt really fresh and helped detangle my hair and calm flyaways.
I love the fact that the product is sulfate, paraben, silicone, DEA/MEA, gluten and artificial fragrance free. It means I don't need to worry about the effects of putting harsh chemicals into my hair as well as into the ground. As it is also cruelty free, vegan, fair trade and ecosystem friendly making it both good for the planet but also great for sensitive skin. As I can get a dry scalp, especially in winter, it means this product did not further dry out or irritate my scalp which was great.
What is in it?
One of the key products in this conditioner is Argan Oil. Argan Oil is made from the kernel of the Argan tree, native to Morocco. It is used in lots of hair products as it has many minerals, vitamins and antioxidants in it that help to soften, smooth and nourish hair. It helps restore shine and brighten hair, and I have to say this did leave my hair feeling soft. This product also contains Soapberry which helps to balance the hair as it is a neutral pH 5.5. There is also Organic Shea Butter which contains vitamins and fatty acids to increase shine and reduce frizz. Organic Coconut Oil is a highly nourishing natural ingredient with fatty acids and microbial properties to nourish the hair. Finally, Organic Pomegranate which strengthens hair.
Key Ingredients List:
Soapberry

Argan Oil 

Shea Butter

Coconut Oil 

Pomegranate

Peppermint Essential Oil
3. Soapberry for Face – Raw, Unscented Foaming Face Wash
I absolutely loved the Soapberry for Face foaming facewash. I tried the raw, unscented version. When I first used it, I could immediately note the high quality of the product. It had an incredibly smooth, silky consistency and lathered up easily on my face. It left my skin feeling really clean and dewy without overdrying and felt like it cleansed deep down into my pores.
I think this gentle formula would be good for all skin types as it leaves skin fresh without stripping it of natural oils. I have combination skin with dry cheeks and an oily t-zone. I felt this wash worked well for both areas of my skin, reducing oil and shine but still hydrating. The natural antibacterial properties also help to keep skin clear and blemish-free.
What's in it?
The Soapberry lathers up naturally to create the amazing foamy texture of this cleanser. It is pH neutral (5.5) to keep skin balanced and soothed. It works together with other deep organic natural ingredients including Shea Butter, Aloe Vera, and Açaí which hydrate the skin and keep it feeling moisturized. It also has Chamomile to moisturize and calm. You can also get the lavender or peppermint scented versions of this cleanser that are scented with essential oils. 
Key Ingredients List:
Wild Soapberry 

Shea Butter

Aloe Vera

Açaí

Chamomile
Using the product
To use this I rinsed my face with water and then pumped some of the product onto my fingers using the easy-to-use pump cap. I needed just one to two pumps to thoroughly wash my face and neck and I massaged this in, rinsing with warm water and towel drying.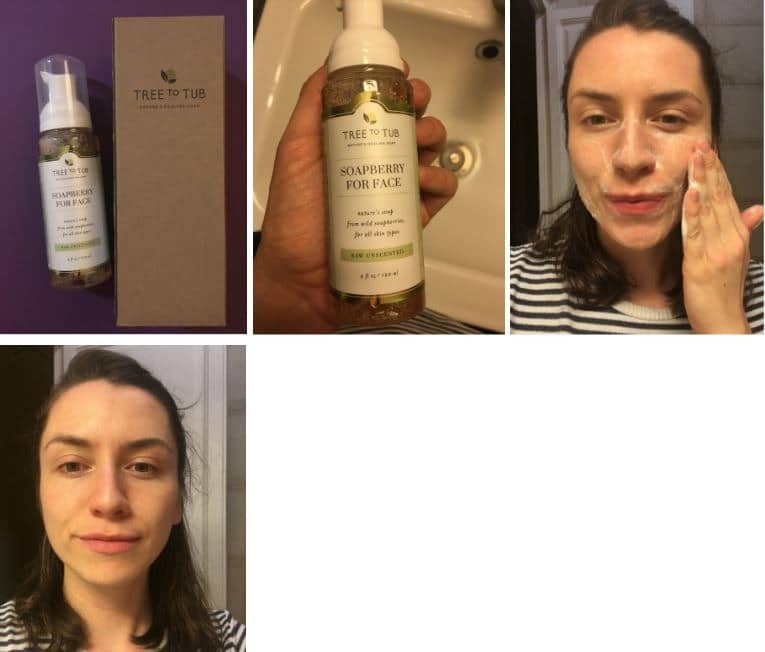 4. Ginseng Green Tea Purifying Face Mask
I also loved the Ginseng Green Tea Purifying Mask. It left my face feeling fresh, clean and nourished. It wasn't drying like some other masks and is great for use around twice a week to keep pores clear. This is a clay mask that is ideal for all skin types, but is particularly good if you have sensitive skin.
It works to draw out impurities from your skin as well as nourishing it with good, natural ingredients and balancing a delicate complexion. The Eastern-inspired Ginseng and Green Tea formulation is designed to boost your blood circulation and make your skin brighter. There is a good amount in the pot so it will last a while and the product feels thick with a smooth consistency. 
What's in it?
This mask contains bamboo charcoal which gives it a grey color. Bamboo charcoal is great for drawing impurities out from the skin, in fact it can absorb up to 200 times its weight in impurities. It has Bentonite and Kaolin Clays as well which penetrate deep down into the skin to unclog pores as well as soothe. Hyaluronic Acid works deep down into pores to leave them unclogged, reduce blemishes and plump up the appearance of your skin. The mask includes nourishing botanicals like Aloe Vera, Chamomile and Cucumber to soothe and moisturize and Bitter Orange, Tea Tree and Lavender to purify the skin. And finally antioxidants Pumpkin Enzyme and Vitamin C.
Key Ingredients List:
Bamboo Charcoal

Bentonite and Kaolin Clay

Hyaluronic Acid 

Aloe Vera

Chamomile 

Cucumber 

Bitter Orange

Tea Tree 

Lavender

Pumpkin Enzyme 

Vitamin C
Using the mask
To use it, I first cleansed my face with the Soapberry face wash and patted it dry with a towel. I then applied a layer of this over my face using my fingers and then left it for around 5 – 10 minutes. I rinsed it off with warm water. I could feel the product drying and tightening on my face but it was fairly gentle. It left my face feeling super soft and clean and it instantly felt refreshed and brighter.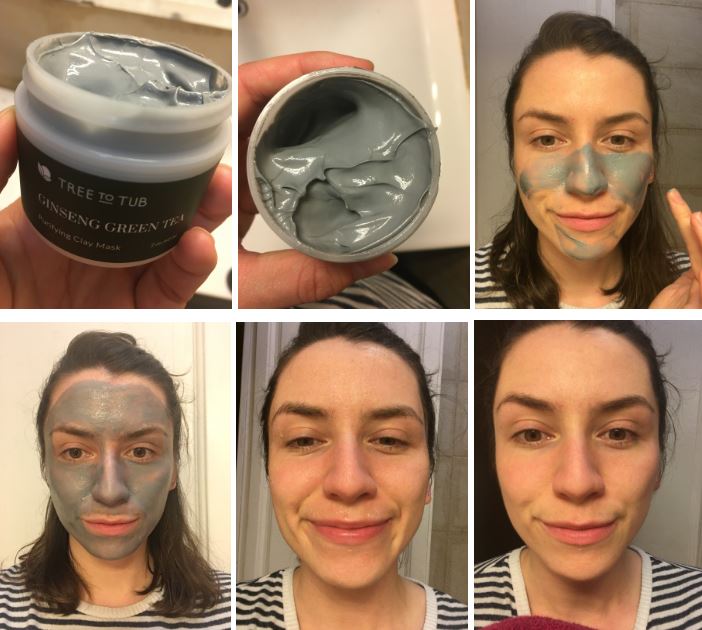 And I tried an actual soapberry!
So, I decided to actually try out the wild, sun-dried Soapberry that came as a free gift with my products. It was a great experience! It came with instructions on what to do. I placed the berry in boiling water and left it for 10 minutes to soften the shell. I then broke into the shell and pulled out the black Soapberry seed inside (which apparently can be planted to grow your own Soapberry tree (I will need to make some space on my balcony). I then took the shell, ran it under a little more hot water and rubbed my hands together and it really did lather up! Very similar to my face wash which was cool, as it shows you how natural the products really are. I used it to wash my face which felt remarkably clean afterward!
Conclusion
Overall I would definitely recommend the Tree to Tub brand. It is a great find if you are looking for natural products that avoid harsh chemicals and are fair, sustainable and gentle. Tree to Tub is effective and gentle on your skin, and the environment too! Soapberry is an amazing alternative to synthetic products as it foams and cleanses like soaps. You can even test out a natural dried Soapberry to see for yourself and plant your own Soapberry tree with the seed. The face wash and face mask kept my skin soft and clean and improved the appearance of my skin. I will definitely keep using it. I also loved the fact that the shampoos and conditioners were all-natural and they smelt amazing, perfect if you have a sensitive or dry scalp. These products are great for all skin types, but especially worth the investment if you have particularly sensitive or dry skin.
You Might Also Like:
Related Articles
30
Jan
You want to protect your skin from sun damage, but you're a little leery of sunscreens with chemical filters. Maybe you're allergic to an ingredient, or perhaps you've realized they absorb the UV radiation instead of reflecting it. Try one[...]
25
Aug
Your face is made up of some of the most sensitive skin on your body. That's why it's smart to avoid detergents and artificial ingredients that can irritate your skin. Instead, try one of the best organic face washes and[...]
24
Aug
Why choose one of the top organic body washes and soaps? For one, you'll avoid potential irritants in the form of harsh synthetic chemicals. For another, your body will benefit from the best and purest natural ingredients. Besides that, buying[...]
Categories: Organic