Last Updated on September 22, 2022

Tanning is about controlling when and how much sun exposure you get. When it's too much, you get sunburns. When overexposure prevails, you may get skin problems.

Therefore…

There's a tendency for people to tan on overcast days because it gives them better control over when and how UV rays reach their skin.

But, can you tan on a cloudy day?

Yes, you can. To understand this process, let's explain:
What Is Tanning?
Tanning occurs as your body protects the skin from sun damage by increasing melanin cells. The problem is, too much tanning causes sunburns that'll eventually age your skin.
You see, the sun's rays reaching Earth are of two types. There's UVA, which is about 95% of the radiation from the sun, and UVB. We'll not talk about UVC because these rays don't reach our planet's surface. Thanks, ozone layer!
UVA rays travel beyond the epidermis, and they are to blame for wrinkles and premature aging.
In contrast, UVB rays affect the topmost layer of your skin by burning it. These rays can cause skin cancer. It doesn't take hours under the sun to see sunburns; you can burn your skin in about 15 minutes. But, this duration depends on so many factors like your skin's protection, skin tone, and the sun's heat.
The best solution is to stay out of the sun, but we are social beings, and we all want to enjoy the beauty of summer.
So…
Can You Tan on a Cloudy Day?
Fortunately, or unfortunately, clouds don't block the sun. Both UVA and UVB rays pierce through clouds to mess up your skin.
But, the percentage of the sun's rays penetrating cloud cover may differ from one cloud type to the other. For instance, when gray clouds cover the sky, there's a chance that about 35% of the sun's rays reach Earth.
On the other hand, when there are more white clouds, up to 90% of the sun's rays may penetrate your skin when you tan. It might be cool outside, there might be a breeze or showers, but the sun's rays will still reach Earth.
Therefore, if you forget to wear sunscreen on a cloudy day, you may get sunburns thinking the clouds can protect you.
The misconception that the sun is absent on a cloudy day is almost similar to thinking it's impossible to get sunburns in winter. Snow reflects the sun, so you may spend a whole day outside and get sunburns.
How to Tan on a Cloudy Day
Prepare Your Skin
Start by exfoliating your skin so that the tan will be on fresh, healthy skin. It'll make your tan last longer than when you tan dead skin that'll start flaking. Next, moisturize your skin to withstand the dehydrating nature of the sun.
A moisturizer will offer sufficient moisture to last the whole tanning session. Third, apply sunscreen all over your body, with more emphasis on exposed areas. Clothing blocks the sun differently, so if you're in light fabrics, apply sunscreen underneath to protect your skin.
Related: Can I use sunscreen as a moisturizer?
Look for Less Cloud Cover
Find a spot with less cloud cover so the sun can tan your skin for five to ten minutes.
Wear sun protection clothing, a hat, and sunglasses to reduce exposure. You're still likely to burn even when you have sunscreen.
Tan Evenly
Rotate on the lounge chair to tan evenly on each side. It's better to do so on a chair or laid out on a beach towel because you'll tan evenly without overexposing some parts.
Plus, you'll time yourself better knowing how many minutes you tan on each side. If there's little cloud cover, lay under a shade like an umbrella instead of a tree because leaves won't block the sun completely. You want to minimize direct contact as much as possible.
Choose the Best Time to Tan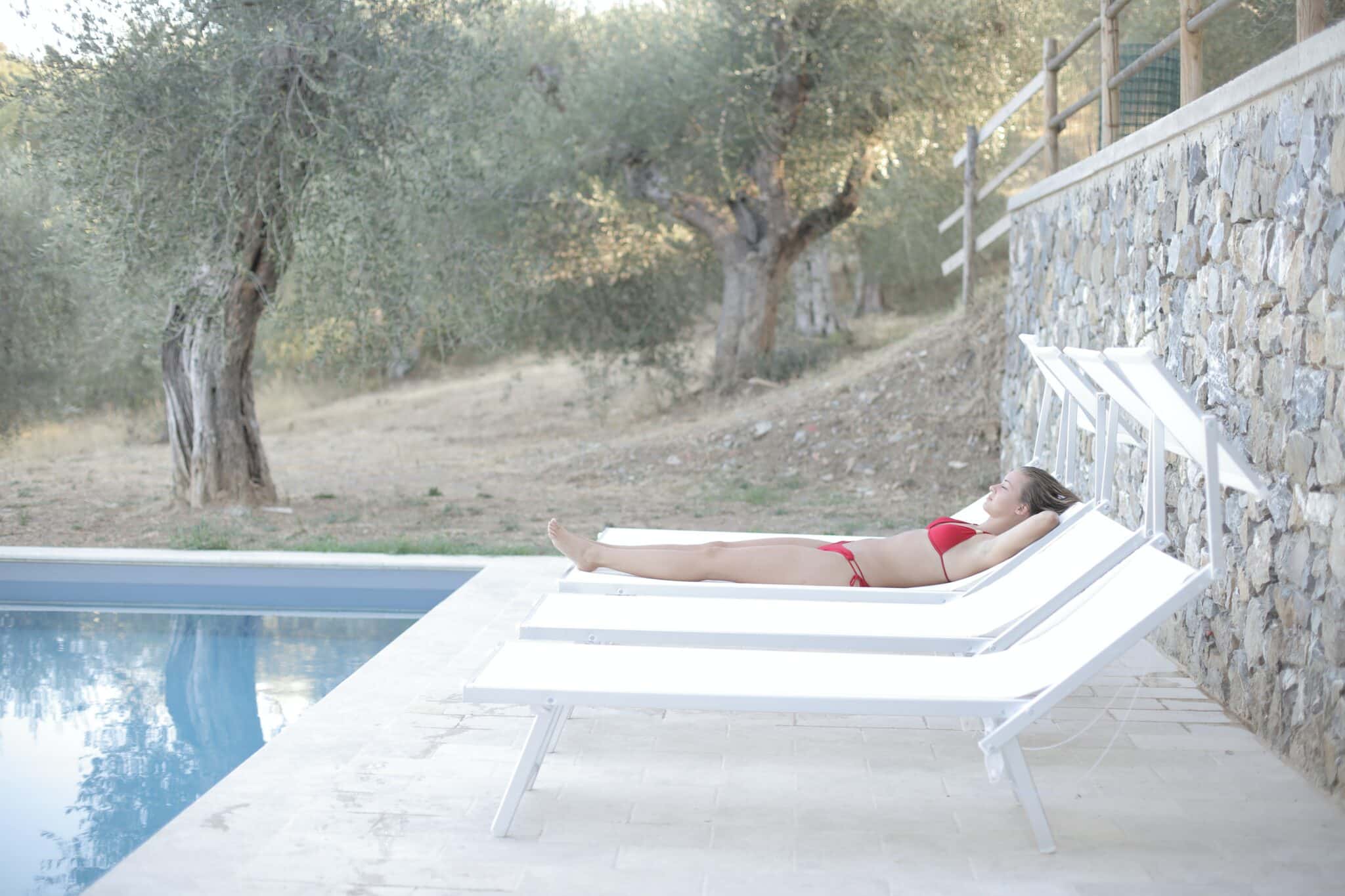 Tan when the sun is not too hot, before 10 am or towards dusk, from 4 pm. It's riskier to be in the sun from midday to late afternoon. Hence, fight the temptation to stay out when the sun is that hot, or you'll get sunburns.
Instead of tanning for hours, spend a short period in the sun daily.
Rejuvenate the Skin
Don't forget the after-care process. Rejuvenate your skin and seal your tan by moisturizing it after a shower.
How to Protect Your Skin from Sunburns
Before going out for a tan, wear sunscreen with an SPF 50+ because its sun protection factor (SPF) is about 98%, meaning you're filtering that percentage of UV radiation. But, you have to apply a thick layer and reapply in two hours when you stay out that long.
You may opt to add an outdoor tanning lotion to your regime before you bask in the sun. It'll moisturize your skin. But, you can't skip applying sunscreen because the SPF of tanning lotions is low.
Remember, there's a difference between an indoor and outdoor tanning lotion, as each caters to a different environment. Therefore, don't mix the two.
Sunscreen is for everyone regardless of your skin tone. Fair skin burns faster, but people with dark skin should also protect it from UV.
FAQs
Can you tan without direct sunlight?
Yes, it's possible to tan without direct sunlight. For instance, when you bask through a window, it blocks the sun's rays to a large extent but not completely. Though you'll not tan as when you bask outdoors, your skin will be significantly darker.
Further, you can tan in winter when there's little to no direct sunlight because the sun is still present. The fact that you won't feel the heat on your skin doesn't mean you'll not be tanning.
Since you'll have winter wear on, covering most of your skin, you'll reduce the tan significantly.
You also can tan on a lounge chair under an umbrella when it's sunny. The umbrella will keep most of the rays out, but it'll still offer exposure for a tan.
Why do I burn and not tan?
It might have something to do with your tanning process or your skin. If it's about the process, you may be overexposing your skin when the sun is too hot. It also depends on how often you are in the sun.
For example, if summer just began, you're likely to burn more on the first day as your body builds tolerance. You'll burn when the sun is high and direct, unlike when it's reaching your skin from an angle in the early or late hours of the day.
You may want to take a Fitzpatrick skin type test to know if your skin type burns faster. All skin types burn after exposure. But, the rate is different across different skin types. If you have pale white skin, it burns and never tans, whereas if you have dark brown skin, it tans and never burns.
Do you get more sunburn when overcast?
No, because the UV rays penetrating the ozone layer are less than on a clear day. Though the clouds don't avert the risk of sunburns, they reduce them.
But it also depends on the amount of sun exposure and the sun protection on your skin. If you tan briefly on an overcast day, under a shade, after applying sunscreen, you'll not suffer severe skin damage as when you do none of that.
So, the secret to no sunburns is not tanning on a cloudy day but reducing sun exposure. You can wear long-sleeved shirts and long pants to reduce exposed areas.
What time of the day is best to tan?
Hours before or after midday are the best time to stay outdoors without burning your skin. The sun will be reaching your body at an angle instead of directly like it would at midday. A shade will also help you reduce most of the rays when you bask at that time, unlike the case at noon when the sun will be high and hot.
Tanning in several sessions a day doesn't prevent sunburns because the process is cumulative, the UV rays extending the process every time you go back outside.
You'll burn more if you're wearing the wrong fabric. If the material is light that you can almost see the shape of the sun when you hold it against the sky, UV rays will seep through.
Also, find out how long it takes to get a noticeable tan.
Do you tan faster in water?
If you're in shallow water, the sun hits your skin faster, more so because the water reflects these rays. Also, the water may wear off your sunscreen and expose your skin to the sun's rays.
That's why you should use waterproof sunscreen when swimming and reapply it when you come out of the water.
Final Thoughts
It's possible to tan on a cloudy day because UV rays penetrate the clouds to some extent.
The assumption that clouds protect you from direct sunlight puts you at risk of sun damage when you go out without sunscreen or stay under the sun for too long.
For that reason, use the four-step process we mentioned to take care of your skin before and after a tan so that you get commendable results without damaging your skin. Lastly, limit sun exposure to hours of the day when the sun is not too hot, a time when it won't hit your skin at a direct angle.
Related Articles
21
Dec
Tanning sessions can take five minutes or a couple of hours. Two main factors responsible are the source of light and your skin tone. If you have fair skin, you'll take longer to see it change to a stunning darker[...]
20
Dec
We use coconut oil in so many ways that it's almost correct to say it's a super ingredient, whether in cooking or beauty. If you haven't heard, there are also people using it as a tanning oil. Tanning is a[...]
20
Dec
Getting a perfect tan is a process. You have to control exposure to get an even tan without overexposure to some body parts. When the sun is too hot, you get sunburns instead of darker skin. If you stay out[...]
Categories: Tanning