Last Updated on January 5, 2021

Sunscreen is an often-overlooked part of a skincare routine, but it's also arguably the most important.

The sun is responsible for doing all kinds of damage, and over time it can make us age prematurely, cause wrinkles, spots, and even serious cancers, so a daily sunscreen is essential.

What is the best Korean sunscreen on the market in 2023?

Choosing the best sunscreen is about finding one that suits your skin type and daily activity, and one with the least harmful ingredients, so thankfully there is a lot on offer from Korean skincare brands.

A good sunscreen should be affordable, easy to apply, comfortable to wear, and with a formula designed for your unique needs.

A daily sunscreen should be a staple in everyone's skincare routine, man or woman, but finding the right fit can be a challenge.

With our help, you'll be able to choose from the 10 best Korean sunscreens on the market today, and each with something unique to offer, so you can be sure you're doing everything you can for healthy skin.
The Best Korean Sunscreen
We've compiled a list of the best Korean sunscreens on the market, with 10 top performing products here to make everyone happy.
These sunscreens are ideal for dry, sensitive, and oily skin, as well as a range of other specifications that are unique to you, and will protect your skin from the harmful UV rays and their damage.
#1: Etude House Sunprise Mild Watery Sunscreen 55ml
When you want absolute protection from the sun without any nasty surprise ingredients, you'll love Sunprise from Etude House.
The famed skincare brand has developed this natural Korean mineral sunscreen for everyone to enjoy, and because it has no sebum, it leaves you with a matte finish and not a trace of oil.
The Sunprise Sunscreen comes features natural ingredients like Centella Asiatic and Mistletoe leaves, so it moisturizes and protects, as well as keeping you safe from the sun.
With 100% mineral ingredients, it's the best Korean moisturizer for oily skin and those who prefer no harsh additives, so add it to your list if you like to stay natural.
Features
SPF 50+ protection
Contains 20 natural plant ingredients
Moisturizes with hyaluronic acid, aloe vera, and Centella Asiatica
Pros
Goes on smooth with no white residue
Has a matte finish and no oil
Cons
Light scent not enjoyed by everyone
#2: Missha Essence Sunscreen 50ml
If you like to get hot and sweaty during the day and need your sunscreen to stay put, Missha Essence Sunscreen is a good choice.
This is the best Korean physical sunscreen that won't wash or sweat off, and it has SPF45 protection in every bottle which means even the harshest conditions don't pose a threat to your skin.
The Missha Essence Sunscreen has a double layer UV blocking system so you can feel safe being out all day when it's on your face.
The formula also comes with hydrating and conditioning ingredients and will give you a clearer and brighter complexion, making it so much more than just a sunscreen.
Features
SPF45+ sun protection
Water-resistant formula
Hydrates and conditions with natural plant extracts included
Pros
Best Korean sunscreen for the face that won't wash off
Intense protection from the sun
Cons
#3: Etude House Mild Airy Finish Sunscreen 55ml

If you prefer a mild finish to your sunscreen but still want the protection of a mineral product, the Etude House Mild Airy Finish Sunscreen is the way to go.
This soft and gentle sunscreen is seriously protective with an SPF50+ rating to keep you safe from the harmful UV rays.
Etude House makes all of its products with natural ingredients, and within this sunscreen, you'll get plant extracts like aloe vera, acai berry, and hyaluronic acid.
This is the best Korean sunscreen for sensitive skin and people who get irritated with regular skin products but will work just as hard as the toughest sunscreen on the market to keep your skin flawless and free from damage.
Features
100% mineral ingredients including sunflower seeds and aloe vera
SPF50+ protection from harsh elements
Formula made for sensitive skin
Pros
Won't leave white marks after application
Non-sticky and no sebum
Cons
Doesn't reapply as smoothly the second coat
#4: Missha All Around Safe Block 70ml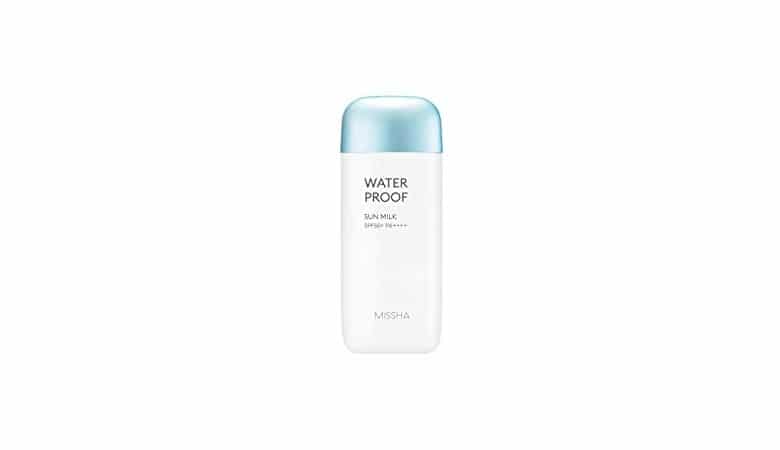 Missha has developed their All Around Safe Block for people who need waterproof protection and want their skin to stay nourished in the sun.
This is a long-lasting sunscreen that works just as well on your body and face, and as well as offering UV protection, also hydrates the skin underneath. All of Missha's products are cruelty-free, and it's nice to know this sunscreen is no exception.
All Around Safe Block from Missha features ingredients like Eucalyptus leaf extract and calming powder of Helichrysum flower to soothe your skin in the sun.
As a waterproof formula, you can swim without the need for reapplication, and it blends easily into all skin types.
Features
Waterproof sunscreen with SPF50+ protection
Contains Eucalyptus leaf extract and Helichrysum flower water
Long-lasting formula
Pros
Waterproof and sweatproof for hot days and swimming
Best Korean sunscreen for face and body
Cons
Strong Eucalyptus smell can be offputting to some
#5: Dr. Jart Every Sun Day 100ml
When you're serious about skincare and need a sunscreen that's on the same page, something like Dr. Jart's Every Sun Day will be your best friend.
This is the best Korean sunscreen for dry skin through to oily skin and not only does it protect against the sun, but also blocks fine dust that can damage your face.
Dr. Jart has formulated this liquid sunscreen without any of the usual nasty ingredients and left only the good stuff in.
It glides on with a matte/low sheen finish and uses things like seaweed extract to soothe the skin and cypress water to purify, all the while delivering SPF50+ protection from the harsh UV rays.
Features
SPF50+ protection from the sun
No sulfate surfactants, mineral oils, artificial fragrances, and other nasties
Contains seaweed extract and cypress water
Pros
Leaves only a minimal sheen
Protects and purifies skin as well
Cons
More expensive than other comparable products
#6: Thank You Farmer Sun Project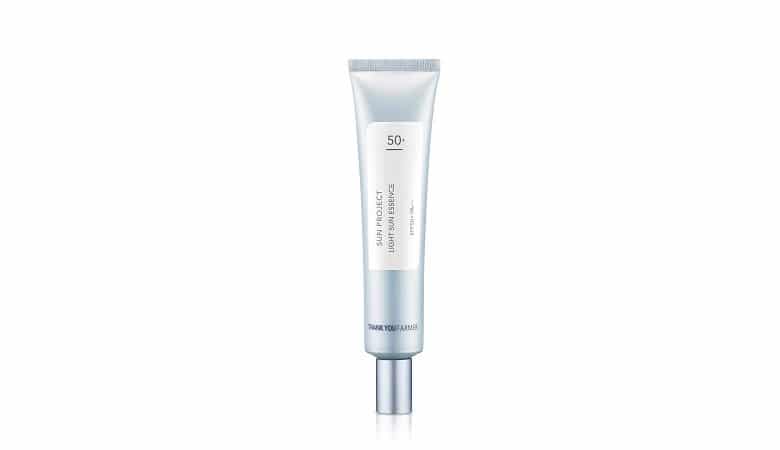 Thank You Farmer is known for creating natural solutions to modern skincare problems, and their Sun Project is a moisturizing sunscreen that does just that.
Loaded with lots of healthy ingredients for your skin, you'll get protection from the UV rays as well as Inca omega oil, Phyto-oligo, and bamboo extracts included, just to name a few.
Sun Project provides SPF50+ protection and works with both UVA and UVB rays so you'll be fully safeguarded against the sun.
It's a lightweight feeling sunscreen better suits for oily and combination skin, so those with dryer than usual complexions might want to stay away.
Features
SPF50+ protection against UVA and UVB rays
Moisturizing sunscreen
Includes natural ingredients like Inca omega oil and bamboo extracts
Pros
Leaves no white cast
A good choice for people with oily and combination skin
Cons
Not ideal for people with dry skin as it can make skin feel dull
#7: Dr G Green Mild Up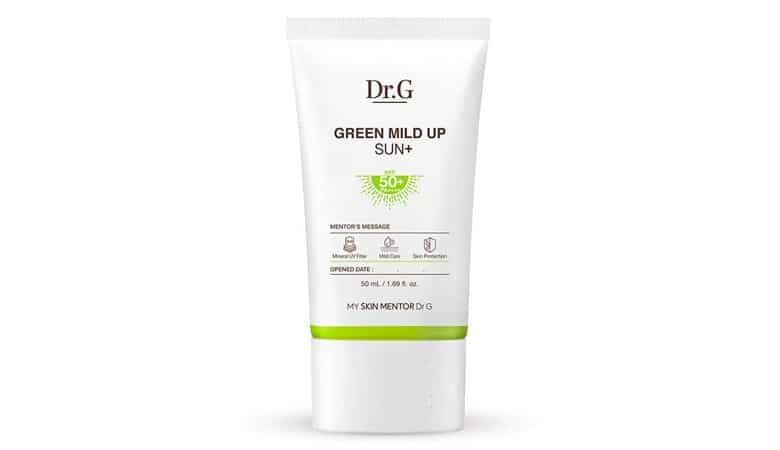 If you've been searching far and wide for a sunscreen that's mild but still offers good protection, Dr G's Green Mild Up is the way to go.
This sunscreen protects against UV rays and also features ingredients that prevent dust and smoke, which can do further damage to the skin.
As an SPF50+ rated sunscreen, it's very powerful, and if you're someone who suffers from irritable or sensitive skin, it won't cause any problems and is consistently ranked as one of the best Korean sunscreens for acne-prone skin.
As one of the more expensive brands, you'll get what you pay for, with a premium mineral UV filter and ingredients like purified water and plant extracts.
Features
SPF50+ sunscreen keeps your face and body protected
Smooth and hypoallergenic sunscreen
Contains glycophorin, pycnogenol, and panthenol to stop dust, smoke, and contaminants
Pros
No white residue left behind after you apply
Hypoallergenic for sensitive skin
Cons
Very expensive for a smaller amount of sunscreen
#8: A'Pieu Pure Block
Natural skin care products are taking over the world, and if you'd rather your sun protection be natural too, you'll love A'Pieu Pure Block.
This sunscreen is made with delicious and fresh natural ingredients like aloe vera, watermelon extract, and Berry Blossom Complex, and you can feel how gentle it is on your skin.
This is a great Korean sunscreen for dry skin as it doesn't feature the usual harsh ingredients that can make it dense.
The A'Pieu Pure Block goes on light and doesn't feel sticky at all, even after multiple applications, so you'll never even notice it's there but it'll keep you protected all day long.
Features
Contains flower and fruit extracts like watermelon and aloe vera
Moisturizes while it protects against the sun
SPF45+ protection against UV rays
Pros
Very affordable for a natural skincare product
Non-sticky and lightweight feel on the skin
Cons
Only provides SPF45+ protection
#9: Etude House Soon Jung Mild Defense Sun Cream
Etude House is known for making affordable and quality skincare products, and their Mild Defense Sun Cream is a great choice for an all-over protectant that won't irritate.
With an SPF rating of 49, it has more than enough to keep your skin safe, and it's a mineral sunscreen that will physically reflect the UV from your body.
This low pH formula is gentle on the skin and it contains no nasty ingredients like mineral oil or parabens.
The Mild Defense Sun Cream works on all skin types and has a soft, creamy texture that makes it a treat to put on without feeling greasy throughout the day.
Features
SPF rating of 49 for strong protection
Low pH formula for all skin types
Features panthensoside to soothe the skin
Pros
Very gentle on the skin compared to other sunscreens
Moisturizes and offers UV protection
Cons
Leaves behind a minimal white cast
#10: MAKEP:REM UV Defense Me 200ml
If you're looking for a sunscreen that's safe for the whole family and gentle enough for people with acne-prone or sensitive skin, MAKEP:REM's UV Defense Me is our favorite choice.
This large 100ml bottle of sunscreen will last forever, and it's a 100% reflective formula with a mineral filter that blocks both UVA and UVB rays.
UV Defense Me contains only safe ingredients and works harder than regular sunscreen, as it actively reduces heat and keeps skin moisturized while you're in the sun.
If you want a truly gentle sunscreen that's got the goods to keep the sun's damage at bay, this is the best Korean option that suits the whole family.
Features
Mineral sunscreen that reflects the rays
Protects against UVB and UVA
Contains wild berry extracts
Pros
A gentle sunscreen for all ages
Provides antioxidants and hydration as well as sun protection
Cons
Leaves a white cast on the skin
Protected Skin is Flawless Skin
The sun is doing constant damage to our skin, even if you can't see it or feel it, and having the protection of a daily sunscreen is a must.
If you're after flawless skin free from wrinkles and spots, providing it with UV protection is the way to achieve it.
There are several popular Korean sunscreens on the market that suit all of the different skin types and lifestyles that we have, so all you have to do is choose your favorite.
With the help of our top 10 and recommendations from men and women across the world, it shouldn't be hard to find your next favorite Korean sunscreen.
Related Articles
14
Jan
No one, absolutely no one, wants sun damage. That's why we always have a bottle of sunscreen when heading to the beach. If it's broad-spectrum, it protects you from two types of UV light that are UVA and UVB rays.[...]
14
Jan
We all love to show off our tattoos. No one gets a new tattoo with the intention of hiding that art form from the world. We all love to show off the tattoos on our hands, legs, shoulders... That's why[...]
14
Jan
There are obvious immediate benefits of sunscreen, such as healthy, hydrated skin. Then there are long-term gains that you'll notice years after you start using sunscreen regularly. But, both short and long-term gains depend on the brand you choose. If[...]
Categories: Sunscreen