Last Updated on January 5, 2021

A good moisturizer is the cornerstone of any skincare routine, and whether you go out bare-faced into the world or have a detailed makeup routine you do each morning, you'll need one to keep you covered.

With so many options out there claiming to be the best Korean moisturizer, it can be hard to sort through the poor performers and find the ones worthy of your skin.

What is the best Korean moisturizer on the market in 2023?

That depends on your skincare goals, with some moisturizers made for oily or dry skin, and others to prevent acne and provide protection against the sun. Depending on your preferences and skin type, there's bound to be one that suits perfectly.

We've searched far and wide to come up with winners in all categories, whether it's the best Korean moisturizer for acne-prone skin or the best for everyday use.

With Korean moisturizers being some of the most coveted in the world of skincare, you'll be pleased with the top picks we've uncovered.
The Best Korean Moisturizers in 2023
These are our top 10 picks for the Korean moisturizers on the market for 2023, with something special in each category for every type of face.
Any of these premium products are capable of transforming your daily skincare routine with minimal effort, and your skin will love you for the change.
#1: COSRX Snail 92 Cream 100g
Snails might not be the first things that come to mind when you're thinking of flawless skin, but the COSRX Advanced Snail 92 Cream is about to change the game.
This moisturizer is made with 92% snail mucin, which leaves skin radiant and plump, gliding onto the skin with ease and lasting all day.
COSRX Snail Cream is the best Korean moisturizer for dry skin, but it can be used by all skin types for just as great results. As a gel cream, it's got a lightweight feel, so it's not heavy and greasy like others on the market.
Not only does it have a good amount of moisturizing properties, but it can soothe skin, heal your face after breakouts, and improve the skin's elasticity, making it a serious multi-tasker.
Features
Made with 92% snail mucin for smoothness and moisture
Ideal for dry, dehydrated, and irritated skin
Gel type moisturizer
 Pros
Lightweight feel that glides on smoothly
Soaks in quickly and stays hydrated all day
Cons
Contains a small amount of alcohol
#2: Klairs Rich Moist Soothing Cream 60ml
Klairs has developed their Rich Moist Soothing Skin as the simplest way to combat the elements and keep your face fresh and hydrated.
Made with ceramide 3, lipidure, and shea butter, but free from any artificial colors, fragrances, parabens, and ethanol, you can be sure you're getting the very best for your face.
This is the best Korean face moisturizer if you're prone to problem or sensitive skin and it'll work just as well through all of the seasons, providing a barrier against wind and harsh temperatures.
The ingredients help to soothe rough and dry skin, reduce redness, and add hydration, with just one application being enough for the whole day.
Features
Moisturizer made with shea butter, ceramide 3, and lipidure
Suits dry and sensitive skin
Vegan friendly and free from parabens, ethanol, and artificial fragrance
Pros
Best moisturizer for sensitive skin or irritated skin
Good during winter to protect against harsh winds and cold weather
Cons
Users with oily skin didn't like the results
#3: iUNIK Centella Calming Gel Cream 60ml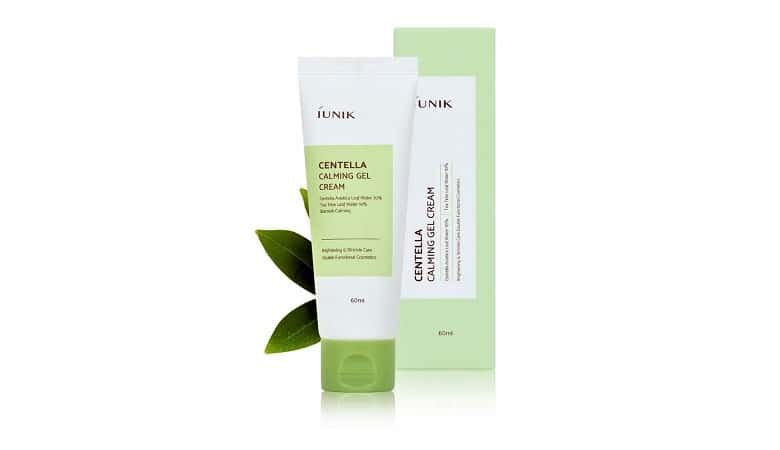 If your skin is in need of soothing, you'll love the iUNIK Centella Calming Gel Cream.
This unique moisturizer features 70% Centella Asiatica Leaf Water, an active and natural ingredient known for its soothing and strengthening qualities, and loads of natural goodness like tea tree and sprout extracts.
This is the best Korean face moisturizer for sensitive skin but it works just as well on all skin types, so everyone can benefit from the powers of the famous leaf water.
Coming in a smaller 60ml tube, you will need to buy more of it once you know you love it, but it's full of the natural ingredients your face will love and calming properties that can soothe even the angriest skin.
Features
Moisturizer for all skin types and good for irritated skin
Gel type cream moisturizer
Features 70% Centella Asiatica Extract and Tea Tree Extract
Pros
Has brightening and wrinkle-free effects as well
Lots of natural ingredients
Cons
Very small container means you'll have to buy more of it
#4: COSRX Hyaluronic Cream 100g
COSRX is one of the biggest names in Korean skincare and their Hyaluronic Cream is a much has for people looking for a lightweight but moisture-rich solution. With loads of moisture-retaining ingredients, including Hippophae, it'll go on once to deliver hydration all day.
The 100g tub is the best Korean moisturizer for combination skin, but those with super oily skin might want to look elsewhere, as it may be a bit too intense.
This rich and smooth cream only needs a little for a big effect so just one tub will last forever, and it can even be used at night as a hydrating mask for extra moisture.
Features
Contain Rhamnoides Water and Hippophae
Moisture retaining ingredients for all day coverage
Cruelty free and fragrance free
Pros
Has anti-aging properties
Soft buttery feel that's still lightweight
Cons
Can be too much for oily skin
#5: Etude House Soon Jung Cream
Etude House has developed the Soon Jun Cream with a massive 92.2% of ingredients having a moisturizing effect.
This moisturizer is free from all of the nasty stuff, like animal products and artificial fragrances, but features purified water and glycerin to help maintain hydration.
As a smooth and mild type of cream, it's a good moisturizer for people with oily or sensitive skin.
The formula is low pH and won't irritate, with a range of soothing ingredients like Madecassoside for calming, and proven results from Etude House that show it's low in irritants.
Features
Moisturizes and preserves skin's natural moisture
No parabens, surfactants, or animal products
Pros
Good moisturizer for oily skin
Maintains low pH levels
Cons
Contains a small amount of alcohol not good for dry skin
#6: COSRX Oil Free Ultra Moisturizing Lotion 100ml
COSRX has created their Oil Free Ultra Moisturizing Lotion for people with oily skin, or those who prefer a weightless feel to their skincare products.
This lotion features 70% willow bark water, also known as birch sap, which calms, soothes, and pumps your skin full of vitamins and antioxidants with every application.
The daily moisturizer from COSRX comes in a pump bottle and has a non-greasy feel when applied to your face, making it perfect for going underneath makeup as well.
It's cruelty-free, paraben-free, and hypoallergenic, so it's suitable for all types of users and has a formula that penetrates deep into the skin in no time at all for a quick fix.
Features
Made with 70% willow bark water (birch sap)
Lightweight moisturizer works quickly
Pump bottle
Pros
Best Korean moisturizer for oily skin
Cheap skincare with premium results
Cons
Can dry out already dry skin
#7: AHC Aqualuronic Cream 50ml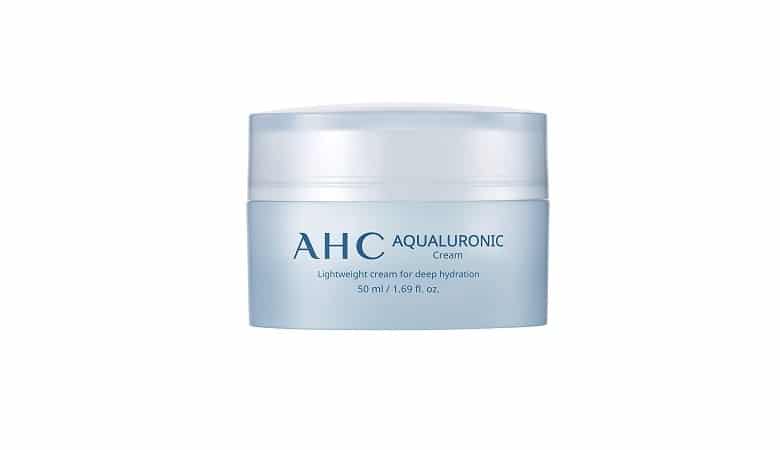 When your skin deserves the best of the best, the AHC Aqualuronic Cream is our favorite pick. Infused with French seawater and featuring ceramides and hyaluronic acid, you're getting more than just a basic moisturizer, but a complete skin care cure
With a smooth finish and gel texture, it's a real treat to apply to your skin each day.
Although known as the best moisturizer Korean people use, it's also one of the most expensive, so be prepared to pay if you want a premium product that delivers results.
This cream from AHC features hyaluronic acid that deeply penetrates dry and thirsty skin, and it smooths the surface and adds plumpness to reduce the signs of aging.
Features
Features hyaluronic acid and ceramides
Infused with French seawater
Gel type cream
Pros
Works as an anti-aging treatment as well
Ideal for all skin types
Cons
Expensive compared to others
#8: Nature Republic Aqua Cream 80ml
Our choice for the best Korean moisturizer for combination skin, Nature Republic Aqua is a product you can feel really good about using.
It comes with a range of natural ingredients like kelp, seawater, and various seed extracts so you can be sure you're treating your face to the best.
This watery moisturizer works for all kinds of skin and it feels amazingly smooth as you rub it in. However, if you're after something deeply hydrating for dried-out skin, it might not be as intense as you need.
Otherwise, for a natural, vitamin-rich, and lightweight daily moisturizer, Nature Republic Aqua is one of our favorites and will quickly become a staple in your morning routine.
Features
Natural ingredients like seed extracts and kelp
Moisturizer infused with seawater
Non-greasy formula that feels like water
Pros
Lightweight and soft on the skin
Lightly but naturally fragranced
Cons
Not as helpful for dry skin as it's a watery based moisturizer
#9: Nature Republic Aloe Vera Gel 300ml
Aloe vera gel is one of the best natural hydration solutions around, and Nature Republic has bottled it for use on your skin. If you're in desperate need of hydration and something soothing and deeply moisturizing, this is our top pick.
The Nature Republic Aloe Vera Gel is made with 92% pure aloe gel, and it's good for treating sunburn, dealing with wind rash, and soothing angry skin.
Better yet, you can use it on the entire body for the same hydrating effect, and because it's so affordable you'll get a lot of bang for your buck.
Features
92% pure aloe vera gel moisturizer
Apply to face and body to soothe and hydrate skin
Can work as skin tightener and toner as well
Pros
Great value for money
A natural and powerful way to soothe your skin
Cons
Not ideal for everyday moisturizing of the face as a standalone product
#10: Wonjin Effect Water Bomb Cream 50ml
Water Bomb Cream has been a gamechanger in the Korean skincare industry, and Wonjin Effect has created something for skin in need of recovery and repair.
With ingredients like Jeju Green Complex and Waterful 8 Complex, it's your go-to when nothing else will work.
This product is effectively like delivering a water bomb to the face, hence the name, and if your skin is very dry or needs to recover from recent exposure, it's the only way to go.
Water Bomb can be used as a hydrating mask or as your regular everyday moisturizer, and it features natural ingredients like baobab oil and Oligo-HA to get the job done.
Features
Made with Jeju Green Complex and Waterful 8 Complex
Features baobab oil, Aquaregul K, and Oligo-HA
Intense moisturizing cream that penetrates deeply
Pros
Can be used as a nighttime hydrating mask
Ideal for dried, cracked and damaged skin
Cons
A bit thick for oily skin
A Vital Key to Perfect Skin
No skincare routine is complete without a quality moisturizer, and it just so happens that these Korean brands are known for making some of the best.
Understanding what your skin needs is the first step in finding a moisturizer that fits, and thankfully, we've got the solution for every type of face.
With our reviews of the most nourishing, hydrating, and soothing products on the market, you'll be one step closer to achieving the flawless skin of your dreams.
Whether you need extra hydration or something to soothe your sensitive and irritated skin, these reviews of the top Korean moisturizers will give a boost to your beauty regime.
Related Articles
20
Feb
Having dry and wrinkled skin on your face can make you look older. In order to have a youthful appearance, you need to use a quality face moisturizer. Your skin will absorb whatever you put on it, whether it is[...]
19
Nov
Fungal infections are more common than you can imagine. Often times, we identify fungal infections with Athlete's foot. It is the kind of fungal infection we are all familiar with. While such foot infections are common, dealing with one is[...]
19
Nov
Skin moisturizers are a must to have in your makeup kit. Keeping skin hydrated can make you look fresh and youthful. The importance of skin moisturizer is very evident with the vast selection available in the market. Every brand is[...]
Categories: Moisturizer & Lotion